The highs and lows of creating a business from university research
Spin-outs: creating businesses from university intellectual property
Graham Richards
2009 | 176pp | ?35.00 (HB) Petersfield, UK: Harriman House
ISBN 9781905641987
Reviewed by Chris Lowe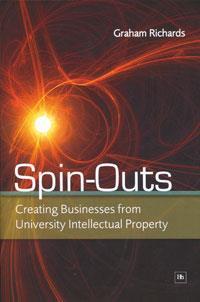 Sir Richard Branson is reported to have said: 'Business opportunities are like buses, there's always another one coming. The critical ingredient is getting off your butt and doing something.' This quote embodies the spirit of entrepreneurship in which the entrepreneur organises, operates and assumes the risk for a business venture. Whilst this is a timely concept heavily promoted and encouraged by governments trying to build knowledge-based economies, it is not new.
Appropriately, the word entrepreneur comes from a 13th century French verb meaning 'to do something' although it was not until the 16th century that it referred to someone who undertakes a business venture and not until the 18th century when economic risk was added into the equation.
In today's climate, university departments are at the vanguard of these new developments and are now expected to secure their intellectual property and exploit it for the public benefit, financial reward and national good, in addition to their historic roles of teaching and research. In reality, most university entrepreneurs are really intrapreneurs, ie those who take on economically risky entrepreneur-like ventures within a large and generally risk-averse corporate environment. Needless to say this type of activity is not without difficulty as the author is at pains to point out.
Graham Richards is a former head of chemistry at Oxford and was inspired by the then prime minister, Mrs Thatcher, to 'get off his butt and do something'. He can rightly claim to be one of the UK's leading senior academic-turned-businessmen and writes this account largely from his own prolific and highly successful experience in spinning out companies from Oxford (see p52). Hence the value of the book in which he aims to provide guidance to those tempted to follow his route of establishing and building a company based on research originating from university laboratories. It describes the high spots and pitfalls of these processes from a very personable, readable and practical perspective, using Oxford Molecular as a detailed case study.
It should appeal to any academic or aspiring businessman and is an object lesson on how to be a successful intrapreneur.