Science: the definitive visual guide
Science: the definitive visual guide
Adam Hart-Davis (ed)
London, UK: Dorling Kindersley 2009 | 512pp | ?30.00 (HB)
ISBN 9781405322478
Reviewed by Sheila Russell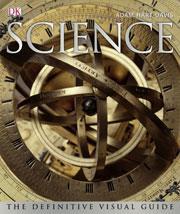 Although the word 'definitive' should not be appliedto a 500-page book covering all aspects of science, this book is a visual delight for the general reader. It provides a panorama of how the science that underpins our society developed through history by means of a series of two-page spreads, which gives an excellent introduction in word and picture.
All the devices of modern visual design are used to engage the reader.
There is a good proportion of chemical science explored within the pages, the editor having studied chemistry at Oxford. The text is excellent, having been written not by eminent scientists but by leading science correspondents and broadcasters who are used to communicating scientific ideas to a popular audience; a few of the correspondents are also regular contributors to Chemistry World.
This book would make an excellent Christmas present for any enquiring mind. I like the mixture of boxes, timelines, mini-biographies, quotations, photographs and explanatory graphics. The strength of books like this lies in the connections which they provide between different branches of science; this particular book has excellent cross-referencing and indexing. One thing I particularly liked were the boxes entitled 'before' and 'after' which enable the reader to trace scientific development back to their origins and forward to the present day.
Topped off with a good ready-reference section at the back, Science: the definitive visual guide is a triumph of science communication.