Stephen Kotler
Amazon Publishing
2015 | 306pp | £7.99
ISBN 9781477827949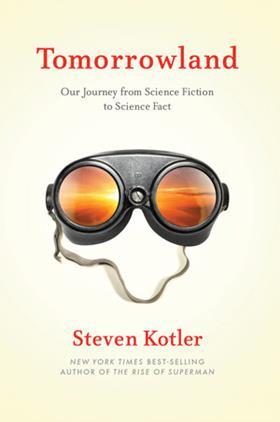 Apparently, this is the dawn of the science fiction age. The technologies mankind has dreamed of for centuries are already here and we may have missed them. At least, that's what Stephen Kotler hopes to persuade us of in Tomorrowland.
Building the book from a series of his popular science articles, Kotler seeks to thrill the reader with cutting edge technologies only dreamed of in pulp novels. Each article deals with a separate scientific development, from the well-publicised fields of stem cell research and robotics to the fantastical, such as asteroid mining and terraforming.
Kotler's passion and enthusiasm comes through in every chapter. This is true whether he's writing about morally palatable technologies, like retina implants for the blind, or tackling possible misconceptions, such as the role of steroids in society.
The writing style is pacy, conversational and accessible, and focuses not just on the science but the human dimension to the tale too. In the bionic limbs section, for instance, Kotler discusses Hugh Herr, a climbing prodigy who developed a pair of advanced bionic legs after losing his own limbs in a climbing accident.
The extent to which Kotler dwells on the humanity inherent in these stories is both a strength and a weakness. Learning about the real people involved, be they the inventors or end users of these technologies, is what makes each section so readable. But this style, when carried through the whole book, feels rather sensationalist. While every chapter is informative and exciting, they can often feel quite frothy and lacking in any substantial science.
Tomorrowland is an interesting book written by a clearly passionate author. I definitely enjoyed reading it, but I don't think it will appeal to everyone. If you are interested in a page-turning and exciting review of the modern scientific landscape, this book will appeal to you. But if you want to delve into the science behind these tales, there is not a huge amount on offer.