As trends in the consumer packaged goods (CPG) industry continue to evolve, scientists and companies face a growing set of challenges driven by the need for more sustainable materials and practices. Customers are more discerning and selecting products based on the safety and source of ingredients; regulatory bodies are enacting requirements for the use of natural, safe ingredients and eco-friendly packaging and processes; and speed to market is increasingly important as product life cycles are reduced in response to consumer's ever-changing preferences.
On average, digital approaches showed a 10-fold acceleration of the innovation process
Polymers are widely used in CPG products from packaging to formulations. These trends are driving the need for rapid development of new polymer products that are environmentally sustainable and the urge to understand and rationalise complex polymer formulations. Molecular modeling and simulation provide new opportunities to accelerate R&D product development, rationalise product behavior, optimise manufacturing processes and reduce costs by offering insights into the atomic-level properties that impact product performance.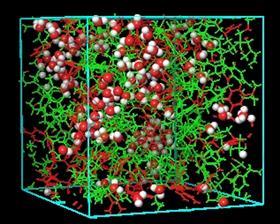 Shortcut to more sustainable surfactants
During Schrödinger's user group meeting in September 2021, Martin Settle, manager of sustainable packaging science, and Mariam Hussain, senior polymer scientist, from Reckitt demonstrated how digital methods can help design new consumer products faster. In their talk, 'Accelerating formulation and packaging development using molecular dynamics', they described how the demand for more environmentally sustainable products is having a strong impact on Reckitt's innovation process, using the specific example of trying to determine which new bio-based surfactant might be the best for a given application. They discussed ways to use molecular simulation to evaluate new chemicals and materials and determine how they can be optimised for a given product.
Rational molecular design through use of simulation technologies can significantly speed up the design process for consumer goods with the end goal of bringing new ideas to market more quickly. With simulation approaches, the Reckitt scientists demonstrated an ability to evaluate new surfactants being offered by their suppliers and screen for the best ones for a given application. On average, these digital approaches showed a 10-fold acceleration of the innovation process compared to the purely experimental one.
Welcome to the sustainable polymers collection
1

2

3

4

Currently reading

A paradigm shift in the development of environmentally sustainable consumer packaged goods

5