Emma Davies talks to the chemists using their science skills to set up stills and brew up beverages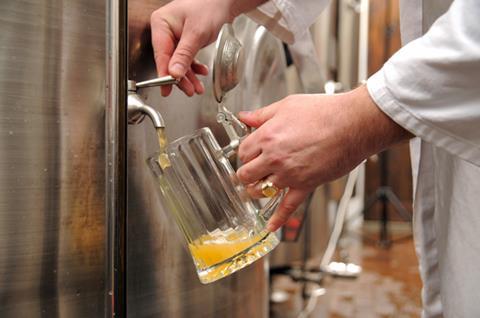 'As a chemist, don't be afraid of going into other fields, because our training allows us to tackle almost any problem,' says Diego Benitez. He is well placed to offer such advice, having moved seamlessly from chemist to brewer, and with further entrepreneurial adventures on the horizon.
Benitez has an impressive CV. He completed his PhD at the California Institute of Technology (CalTech) with Robert Grubbs, around the time that Grubbs was awarded the Nobel prize in chemistry. Benitez even got to travel to Sweden with him for the ceremony. He then did a postdoc at Fraser Stoddart's laboratory at the University of California, Los Angeles, before co-founding a medical biomaterials company, Amicrobe. There he met Kevin Ogilby, who was brought in to help create anti-infective peptides.
'[Kevin and I] developed pretty much all of the chemistry from scratch over the course of two years,' says Benitez. However, once they had solved the chemical conundrums, their interest began to wane. 'We are boys who like challenges,' he laughs. Looking for a new project, they turned to Benitez's home-brew hobby.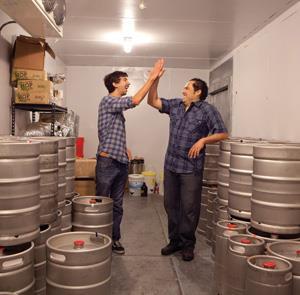 Benitez had been 'dabbling in beer' since he went to a party at a friend's apartment. '[My friend] had brewed the beer himself and I thought it was the best thing ever. He was an engineer and showed me how to home brew and I took it from there,' he recalls.
Building on this knowledge, Benitez and Ogilby started planning their brewing business about two years ago. 'First we wrote lists of how much money we would need, what we would need to buy, and what we would need to do,' says Benitez. 'Little by little our involvement in Amicrobe became less and less and we started to devote more time to planning the brewery.' (They are still part owners of Amicrobe, which is at clinical trial stage.)
But turning the plans into reality took months of the 'most work I have ever performed in my entire life', says Benitez. To save money, the pair had to do most of the building work themselves, and Benitez even obtained a constructor's licence. 'My background in maths helped me. I passed my exam at the first shot – it usually takes about eight strikes,' he proudly recalls.
They bought a site in South El Monte, California and began building their business, literally brick by brick. Digging trenches ('the worst thing you can ever do'), constructing walls, putting in plumbing, building a cold room, and designing and building the brewing tanks.
Now their business, Progress Brewing, is expanding and they are renting additional space to house a larger tasting room and barrels. 'The physically challenging part was taxing and now we get to do the fun part, which is to watch people enjoy our beer, and plan our next brew.'
Houston heights
Former chemist Justin Engle tells a similar story, having recently opened Town in City Brewing in Colorado, US. Engle studied chemistry at Lebanon Valley College in Pennsylvania, which included a stint in Australia.
While living in Melbourne, Engle acquired a taste for English and Australian lagers and ales. On his return to the US, however, Engle was disappointed with the beers that he could afford as a student, so he began to make his own. After completing a masters in applied chemistry at the Colorado School of Mines, Engle then went to work for Roche Diagnostics before landing a job in Houston, Texas, with a contractor working on a project for an oil firm.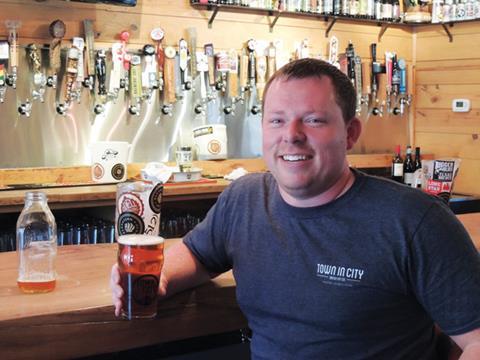 In Houston, Engle missed the 'neighbourhood-style' microbreweries that he had frequented in Colorado. He felt his new home, Houston Heights, was 'a really cool neighbourhood that could support a small microbrewery'. With his now-business partner, he brewed a couple of batches of beer and had some 'excellent responses'. 'Then we just decided to go for it.'
The most challenging aspect was obtaining local construction permits, which took over a year. The rest was all down to thorough background reading and hard work. Now it is up and running, Engle is really enjoying the business, and particularly enjoys christening his new brews. For example, 'Mosquito's revenge pale ale' reflects Houston's large mosquito population, which finds beer drinkers particularly attractive, Engle explains.
Engle says having a science background comes in handy. 'If you don't understand the chemistry and microbiology then there's a possibility that you might not be making good beer or that you may not be able to make it on a daily basis,' he says.
Engle has a 'mathematical' approach to recipe design. 'We look at the maltsters report to see what the potential sugar content is for each batch of grain. We'll also look at the enzymatic activity report to work out sugar potential.'
Scaling up from home brew poses its own set of problems. 'There is some linear scale-up but at the same time there are also increased efficiencies, for instance you won't need as many hops in a bigger system so you have to do some really good calculations to figure out where you stand with hop content,' he says, adding that he devours literature on the subject. 'My reading list is extremely long right now because I'll go through a bunch of research papers cited in brewing science books,' he says.
'If you have a degree in a hard science and you are able to be a self-starter, I think the entry into the field wouldn't be as difficult as it would be if you had no prior science knowledge,' he advises. 'If you're highly interested in it, take courses, take classes, get yourself a leg up in the industry.'
Caroline Mckenzie, who set up Red Willow brewery in Cheshire, UK, with her husband Toby, agrees that 'science definitely helps in terms of understanding how the brew process works and the chemicals that are used'.
Chemistry training allows us to tackle almost any problem
Mckenzie was a research chemist at AstraZeneca for 14 years while her husband worked in IT, having trained as a biochemist. 'Toby got into brewing as a hobby but it turned into a bit of an obsession,' she says. He took a course at a brewery in York, then moved from home brew to industrial premises in no time. They were soon delivering their beer in the back of the family car. Four years on, they have small team working for them. 'Luckily, he has a skill for brewing and it has all gone well,' she adds.
The couple adopt an analytical approach to developing beer. 'We try to change one thing at a time,' she says. 'Brewery is a combination of science and art. You have got to have a good palette as well as an understanding of what is happening.'
Red Willow 'started at the right time', when the UK government brought in duty relief for small brewers, says Mckenzie. 'It's getting tougher because there are so many now.'
Good spirits
Andy Reason and Norman Lewis are also former pharma employees driven to drink, but they wanted something stronger. They worked at GlaxoSmithKline's site in Sandwich, UK, and, when the site closure was announced, decided to go into business together. They first considered consulting, but then 'we thought: "We want to do something completely different",' says Reason. 'I went bowling into Norman's office one day and said: "How about opening up a distillery?"' Lewis thought about it 'for about five seconds' before agreeing to look into the idea. They got their licence in 2011 and started by making gin using a small two-litre still in the corner of Reason's kitchen. They now run Anno Distillers, using their knowledge as 'lifelong organic chemists' to create a very modern distillery.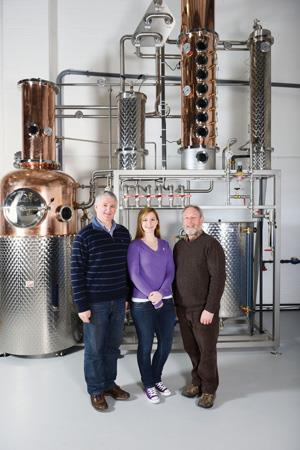 'We did lots of research and spent time at the British Library,' before deciding to distil botanicals, says Reason. 'We looked at many, many dozens of botanicals and picked out some that we liked and started blending, to come up with three very good spirits.' These went down so well with taste panels that Reason and Lewis decided to go for it. They found an industrial unit and worked with specialist German still manufacturers to develop a 'flexible bit of kit'.
'We understood the science of distillation and had lots of practical experience,' says Reason. They opted for a copper-pot still with a 'botanicals basket'. They add grain spirit to the copper pot, together with botanicals such as juniper and coriander. They then distil the mixture so that the flavour-rich vapour passes into the basket, which is loaded with botanicals.
The gleaming copper still arrived just before Christmas 2012. Lewis and Reason eagerly assembled it but still had to wait until Easter for a new licence from Her Majesty's Revenue and Customs (HMRC). 'That's why our still is called Patience,' laughs Reason.
Most distillers do not have a scientific background, says Reason, so their expertise has earned them a reputation. This year, Lewis gave a talk on the science of distilling at a meeting of the Craft Distillers Organisation and they get a lot of calls from people with technical questions. They have even trained some distillers.
But although science has proved invaluable, they also acknowledge that the 'empirical approach' adopted by most distillers is still essential. For example, they quickly realised that they could not use a scientific approach to adjust levels of the 16 components in their gin, so they did some taste training at a Scottish distillery. 'Training up our nose and palette has been a very interesting journey,' says Reason. 'We're quite adept now at sniffing out what's going on.'
Over at the Cotswold Brewery, UK, the first whiskies are just coming off the stills. The distillery employs two scientists who took a masters course in brewing and distilling at Heriot–Watt University before joining the business. 'The course was incredibly useful, theory-wise, and has been a very good base,' says Alex Davies from Cotswold. Although he admits that 'quite a lot of what you have been taught goes out of the window in practice'. What fascinates Davies is how the flavours change during distillation. The Cotswold team now has to play a waiting game until the first products mature enough for sale.
Fortuna's friend
Scientist Abe Stevens constructed his own distilling equipment when setting up his company Humboldt Distillery, based in Fortuna, US. 'I built my own continuous still, which is not very typical,' he says. He identified engineering plans for factory systems but could not find any of the correct size so he scaled one down and adapted it.
With a degree in chemistry and biochemistry, Stevens had worked for several years in the biotechnology industry and he says his scientific approach to distillation improves efficiency. For example, he uses UV-vis spectroscopy to measure light absorption 'to get a rough idea of the level of oak extraction achieved by maturing in oak barrels'.
If money were no object, Stevens would also like a high-performance liquid or gas chromatograph. He used the techniques in his former career and can see that it 'would be great' to have them now.
Back in California, Benitez and Ogilby have similar aspirations and hope to set up their own lab. Benitez is bemused and frustrated with the standard methods set for the brewing industry. 'All of the methods are from the 1960s, use very old instrumentation, and have serious limitations,' says Benitez. 'We want to use modern instruments to revamp old techniques and make them far more powerful.'
His goal is to have the duo's techniques accepted as standard. He is also keen to delve into the science of brewing. Recent developments suggest that some of the long-accepted chemistry of brewing may not actually be correct, he says. Indeed, in 2012, a team from the University of Washington, Seattle, reported crystal structures of humulones and isohumulones,1 which give beer its bitter flavour. The structures of the bitter acids did not match those long reported in the brewing literature. 'We want to establish the mechanism for the formation of the bitter compounds using computational chemistry,' says Benitez.
'Working in chemistry means that there is always an unknown in front of you,' he adds. The 'constant facing of unknowns and also failures' stands chemists in good stead for any challenge, he says. 'Don't be afraid of reaching far out from what you know.'