The UK dye manufacturer has been taken over by Vivimed, India. Sarah Houlton finds out what this means for the company
The UK dye manufacturer has been taken over by Vivimed, India. Sarah Houlton finds out what this means for the company
The UK chemical industry has its roots in Victorian textile mills and the companies that sprang up to provide them with dyes. In the past couple of decades, most textile production has moved to Asia, and there is now very little in the way of dye manufacture in Europe. The few companies that remain have managed to stay in business by specialising in low-volume, high-value niche areas.
One of these, James Robinson, was founded in 1840 in Huddersfield and remains in the town despite its recent takeover by an Indian company. It has just been renamed Vivimed Labs Europe to reflect its new parentage. 'Vivimed acquired us largely because of our hair dye products, along with our European presence and global marketing expertise,' says market development manager Alan Heeley. 'They produce pharmaceuticals, but also personal care products, and the hair dyes are a good fit for their portfolio.'
Textile departure
The company has survived where so many other dye manufacturers did not by moving away from textiles and into other areas of colour chemistry: first hair dyes, then photochromics. It is now applying its expertise to the growing field of organic electronics, which requires similar chemistry skills.
'We've worked on hair dyes since 1990 and developed it into a sustainable and profitable business,' says R&D chemist and safety coordinator Nigel Corns. 'From a chemical viewpoint, we're dealing with chemistry that's as complicated as it is in pharmaceuticals. The synthesis of a photochromic dye can take as many as 13 steps, which is a challenge.'
As a small company employing just seven chemists in Huddersfield, the scientists have a much broader range of roles than is normal in a larger company, says research chemist James Lowe. His job involves developing new products and improving the syntheses of existing ones. 'It's really interesting work, as by making improvements the cost benefits are clear - turning a product into something that's economically viable,' he says.
Indian business
At the time of the Vivimed acquisition, James Robinson was already involved in an Indian joint venture for large-scale manufacturing with a company in Gujarat. New products were developed in the Huddersfield labs and the technology transferred to India, where manufacturing costs are lower. Now, while small batches can be made in the 20 litre reactor in Huddersfield, larger scale manufacturing is done at Vivimed's new purpose-built plant in Hyderabad.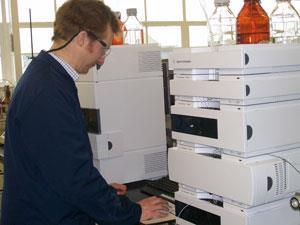 'We've transferred a lot of existing processes there in a very short time, which was a real challenge,' explains research manager Andy Towns. While some were fairly straightforward, it's more complicated for complex multi-step processes. 'We have to prepare a technical package of information and reference samples - not just information about the process itself, but analytical methods, specifications and even background on what has been tried and didn't work to prevent them having to reinvent the wheel,' he says.
'Photochromic products involve multi-step syntheses, with maybe three steps to one intermediate and four to another, and only at the end do you put them all together. This gives quite a chain of manufacturing processes that all need to be transferred, and we have to strike the right balance between overwhelming our Indian colleagues with too much information, and giving them so little that it causes further problems.'
There are some processes where it's critical to do things in a certain order, and where they've worked out what to watch out for and to avoid, he says. 'While much of this can be done remotely, I've been over to Hyderabad, and it was really useful to be able to talk through the possible pitfalls
face-to-face with our Indian colleagues.'
The next phase of the company's diversification - the move into plastic electronics - is being aided by a joint development grant from the UK northern Regional Development Agency collaboration The Northern Way. 'The funding is to develop new plastic electronic molecules which have similar synthesis requirements to our capability in photochromics, as they are small volume, high purity complex molecules,' says Heeley.
'I think the field of organic electronics is going to be huge, and will provide the next phase of our growth into new sectors.'
Sarah Houlton is a freelance writer based in London, UK