Chemists and chemical engineers are two groups separated by a common science. Sarah Houlton looks at a course that's bridging the gap
To a chemist, it can seem that chemical engineers come from a different planet. Their huge stainless steel vessels are a far cry from round-bottomed flasks, and talk of material balance and fluid flow can be a real barrier to communication. The five-day 'Chemical engineering for scientists' course, run by the Institute of Chemical Engineers, is designed to address this by giving chemists (and other scientists) an insight into the world of the chemical engineer.
According to course director Philip Bailes, emeritus professor of chemical engineering at the University of Bradford, UK, the idea is not to transform a chemist into a fully-fledged chemical engineer. Rather, it aims to enable chemists and chemical engineers within a company to talk effectively. 'To put it bluntly, we want them to understand where the other is coming from!' he says.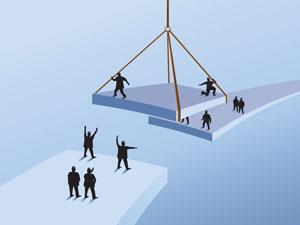 Plant chemistry
Most of the course's participants are a few years into their career, and have reached a critical point in their development. They might have moved from a job at the lab bench to a managerial role running a pilot plant, for example, with larger-scale equipment and more financial responsibility. Or maybe they've changed company, and have an expanded role that now involves interactions with chemical engineers.
The course is structured so each topic builds on the previous one. At the outset, it covers fluid flow, introducing concepts such as laminar flow and turbulence, plus elements of pumping, pressure drop, liquid mixing and other subjects that are developed later in the week. Reactor design, from batch to continuous, plus concepts such as material and energy balances, heat transfer, and mass transfer operations such as solvent extraction, gas absorption and binary distillation are also covered. The course also deals with biochemical engineering, including live cell culture in fermenters, enzyme systems and the use of genetically modified organisms.
The content is delivered through lectures and problem-solving workshops, with some topics covered quantitatively, including equations for the scale-up of reactions in different reactors. 'I think the thing most chemists don't grasp about chemical engineering is scale-up, and the fact that the engineers come at the problem with a more mathematical and modelling approach,' says Bailes. 'This allows them to understand how a process might work without a having to run a much larger scale experiment at the outset. It gives a good grasp of the data a chemical engineer is looking for a chemist to provide, and how it's used.'
The week concludes with a look one of the most important aspects of process safety: electrostatic ignition hazards.
Expert experience
The course is staffed by experienced chemical engineers from academia and industry. 'We try to pick people who are authorities in their field, but who are also good lecturers,' Bailes says, adding that if participants leave the course able to ask intelligent questions of a chemical engineer, and to understand the answers, then the course has succeeded.
Chris Satterley, a chemist at E.ON in Nottinghamshire, took the course recently and says it gave him a great insight into the way a chemical engineer thinks, and better understanding of their terminology. 'The course covers a large number of areas, not pulling any punches in terms of detail,' he says. 'It's very intensive, but the material is very useful, and I return to it when I need more information or to remind myself about something.'
He also gained a better idea of what's important to a chemical engineer when moving a reaction into the process scale. 'There are many things you don't necessarily think about as a chemist,' he says. 'For example, heat transfer is critical, as is ensuring good mixing. At a small scale in a beaker, these are much less of a problem!'
The course is peppered with anecdotes and personal experience, he says. 'It wasn't just dry theory, it was accompanied by real-life examples of where things had gone wrong and they had learnt from the experience. I deal with very large scale gas cleaning processes for power stations, so the understanding the course has given me of mass transfer, mixing flows through pipes and mass and heat balances has been invaluable.'