A career in drug delivery finds polymer chemist Jeff Hrkach working with chemists, biologists, engineers and, ultimately, investors, writes Sarah Houlton

Jeff Hrkach's interest in polymer science has taken him from a chemistry degree in the US to a career in pharmaceutical formulation. 'I was the first person in my family to venture off to college, so I stayed close to home in Philadelphia and studied at the Philadelphia College of Pharmacy and Science,' he says. It's a small college with an interesting history - founded by Benjamin Franklin in the 1800s, the alumni list contains such familiar pharma industry names as Eli Lilly and Merck.
A couple of summer jobs piqued his interest in polymer chemistry, and the logical next step was a PhD with Krzysztof Matyjaszewski at Carnegie Mellon in Pittsburgh. 'I dove into learning the art and science of synthetic polymer chemistry,' he recalls. 'My work was pretty fundamental polymer science, but I became increasingly interested in the biomedical side. You can synthesise and characterise a polymer, write a paper saying it could be good for 101 different applications, but you move on to the next polymer without trying any of them! I realised I wanted to make polymers where the potential applications could follow through, and healthcare applications were very appealing.'
A postdoc with Bob Langer at the Massachusetts Institute of Technology (MIT) provided the perfect opportunity to put this into action. 'He was pioneering the use of polymers for tissue engineering and drug delivery,' Hrkach says. 'Bob really encourages interdisciplinary work - as an engineer working in medicine he realised that engineers, doctors, biologists and chemists all have to work together to develop medical applications. I wasn't just a polymer chemist tinkering away in a corner - I was part of a collaborative network.'
One project he was involved in led to a start-up company, and he jumped at the chance to join it. 'Advanced Inhalation Research, or AIR, made large, porous particles for inhalation,' he explains. 'By being larger and less dense, the idea was they would fly better without aggregating, and they might be useful for the controlled release of drugs. We were working with companies such as GlaxoSmithKline, Lilly and Pfizer, testing their drug molecules with our technology, and the company grew quickly.'
Just 13 months later, AIR was acquired by Alkermes, which thought the technology a good fit for its sustained release product portfolio. 'I went from a 30-person company to one with 800, including regulatory and clinical groups,' he says. 'It was a great opportunity for us - all of a sudden we could interact with all these other groups. But after three years I started to get itchy feet, and Bob suggested I contacted some former MIT colleagues who had set up another company, Momenta. They were trying to develop heparin-based drugs, but were also interested in pulmonary delivery, and I joined them as director of drug delivery.'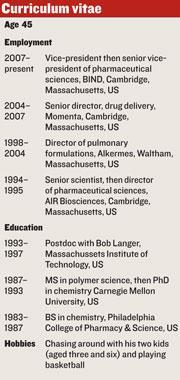 Ultimately, Momenta decided drug delivery wasn't the right direction, and Hrkach moved into project leadership and working with partner alliances for its second project, a generic form of the multiple sclerosis drug Copaxone (glatiramer). 'This took me further from my chemical roots, but was a tremendous learning experience,' he says.
And then, in 2007, came the call that took him to his current role at BIND Biosciences, another Langer group spin-out, which is working on targeted drug nanoparticles. Its lead product - a nanoparticle formulation of the cancer drug docetaxel with fewer side-effects - started Phase I clinical trials in January. The particles comprise polylactic acid and polyethylene glycol, which render the drug inside the particle 'stealthy' so it circulates in the bloodstream for longer. As well as cancer, they're investigating inflammation and cardiovascular diseases, and working with pharma companies to improve the delivery of active ingredients. They're also looking at ways of incorporating targeting ligands on the surface of the particles.
'My role is a real mix of scientific strategy and planning,' Hrkach says. 'I look at what drugs might work with our technology, likely therapeutic indications, and what biological targets we can try to link our particles to. I work closely with our chemistry, biology and engineering teams, but also potential partners and even investors. I continue to learn a lot, and it's a lot of fun - it's such a new field. In many ways it brings me back to those exciting days as a postdoc in Bob Langer's lab, creating a collaborative environment with great people where amazing things can happen through advancing a technology.'
Sarah Houlton is a freelance writer based in Boston, Massachusetts, US