Teaching is in Jane Essex's blood. After years teaching in schools, she is now inspiring the next generation of chemistry teachers - and loving it, as she tells Emma Davies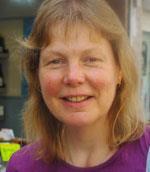 Jane Essex had always vowed to resist the pull to become a teacher. 'I come from a long line of educators and I was determined that my generation would be the one to break free,' she says. But her family knew better, spotting the teacher in her at an early age. 'Maybe it was my endless love of chatting that did it,' she jokes.
On graduating from the London School of Pharmacy, UK, Essex hunted for research work but a severe job shortage at the time meant she had to reconsider her options. 'So I took the advice of my friends and family to go into teaching,' she says. It turned out to be a wise move. 'I discovered that I absolutely loved teaching - the schools were fascinating and the pupils were amazing.'
Essex went on to have many fulfilling years as a chemistry teacher in secondary schools. On reaching a 'big birthday' she thought long and hard about her future career direction. She opted to study part-time for a Masters in education at the Open University, while continuing to teach. She then went on to do a doctorate in science education, specialising in mentoring.
Part way through her PhD, a job as lecturer in science education became available at Keele University, UK. The idea of becoming a 'teacher-educator' hadn't crossed Essex's mind but a couple of colleagues suggested she apply for the job. 'I had done quite a lot of chemistry education and thought I maybe had some perspective to share with people coming into the profession,' she says. 'When I got the job I was delighted.'
Fresh faces
In her science education role at Keele, Essex works mainly with trainee teachers as well as providing some continuing professional development to existing teachers. She also helps to run a pre-PGCE (postgraduate certificate in education) course for those whose chemistry isn't strong enough to allow them to be curriculum leaders. Working with the RSC to address the problem of a shortage of chemistry teachers, Essex and colleagues managed to get extra government funding for the pre-PGCE training. 'There is the feeling of having some impact on the sustainability of chemistry as a school subject,' she says.
As part of the pre-PGCE training, Essex teaches a module on history, philosophy and ethics of science. She has always loved history but the course has given her an excuse to delve deeper into the subject. Last year she joined an Imperial War Museum teacher fellowship to look at 'pseudo-science and the Holocaust as an example of what happens when people aren't clear enough about the bounds of science and its responsibilities'. For this, Essex travelled to Jerusalem and Poland. 'It was quite a powerful thing to do and it is still impacting on me,' she says.
Practical push
The Keele course has a strong focus on showing trainees how to use practical work to make chemistry really interesting and appealing to school students. 'We spend lots of time getting them to think about how people learn chemistry, rather than about the content of what they need to learn, so that it doesn't just become a long menu of stuff to "swallow",' says Essex. 'I try to get them to think critically and creatively about chemistry in schools and encourage them to be a bit adventurous in their approach to the subject.'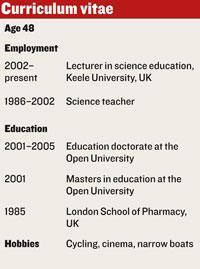 Essex has had a very positive response from the teachers she has trained. 'I like to think the chemists that we train make a healthy contribution to the life of chemistry,' she says. She keeps in touch with many of her ex-students, particularly those who teach locally. In fact, some of her trainees have taught science in schools that her three children have attended.
Almost inevitably, Essex misses school teaching. 'I always say it's like the story The little mermaid [where the mermaid has to become human to marry her prince]. You lose something major when you leave school but you gain other major things,' she says.
'I'm very happy with my job. It's quite a privileged position to see people at the start of their careers and to track them as they go through,' says Essex. 'I can't honestly think what more I would aspire to.'
Emma Davies is a freelance science writer based in Bishop's Stortford, UK
Further Reading
Jane Essex homepage at Keele University