Pratibha Gai talks to James Mitchell Crow about her life's work, watching the secret life of atoms
As a young girl growing up in India, Pratibha Gai was inspired by the books she read about the pioneering scientist Marie Curie. Today, as one of the 2013 laureates of the L'Oreal UNESCO For Women in Science Awards, Gai hopes that her own story will inspire a new generation of young women to take up a research career in science.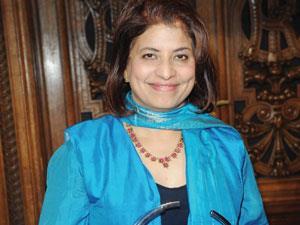 Gai currently co-leads the York JEOL Nanocentre at the University of York, UK. Her career has focused on studying the chemical processes that take place at surfaces – particularly those on catalysts. 'After graduating from the University of Cambridge, I established and became head of the surface reactions group at the department of materials at the University of Oxford,' she says. During this time, Gai began to develop new analytical instruments, creating one of the first 'environmental' transmission electron microscopes (ETEMs).
Conventional transmission electron microscopes are restricted to making observations in the 'dead' conditions of a vacuum. But ETEM allows gas or liquid reactants to be introduced, to observe 'living' chemical reactions taking place, Gai explains. 'My moment of scientific illumination came when I realised it was possible to drill a hole on the side of the electron microscope through its imaging lens, so that I could introduce the reaction environment inside the electron microscope.'
From Oxford, Gai moved to the US, where she worked concurrently as a research fellow at DuPont and adjunct professor of materials science at the University of Delaware. She returned to the UK in 2007 to join the then newly established York JEOL Nanocentre. Throughout, Gai continued to refine her ETEM instrument and in 2009, she at last achieved the critical step: the first atomic-scale resolution ETEM.
'For the first time it enabled the human eye to watch these processes at the atomic level – to understand them better, and devise new ones,' she says. As well as enabling observation, the instrument also has full analytical functionality, so that the chemical composition, surface structure and electronic structure of the reaction surface can all be studied. Gai has been able to observe the way that individual atoms on the catalyst surface move and reorganise during the catalytic cycle. 'Historically, we had hypotheses about what might be happening at the catalyst surface – now we have the tools to see it and understand why reactions do or don't take place,' she says.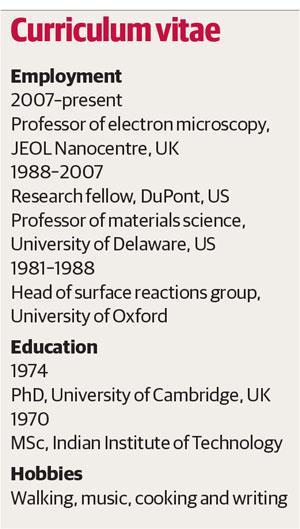 Gai is already applying the instrument to everything from pharmaceuticals to biofuel production to the development of a new nanocatalyst for inexpensive fuel cells. 'It has now been adopted for commercial production and is being used by numerous researchers worldwide,' she adds. 'That's the nice thing about it, these researchers have validated our work and are doing interesting work in different areas of science and technology.'
The number of people using instruments that exploit Gai's approach is only set to grow. 'Winning the For Women in Science award, my research was instantly on the global stage,' she says. 'It has helped my research profile and will help my funding for further work in this area, and is also helping me to travel to international conferences to see what advances are being made.'
But Gai also hopes that the attention will extend to the younger generation. 'When I started out there were no female role models for me,' she says. 'Now, young women have senior women scientists to look up to. Women are still underrepresented in the physical sciences and hopefully they will look at people like us and realise what is possible.'
Having cracked the problem of atom-scale resolution ETEM, Gai has big plans for her own future. 'Now that I can see single atoms under reaction conditions, this is really opening a whole new world,' she says. 'I want to manipulate these atoms to come up with new chemical reactions that no one has thought of before.'
'That's my next level of thinking at the moment – using the instrument to build molecules from the ground up. For the first time, we can see single atoms become two atoms, three atoms – it's a really exciting opportunity to come up with something entirely different.'