Catriona Gebbie talks to Nina Notman about life as the only analytical chemist on board a North Sea oil production platform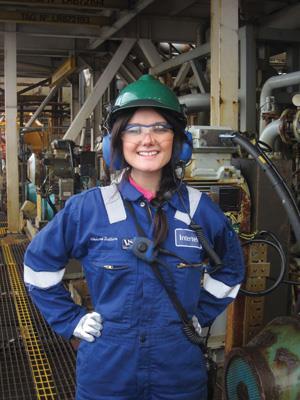 Catriona Gebbie is a lab chemist who doesn't wear a white coat. 'I wear a blue onesie,' she quips. This is because although Gebbie has a fairly conventional analytical chemistry job – running samples to support an industrial facility – her place of work is distinctly unconventional. Gebbie spends half her life on board an oil production platform in the North Sea, 140 miles north east of Aberdeen, UK.
The platforms are kitted out with fully functioning analytical chemistry labs, explains Gebbie. 'We take samples from our facility at various times of the day to check that we are complying with operational and environmental guidelines.' Routine tests include checking water content in oil samples and ensuring water brought up from the well contains minimal amounts of oil before it is discharged overboard. Gas is also monitored, although these samples are collected by Gebbie and shipped back to onshore labs for analysis. Other typical offshore tests include ensuring no chemicals are corroding equipment. 'We also take samples of potable water … the water we use on the platform is delivered by a supply vessel, and we need to make sure that it is of good drinking quality,' says Gebbie.
Shore footing
Although Gebbie is the only chemist on the platform, she is supported by a team of chemists on the mainland. These onshore labs give most offshore chemists – including Gebbie – their first taste of life in the oil industry. 'It is quite rare for someone to go straight offshore into a fixed position – you would build up through ad hoc trips to gain experience and not be thrown in at the deep end,' she explains.
To get a job in an onshore lab, a relevant degree or extensive industrial experience is required. Gebbie completed her degree in forensic science and law at Aberdeen's Robert Gordon University in 2009, and joined Intertek in 2010, where she gained analytical experience (testing new machine oils and lubricants for potential use on the platforms) and made short trips offshore. In 2012, she took a permanent offshore role, before moving to her current platform in 2014.
The make-up of the approximately 80 staff on Gebbie's current offshore platform is fairly typical for the industry; the platform is owned by the oil company but only around a third of the employees work directly for them. The remainder work for third party service providers.
Life on the ocean wave
Gebbie is also the only woman on the platform. Again, this is fairly typical. But Gebbie doesn't see this as a problem. 'I'm used to it now. But I would love to see more females [on the platforms], they should not be put off that it's a male-dominated environment,' she says. 'At Intertek, one in five offshore chemists is female.'
While the gender imbalance remains, there is diversity in the age of employees on the platforms. 'There are a lot more young people that are coming to see the potential of the industry. The age group I work with ranges from mid-20s up to mid-50s,' Gebbie explains.
Factfile
Name: Catriona Gebbie
Role: Offshore chemist, Intertek
Based: Oil production platform in the North Sea, 140 miles north east of Aberdeen, UK
CV: BSc forensic science with law, Robert Gordon University, UK, followed by two years as an onshore chemist supporting oil production for Intertek. Moved offshore in 2012.
Gebbie has a so-called fixed position, meaning she always goes to the same platform, where she works 12-hour days for three weeks, before spending three weeks at home. 'Because we see the same people all the time we build up really good relationships, and you end up becoming like a big old family. It's a nice atmosphere offshore.'
In contrast to decades past, staying in touch with your onshore family and friends is easy too. 'There are phones and we have Wi-Fi in our rooms,' she explains. However, she admits that being away from her husband and other loved ones is the main downside of the role. 'You do miss a lot – I missed Christmas for the first time last year, I miss birthdays, I miss weddings – and there's nothing I can do about it. It's just the nature of my job.'
To try and make up for this, the platform has a busy social schedule. 'On my platform we have a cinema night every Saturday, we have quiz nights and race nights, we do fundraising,' she says. 'And over Christmas and the New Year, the platform goes all out to try to keep spirits up.' The platforms also have well-equipped gyms and other leisure facilities such as TV lounges, pool tables, darts, game consoles and a range of DVDs. 'In our cabins we've got satellite TV.'
For Gebbie, the time away from home is made up by the lifestyle offered by offshore working. The wages are higher than for the onshore analytical jobs. 'And to have three weeks at home during the day is fantastic, I absolutely love that aspect,' Gebbie adds.
Her lab is also situated in the middle of the sea, meaning on a nice day the views can be phenomenal. 'In the morning I'm up at 5am doing my checks, and I see the sun come up. We've see some amazing sunsets and sometimes dolphins. It can be really surreal.'
Nina Notman is a science writer based in Salisbury, UK