Sarah Houlton takes a 'Peek' at the career of polymer chemist Alice Matthews
Alice Matthews developed a love of materials chemistry during an undergraduate degree in sports science and materials technology, and a research masters degree in materials at the University of Birmingham. But when she finished her MRes in 2009, there were no jobs available, frustrating her desire to start a career in the field.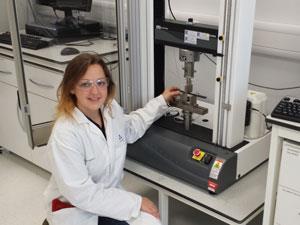 But she didn't give up. She did a ski season in France, worked in a department store and taught music – all the time continuing to hunt for that elusive job. And, finally, in early 2012, she found the perfect role – an experimental chemist at polymer specialist Victrex in Lancashire.
Formerly part of ICI, Victrex developed polyetheretherketone, or Peek, and continues to create new, related polymers. 'I'm part of the new polymer development team,' Matthews says. 'While our main business is selling Peek, my team develops new polymers that meet emerging needs in our key markets.'
Peek is a high-performance engineering thermoplastic, used in the aerospace, automotive, electronics and oil and gas industries. 'In the oil sector, for example, they might need enhanced high pressure, high temperature performance in a chemically aggressive environment. Or if a company was looking to make a new composite, they may want a resin with enhanced process capabilities,' she explains. 'We try to develop polyaryletherketones with the right physical properties.'
Currently, the majority of her time is taken up project managing the scale-up of new products. This involves bringing together a multidisciplinary team from across the business to manufacture and commercialise new materials.
About 40% of her day is spent in the lab, developing new polymers – looking at different monomers, and seeing how their chemical structure and the way they are polymerised influence the final polymer's properties. 'During the formulation stages it is great to be able to synthesise the polymer, analyse what I've made, and then test the mechanical properties too,' she says. 'Once the formulation is decided, I run trials at our semi-technical plant.' If successful, it will be manufactured in the company's main production facility in Lancashire.
'I really love my job – it was worth waiting for!' Matthews says. 'The people here make it even more enjoyable. Being exposed to all facets of the business, and seeing the development of a new product through from start to finish is really rewarding.'
Meet Victrex at Chemistry World Jobs Live