Matthias Findeisen and Stefan Berger
Wiley-VCH
2014 | 308pp | £50
ISBN 9783527334834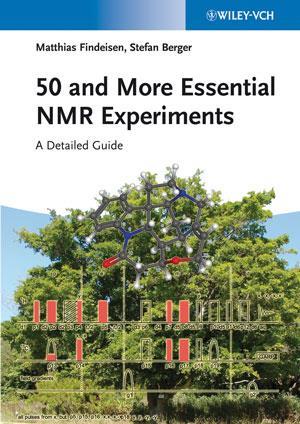 There are few working in NMR labs around the world who will not be familiar with this book's predecessors. Their pages are usually well-worn as these are books that have been used rather than read, and have inevitably suffered from being held open at just the right page.
As NMR instrumentation and techniques evolve, the set of possible experiments continues to grow. In the past this has required revision and expansion, from 100 to 150 and 200 ('and more') experiments. Here, Matthias Findeisen and Stefan Berger adopt a different approach. Not only has the set of experiments been reduced to 50 ('and more'), the volume has been enriched with photos, diagrams and quotes. I think this works.
The set of experiments covers those considered essential: this includes both routine 1D and 2D experiments and more advanced methods (for example, measurement of relaxation and diffusion rates, determination of association constants). Findeisen and Berger have deliberately chosen to include very few experiments in solid state NMR and structural biology. I thought initially that they might have done better to remove this chapter entirely, but keeping it provides a taster that just might lead a researcher into new fields.
The technical core of the book remains solid and reassuringly familiar to owners of the earlier volumes. But what of the embellishments? These consist of quotes from major contributors to the field, pages from Texas A&M University's wonderful TAMU NMR Letters (long defunct and sorely missed) and photographs of NMR spectroscopists, waterfalls, equipment, yoghurt, grappa, a 'Welcome' sign, a wisteria tree. Are these superfluous? I think not. The photographs and quotes of Jean Jeener, Richard Ernst, Anatole Abragam, Albert Overhauser and many others bring these names to life and, placed throughout the volume, they will be stumbled across while waiting for an experiment to finish. The connections to the waterfalls, grappa and wisteria are sometimes tenuous, quirky even, but it serves to break up the text.
This is a book that should be left close to the spectrometer, sitting open on a page displaying a quote from Jeener, Ernst or Paul Lauterbur … or a picturesque photo of a Croatian waterfall.
Purchase 50 and more essential NMR experiments from Amazon.co.uk