New microbicide products could turn the tide against Aids for women in Africa, reports Dinsa Sachan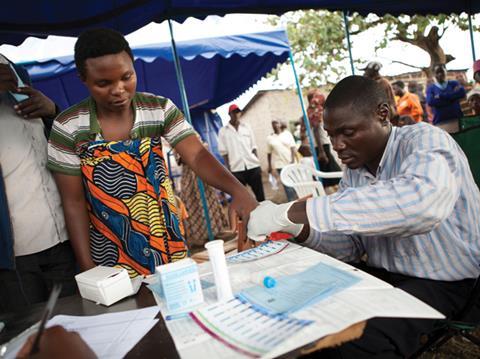 HIV/Aids poses a huge threat around the world: 35 million people live with the disease, while around 1.5 million people die from it every year. And that is in spite of new HIV infections falling by 33% since 2001 due to the availability of anti-retroviral drugs.
An Aids vaccine appears to be a long shot at the moment. So in the meantime, scientists are keenly looking at other options that could prevent HIV. Among these are a class of compounds called microbicides. These can be applied at the site of infection in the form of gels or rings. Most of these products are currently targeting women. Given the speed with which developments are taking place in this field, a microbicide could be in the market as early as 2018, opening a new chapter in the fight against the disease.
Why microbicides?
When it comes to options for HIV prevention, women don't get a level playing field. First off, there aren't too many prevention options available to them. Condoms and male circumcision are only of use to men. The anti-retroviral pill, Truvada (tenofovir/emtricitabine), is approved for use in prevention in the US, but other countries haven't allowed it for use in HIV-negative individuals.
Moreover, in sub-Saharan Africa, which has one of the worst HIV epidemics, women are often not able to get their partners to use condoms. 'Women need discrete methods that are under their control, ideally from a choice of HIV prevention products that match their needs,' says Connie Celum, professor of allergy and infectious disease and reproductive sciences at the University of Washington in the US. Celum and colleagues are trying to turn the tables for women through microbicides.
Apart from empowering women from a socio-economic perspective, microbicides hold certain medical advantages, too. 'With microbicides, we put a lot of drug at the site of infection, but there are low levels in the blood, which means there's less toxicity to the bones, to kidneys and it doesn't have systemic side effects,' says Sharon Hillier, professor of obstetrics-gynecology at the University of Pittsburgh, US. Hillier is co-chair of the Microbicide Trials Network (MTN), an HIV/Aids clinical trials network established in 2006 by the US National Institutes of Health. 'It doesn't give you an upset stomach, for example, as sometimes anti-retroviral tablets can do,' she adds. This property could also make microbicides potentially safe for pregnant women and women who are breastfeeding.
If microbicides become available one day, they are, however, not expected to replace the condom. 'Microbicides are one tool in one large toolkit,' says Zeda Rosenberg, head of the International Partnership for Microbicides, a non-profit initiative dedicated to microbicide research. 'It's like how we have multiple contraceptive options for women.'
Early candidates fail
When Aids was first reported in the US in 1981, it was thought that it only affected gay men. However, when the scientists realised later that women were getting it too through vaginal sex, they focused their attention on developing a prevention strategy solely targeting women. Today, half of the people living with HIV/Aids in the world are women. The number goes up to around 60% in sub-Saharan Africa.
The first product that was put on trial was an over-the-counter contraceptive called nonoxynol-9, or N-9, the main ingredient of many spermicidal products. It kills sperm by attacking their cell membranes. The compound shows anti-HIV properties in the lab, but it didn't quite succeed in clinical studies as a vaginal gel. In fact, some researchers found that N-9 actually harmed the vaginal mucosa, increasing the risk of infection. In 2001, the WHO concluded that research on N-9 should be discontinued.1
Another approach was investigated based on the observation that low pH could inactivate HIV. So acid-buffering gels were used to lower vaginal pH and inactivate HIV. Though this was a relatively safe approach, it wasn't potent enough to prevent infection. The scientists also tried long-chain, polyanionic compounds. In the lab, these compounds restricted entry of HIV into target cells. But they didn't fare any better in clinical trials.
'These were non-specific strategies, and they weren't specifically targeting the HIV virus,' says Hillier. 'Simply put, they were kind of impotent.'
New phase, but new challenges
After the first nondescript phase in the hunt for a microbicide ended, scientists decided to shift their focus to anti-retroviral drugs. These drugs had a successful track record in treating the HIV/Aids epidemic. They targeted the HIV virus specifically so they seemed to stand a better chance. But commercial success still seems to be elusive.
If you could get a high enough concentration of an anti-retroviral, you could prevent infection
A gel that was loaded with the anti-HIV compound tenofovir, one of the two active ingredients of Truvada, was a big draw for proponents. A small South African study, published in 2010 in Science, found that the tenofovir gel, which also has properties of a lubricant, was found to lower the acquisition of HIV by 39% in participants.2
Then came the large Phase III clinical trial, Vaginal and Oral Interventions to Control the Epidemic (Voice), that began in 2009. In addition to the tenofovir gel, it also tested two oral pills for prevention. In 2011, an independent review committee decided to shut down one oral pill arm of the study because the drug didn't show efficacy. A few months later, investigators found that the gel arm had not shown any efficacy, either. It was discontinued, too. Overall, none of the products were found to be effective.
After the Voice debacle, everyone then pinned their hopes on the Follow-on African Consortium for Tenofovir Studies (Facts) 001 Phase III clinical trial. But even this trial didn't find the gel effective. The failure of the tenofovir gel was a blow to everyone's confidence.
But analysis shows that the gel failed because many women in the study didn't use it. 'For many of the women in these trials, privacy is an issue,' says Helen Rees, founder and executive director of the Wits Reproductive Health and HIV Institute of the University of the Witwatersrand in South Africa. 'They often share their bedroom with their sisters, so where would they store the gel?'
Additionally, Rees notes that most of these women had sex outside of their houses, mostly at their boyfriends' places. The gel in the Facts 001 trial had to be used within 12 hours before and within 12 hours after sex. Clearly, carrying the gel around proved to be cumbersome for them.
But while most of the women didn't use the gel for various reasons, some did. Data showed there was a 52% reduction in HIV acquisition in women who had used it. 'It would appear that if you could get a high enough concentration of an anti-retroviral, you could prevent infection,' says Rees.
The researchers remain unperturbed. 'It doesn't mean the field of microbicides is over,' says Ward Cates, president emeritus at the global health and development non-profit FHI 360. 'It just means we're moving on to the next product.'
The next product – a breakthrough?
After the gel studies fizzled, the scientists in this field are concentrating on a pair of important studies on the vaginal ring. This ring is fitted inside the vagina in a fashion similar to one used for contraception. 'If you think about it, it's a lot like what we have done in contraception, to go on from those products that are daily interventions to longer-acting ones like the ring or the IUD,' says Cates.
While the ring used for contraception delivers hormones, the microbicide ring uses the anti-HIV drug, dapivirine. The IPM and MTN are each conducting a Phase III trial, involving thousands of women testing a plastic microbicide ring at several locations in Africa.
Researchers are confident that the concept behind the ring could provide them their first breakthrough. 'It's what we call sustained delivery,' says Hillier. 'It's a hot topic in prevention, simply because it's easier to use something when you don't have to remember it all the time, when you can put it in place or take it and have it work for a long period of time.'
Hillier says the ring could provide protection for three months in the future, but currently only works for a month. If the two studies find the ring to be effective, regulatory approval would come very easily and it could be rolled out within the next two years. Rosenberg conforms that the results will likely be announced early next year.
What are the odds the ring would not face the same adherence issues that plagued the gel? 'One can never be sure that something will be widely used,' says Robin Shattock, professor of mucosal infection and immunity at Imperial College, London. 'But what we do know from the two ongoing clinical studies for the majority of sites is that adherence is very good.'
What next?
Even though the results of the ring studies are crucial for the field's future, the scientists are already working on other kinds of microbicidal products. 'The more choice you have available, the more people will be able to protect themselves,' says Salim Abdool Karim, director of the Centre for the Aids Programme of Research in South Africa.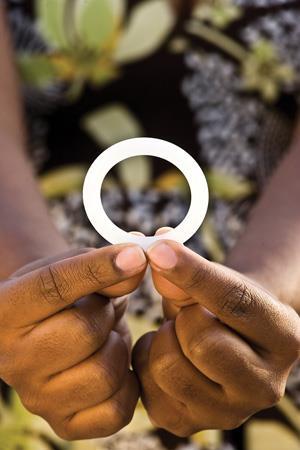 While the field seems to be focused more on vaginal products, the last few years have seen the scientists in this field widening their horizon. Several early-phase studies are looking at rectal microbicides – mainly gels that can be applied to the rectum.
Even though only 5–10% people worldwide participate in anal sex, the risk of getting HIV through this method is 10–20 times higher than vaginal sex. The layer of skin that lines the rectum is thin. It's easier for the HIV virus to infiltrate and attack the immune cells in that region. Gay men face a 19 times greater risk of contracting HIV as compared to heterosexual people. Rectal microbicides could prove to be a boon for them.
These products could be used by both men and heterosexual women. Early phase studies have shown that a slightly reformulated version of tenofovir gel is safe for use in the rectum. Rectal micobicides will also function as lubricants and this property may help deal with the adherence problem that plagued the vaginal gel. 'In order for rectal sex to be comfortable, you need a lubricant,' says Rosenberg. 'It might be that people will look at rectal gel as an added benefit.'
The new buzz word in HIV prevention these days is multi-prevention technologies. In a not-so-far future, microbicidal rings, gels or films would provide the entire spectrum of reproductive health functions – protection from HIV and other sexually transmitted diseases as well as contraception. Women could insert a vaginal ring or a diaphragm, and rest assured that they don't have to worry about getting pregnant or contracting HIV for several months.
Can the field survive?
There has been a slight decline in funding for all kinds of Aids research due to the decline in HIV rates over the last few years. In 2012, the global investment for HIV prevention research totalled around $1.31 billion (£850 million). In 2014, it had declined to $1.25 billion. Overall, this could be bad news for all products in HIV prevention, including microbicides.
But the fight against HIV is far from over, as millions are still dying every year. 'It's the idea that we have this sort of solved, there are pretty good drugs; this is a problem that is going away,' says Hillier. 'It drives me crazy.'
Within the field of HIV prevention, vaccine research gets most donations, making it even more difficult for microbicides to lure funding. In 2014, the global funding for vaccines was $533 million, while microbicides attracted $108 million. 'The difference there is that, scientifically, people have no problem in understanding that vaccines work,' says Shattock. 'There are many vaccines licensed for other infections. So the scientific community does not question whether vaccines work as a concept.' This scenario is unlikely to change until a microbicide is rolled out onto the market.
The failure of tenofovir gel didn't help either. Outside experts caution that researchers in this field would have to pay more attention to social behavioural issues that are responsible for making a product accessible and desirable. 'The needs of women and girls vary depending on where they live – Africa, India or the United States,' says Bethany Young Holt, director of the Coalition Advancing Multipurpose Innovations. 'So this should be considered throughout the product development process.'
Moreover, the scientists will have to get their priorities right. 'There are some clever and interesting ideas out there, but unfortunately, unlike the early days of microbicides, the funding is much tighter,' says Holt. 'The challenge will be to make hard decisions early on so investments can be made wisely.'
Dinsa Sachan is a science writer based in New Delhi, India