Nina Notman learns how biotechnology could potentially overtake cigars as Cuba's most famous export
Cuba lies approximately 90 miles off the southern tip of Florida, US. Yet life on the island couldn't be more different from that of its rich neighbour. The approximately 11 million people who live in this socialist country have limited internet access, and are regularly frustrated by shortages of basic groceries such as milk. But on the flip side, healthcare and education at every level is free for all.
Socialist Cuba is the brainchild of Fidel Castro, who in 1959 overthrew the country's US-supported regime and aligned Cuba with the Soviet Union. As Cuba's relationship with the US continued to sour, US president John F Kennedy placed an official embargo on all trade between the US and Cuba in 1962. The embargo remains in place today, and also affects Cuba's trade with most other countries.
Cubans are possibly the world's best sugar chemists

Graham Richards, University of Oxford
While the implications of this embargo for Cubans are widespread, in some endeavours the country has managed to achieve great things with very little money and other resources. '[Cuba's] medical services are quite fantastic,' explains Graham Richards, a chemistry professor at the University of Oxford, UK. Richards collaborates with researchers at the University of Havana and has visited Cuba a number of times.
According to the World Health Organization (WHO), Cuba's health indicators are comparable with those of highly developed countries. Its free education system has produced nearly three times the density of doctors – 7.5 per 1000 population – than in the US and UK. And the majority of the medical equipment and medicines used in Cuba have been developed and produced within the country.
State-run R&D
After the revolution, in 1960 all pharmaceutical companies in Cuba, foreign and domestic, were nationalised as the government expropriated property, land and assets owned by companies and rich individuals. The resulting state pharma setup has undergone a number of transformations since, the most recent in 2012 saw BioCubaFarma established as the umbrella agency overseeing the 31 state-run pharmaceutical and biotechnology R&D and production facilities. In 2013, according to the WHO, BioCubaFarma had more than 21,000 employees including 6158 university graduates (270 with a PhD and over 1000 with a master's degree).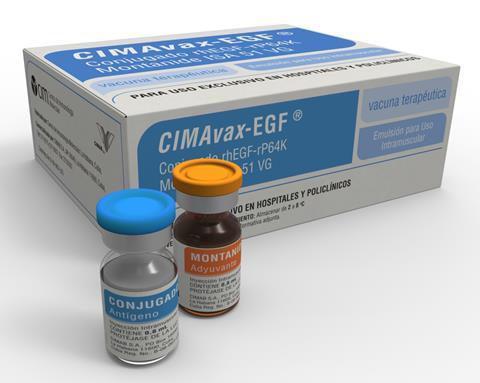 In the early 1980s, following the discovery that interferon proteins held potential as a treatment for cancers and other diseases, 'Cuba's government chose to invest heavily in biotechnology, which has since paid off in terms of innovative drugs and vaccines,' explains Nassim Assefi, former executive director of Medicc, an NGO working to promote US–Cuba health collaborations. 'Today, of the 857 medicines on Cuba's list of medicines approved for use in the national health system, 569 are produced domestically. It imports the remaining medicines from Latin America, Europe and Asia.'
Cuba also exports medicines. As of 2015, Cuban biotech products were exported to 49 countries and there were half a dozen products in 30 clinical trials in 18 countries. 'The drugs that Cuba produces are provided first to meet national needs, and then registered and marketed internationally ,' Assefi explains.
The jewels in the crown of BioCubaFarma are a cluster of biotechnology institutes focused on developing vaccines and antibodies. 'These institutes are really very, very good,' explains Richards. And it's no accident that vaccines are something that Cuba excels at. 'Vaccines tend to be proteins with sugars on the outside and something Cuba has in abundance is sugar,' explains Richards. 'The Cubans have become incredibly good at synthesising these rather complicated sugars and are now possibly the world's best sugar chemists.'
Unlike other countries where the commercial imperative is a factor in which diseases are targeted, in Cuba products are developed solely in accordance with the health needs of the nation . The country's biotechnology sector had its first taste of success in 1981, with the successful isolation of large quantities of human leukocyte interferon alpha now used to treat various cancers and viral infections. Other early achievements include the world's first meningitis B vaccine, a hepatitis B vaccine and, another global first, a Haemophilus influenzae type B vaccine created from synthetic antigens. It was the success of this early work that first made Cuba's name as a world-class vaccine producer, but many more – exportable – innovative biotech products have followed.
Lung cancer vaccine
The most recent vaccine to make headlines outside Cuba is CimaVax-EGF, a vaccine for treating cancer – specifically, non-small-cell lung carcinoma (NSCLC). CimaVax-EGF was developed by the Center of Molecular Immunology (CIM) – one of the BioCubaFarma institutes.
Cuba has a vast tobacco industry – cigars are the country's most well-known export – and its population has high incidences of lung cancer, a disease with low survival rates. Identifying a treatment for NSCLC was prioritised in Cuba around 30 years ago. 'CimaVax-EGF's active ingredient and its action mechanism were discovered in the early 1990s,' explains the CimaVax-EGF product manager Gustavo Gonzalez Ruiz. Following 25 years of trials , it was approved in Cuba in 2008. And although vaccines are typically a preventative measure, CimaVax-EGF was developed as a treatment for patients that already have lung cancer, by controlling the growth of the cancer cells.
CimaVax-EGF is a hybrid protein comprised of the human protein epidermal growth factor (EGF) and pieces of protein from the meningitis bacteria, to boost the immune system. In our bodies, EGF attaches to a receptor protein on the surface of cells and signals them to grow and divide. Some types of cancer cause the body to produce more EGF than normal, this in turn causes cells to grow and divide more rapidly than they should. CimaVax-EGF has been shown to stimulate the body to produce more natural antibodies to EGF. These antibodies then bind to the extra EGF produced due to the cancer cells, preventing it from triggering further cancer cell growth.
The Phase III clinical trial of CimaVax-EGF was published in 2016. Nearly 250 patients with advanced NSCLC who received the vaccine survived on average more than a year after vaccination, compared to just over nine months for the control group.
As well as now being widely used in Cuba, CimaVax-EGF is also approved in a handful of South American countries. To widen its reach, the CIM has two ongoing international collaborations through which the vaccine is being trialled in a number of other countries including Europe and – perhaps surprisingly – the US.
The first of these collaborations is with the Malaysian company Bioven. In 2002, Castro made an official visit to Malaysia and met with its prime minister to discuss using Cuba's biotechnology innovations in Asia, explains Bioven's chief scientific officer Erik D'Hondt. Bioven was subsequently founded and given the rights for the South East Asia territory. These rights have now been expanded to include other regions.
Bioven is currently trialling CimaVax-EGF in 12 countries in Europe and Asia. Thanks to the Cuban trial data, it hasn't been necessary to start Bioven's CimaVax-EGF trials again from scratch. 'After seeing the interim analysis of the Phase III trial that CIM ran in Cuba we decided to start with a Phase III trial,' says D'Hondt.
[Collaborations are] very vulnerable, because President Trump hasn't clarified his policy toward Cuba

Nassam Assefi
Interestingly, however, Bioven are looking to use CimaVax-EGF in a different stage in the treatment process to the Cuban doctors. 'In Cuba, CimaVax-EGF is used as second-line therapy after first-line platinum-based chemotherapy ,' explains CIM's Gonzalez Ruiz. Around a month after first-line chemotherapy is completed, patients are given another low dose of the chemotherapeutic agent followed by a CimaVax-EGF vaccine. The vaccine is then boosted every two weeks for four doses, and then switched to monthly.
In Bioven's trials, CimaVax-EGF is being explored as a first-line treatment with two immunisations occurring prior to chemotherapy. D'Hondt believes that giving the vaccine first will solicit a larger immune response from the vaccine. 'Prior to chemotherapy the immune cells are competent and active, whereas after chemotherapy most of the immune cells have been destroyed or damaged severely,' he explains. Following chemotherapy, maintenance vaccinations are then given every two months until clinical relapse or patient death. An interim analysis of these trials is planned for early 2019.
Making it into the US
Bioven is also exploring the potential of using CimaVax-EGF as a combination treatment for other diseases. And it's also working towards expanding their current CimaVax-EGF clinical trials in to the US. 'We have FDA [Food and Drug Administration] approval for adding centres in the US but the likelihood to obtain the Office of Foreign Assets Control licence required for importing the product in US is low under the current administration,' D'Hondt says.
The company obtained its FDA approval under the Obama administration. In 2014, then US president Barack Obama together with the current Cuban president (and Fidel's brother) Raúl Castro announced an intention to thaw US–Cuban relations, and in 2016 Obama became the first US president to visit Cuba in nearly 100 years. Since the November US election, concern has been rife among those with an interest in improved Cuban-US relations that the US will retreat from cooperation. '[Collaborations are] very vulnerable at this point in time, because President Trump hasn't clarified his policy toward Cuba and may reverse the opening,' explains Medicc's Assefi. It is widely suspected that Donald Trump's administration will be less pro-Cuba than its predecessor.
But while Bioven hasn't yet obtained the required permissions, some trials are still going ahead. Roswell Park Cancer Institute in Buffalo, New York, has been running the Phase I part of a Phase I/II clinical trial of CimaVax-EGF since January 2017. Here it is being used as a second-line treatment against NSCLC in combination with the drug Opdivo (nivolumab).
'In 2011, the CIM scientists approached some immunologists and scientists from Roswell to talk about developing a collaboration to study their cancer vaccine,' explains Grace Dy, principal investigator of the Roswell-led clinical trial. 'As part of the procedure to be able to get the agent over here for study, we needed to obtain a special licence from the Office of Foreign Assets Control, and that was accomplished around 2013 as a prelude to designing a clinical trial.' This license gives Roswell permission to import the vaccines for their trials from Cuba.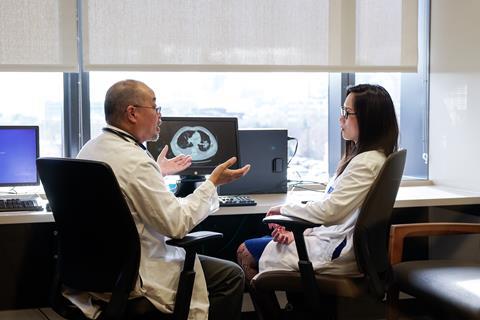 'We have chosen to test CimaVax-EGF with Opdivo because of the potential synergistic interaction between these two agents,' explains Dy. Cancer is able to confuse the body's T cells, switching the natural immune response to foreign cells such as cancerous ones. Checkpoint inhibitors or modulators, such as Opdivo, have been shown to be able to remove the brakes put on T cells by cancer and allow them to once again hunt down and destroy cancerous cells. So, checkpoint inhibitors could potentially work together with CimaVax-EGF to give a larger boost the body's immune system and cancerbusting capabilities.
Roswell also has plans to explore the use of CimaVax-EGF for other cancers. 'The initial path was in lung cancer, as this cancer accounts for the highest cancer-related mortality in the US (more than prostate, breast, colon cancer combined), and it has the proof of concept. The next steps will be to test the vaccine in other cancers.' Other cancers that utilise the EGF pathway include head-neck cancers and colorectal cancer.
Roswell is also exploring other products developed by Cuba's CIM. 'The Cubans have a very innovative and interesting pipeline of vaccines and antibodies that we are looking at for future testing,' explains Dy.
Healing wounds
Another highly exportable Cuban biotechnology innovation is Heberprot-P, an injection that supplies EGF to support wound healing. Its primary use is for treating diabetic foot ulcers, which affect around 10% of diabetes patients in their lifetime. People with diabetes have lower than normal concentrations of EGF in their tissues, which impairs wound healing and means that ulcers can become infected, eventually leading to foot amputation. In the US, over 70,000 such amputations are performed annually. Trials in Cuba have shown that the EGF in Heberprot-P accelerates the healing of foot ulcers in 70% of patients.
Heberprot-P was developed by a different BioCubaFarma institute to CimaVax-EGF; the Center for Genetic Engineering and Biotechnology (GIGB). It was licensed in Cuba in 2006 and has since been licensed in more than a dozen other countries primarily in South and Central America. According to the GIGB, 250,000 diabetic patients have now been treated with this drug.
Mercurio Biotec, a startup company allied with the University of Arizona, is now looking to bring Heberprot-P to the US. In May 2016, the Department of Treasury granted Mercurio Biotec a license to import Heberprot-P to the US for clinical trial purposes as a therapeutic for diabetic foot ulcers, explains Medicc's Assefi. The company hopes to apply to start US trials at Phase III, due to the huge amount of human data that has already been amassed elsewhere.
But before it can file for FDA approval to start trials, Mercurio needs to secure the rights to use the technology from the Cuban government. Since President Trump was elected all progress with this paperwork has ground to a halt. The Cuban government is waiting to see how the change of administration might affect newly thawed US–Cuban relations before proceeding, explains medic and Mercurio Biotec's chairman Marvin Slepian. 'The issue is that if we start to embark on a commercial venture, and then the door gets slammed shut, it's not going be a good thing for anybody.' We are at currently at holding gates but are still all very optimistic that we will be able to bring this drug to the US, he adds.
Assefi is hopeful that one day soon the US and Cuba populations will both benefit from improved relations and increased collaborations. 'People in both countries will fare better working together—to meet the challenges of emerging infectious disease threats, climate change, aging and the accompanying chronic diseases affecting the baby boom generation, as well as natural disasters and other health emergencies,' she says.
Nina Notman is a science writer based near Baltimore, US