Chemistry World Entrepreneur of the Year Ian Shott started his company, Excelsyn, from nothing in 2003.
Chemistry World Entrepreneur of the Year Ian Shott started his company, Excelsyn, from nothing in 2003.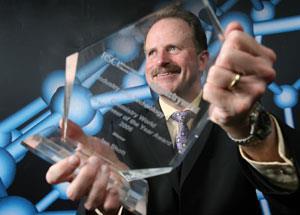 After more than two decades in the fine chemicals industry Ian Shott decided to start up on his own. He took the plunge as an independent consultant, having steered many successful acquisitions whilst working for other companies. But more opportunities arose and things progressed much faster than even he had anticipated. Within nine months he'd taken over two businesses and today, his company, Excelsyn, has 120 employees and an annual turnover in excess of ?13 million. Ian's efforts earned him the top business accolade at the RSC Industry and Technology Forum Innovation awards on 26 April.
Born to British parents in Tanganyika, East Africa, Ian had an itinerant early life moving around Africa and (briefly) the UK, and by the time he started secondary school in the Rhodesian capital Bulawayo, he had attended 13 different schools. Grammar school in Southampton followed, and he then studied chemical engineering at Imperial College in London. 'From there, I joined ICI, working first for the organics division in Scotland as a chemical engineer, where I started up a biocides process and worked on continuous technology,' he says. His first experience of pharmaceuticals came with a move to the bulk drug facility in Bristol, where he managed the capital expansion plan for Tenormin (atenolol), the heart drug that was, at the time, ICI's most profitable product.
'ICI then bought French company Francolor, and I was among the vanguard of the people sent to "ICI" it. I was responsible for setting up a process development group across three factories,' he explains. A move into sales and marketing in Manchester was followed by a stint as product group manager for fine chemicals that involved coordinating major investments in fluoroaromatics and biotransformation, before ICI span off the business into Zeneca, giving him experience in rebranding.
'I was headhunted by Alusuisse Lonza in 1993, and moved to Basel with my family, joining the executive board of Lonza,' he says. 'It was all very exciting - and in a foreign language too,' he says. 'This was the second time I'd had to learn a new language to do business, which was difficult as I don't really have an ear for them.'
A change of culture
Despite the challenges, Ian enjoyed a successful five years in Basel. 'We bought Celltech Biologics, a recombinant protein business, which not only represented a technology change but also a culture change, bringing 120 British and American PhDs into a very Swiss company.' Other achievements included opening an office in Mumbai, investing in a plant to make niacinamide in China, and turning around a plant in the US acquired from SmithKlineBeecham. 'I think the acquisition of Celltech Biologics, in particular, had a transformational effect. Today, Lonza is an independent group and has repositioned itself as a biotechnology and chemical company. That would never have happened without the acquisition.'
His next move was back to the UK, as chief operating officer at ChiRex. The company had started life as a management buy-out from Sterling Healthcare, which then combined with Seprachem, a spin-out from Sepracor. It had raised capital through an initial public offering (IPO) of shares, and had a deal with GlaxoWellcome under its belt. Yet it was still struggling. 'They bought a plant, took on debt, but started missing their forecasts and not delivering GW's expectations. Within a week of arriving I was in a bank meeting in London, with a syndicate of 13 banks - 40 people in a room baying for blood,' he says. 'We were within six days of going bust, but we managed to turn things around, and achieved that quarter's figures.'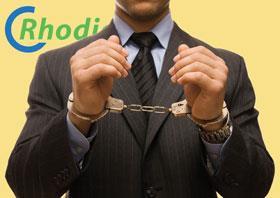 A supplementary share offering raised $55m, relieving the financial pressure and allowing Ian to focus on making the company profitable. 'In my first year there, the profit was 17% on sales, the first time they'd made a profit,' he says. 'We ended up selling the company to Rhodia in 2000 for $550m.' Ian agreed to stay with the company for two years on a 'golden handcuffs' deal, leading the project to reorganise all its pharmaceutical-related businesses. 'I managed to get the handcuffs unlocked six months early, and decided that as I'd made a seven-figure sum through the sale to Rhodia and share options, the next step should be to go into business on my own.'
Starting up
He had entertained the thought in the past, but knew the best time would be at the bottom of the market, and the fine chemicals market was then close to it. 'I spent a lot of time thinking about what to do, and figured it was best to stick to what I knew. Pharmaceuticals is very complex and knowledge-driven, I had more experience of it than most people, and it was an area that was restructuring madly.'
He'd already rejected the idea of a technology spin-out as taking far too long to become profitable, and decided to take an industrial approach instead, albeit one with a large technology element. 'I thought I would start as a consultant because there were no capital assets and no cost infrastructure, so I could do that immediately,' he says. 'The next step would be to go into engineering because it is less capital-intensive than fine chemicals, and while most pharma companies make fine chemicals themselves, they didn't really do engineering. And I thought I'd then be able to find something on the chemistry side just before the market picked up again.'
He kicked off the consultancy in September 2003, and had about 10 clients by December. 'I bought a bankrupt engineering company in the March, and at about the same time Great Lakes Chemical was doing a fire-sale on its fine chemicals business,' he says. 'I was approached to see if I'd consider being the chairman for a management buyout. But the customers were voting with their feet and their financier ran away, and I decided I had enough money to have a go at buying it myself. So in nine months I went into three businesses.' This was rather faster than anticipated - he'd reckoned on one a year. 'Starting consulting was a ?10k overdraft, buying engineering was a ?500k overdraft, and buying Great Lakes involved a ?3m package of debt,' he says.
The two failing business have, essentially, been turned around by refocusing them. 'So far, I've been much more successful in turning around the old Great Lakes site in Holywell than the engineering,' he says. 'We tried to work with the former owners of the engineering firm, which was a big mistake - while they said they agreed with the new strategy, there was a lot of resistance to change. We parted company nine months ago and now we're really resetting engineering.'
What he found at Great Lakes was a real blast from the past - its business model was based on Lonza's 1980s model that he'd spent much of the 90s changing. 'It was predicated on the pharma companies making lots of blockbusters, throwing development and scale-up at it, and making a fortune out of the blockbuster,' he says. 'But that wasn't working. We've realised that we can't just back those long-shots: we need an integrated approach where we find out what customers really want.'
While some of the success can be attributed to an upturn in the market, Ian believes that the careful positioning of the company in the 'white space' between the large producers and the lab-based suppliers has been critical. 'We do the projects that are too small or too much hassle for large companies whose primary objective is to fill huge reactors, or that are too complicated or big for the small guys,' he says. 'If you look at where drugs are going, the volumes are shrinking and the potencies are increasing, with more complexity designed in by the medicinal chemists, so we're in a good position and our asset mix fits that really well.'
Ian also believes it's important to invest in technology, and bought a company with six patents on families of catalysts, both organometallic and biocatalysts, used to make unnatural amino acids. 'We're finding these are interesting building blocks for new drugs,' he says, adding that it's all very well making interesting intermediates out of cheap starting materials, but they are no use unless someone wants to buy them. 'While the starting materials for the amino acids are not necessarily cheap, intuitively I feel that being able to shorten the synthesis to make something useful is good.'
Award-winning strategy
They are also working with nearby Bangor University and making use of DTI and other grants to invest in technology, and the company has more than ?1m of research spend that's eligible for tax credits. 'For a company our size, we're doing a lot of serious process R&D, which is another key part of our strategy,' he says.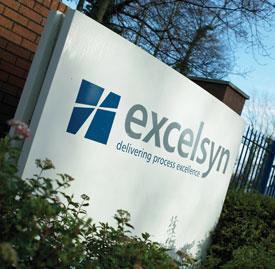 This tailored business approach brought Excelsyn to the attention of the RSC panel that selected him for his award. 'Ian saw that traditional companies were finding it difficult to be sufficiently innovative and flexible and noted he could make a change by buying small struggling businesses and injecting a new strategy, stronger resources and better leadership,' said Melanie Washington, an industry specialist from the RSC who sat on the award assessment panel. 'His true entrepreneurial flair has led him to take a risk. We need more people like this in the UK.'
So what's next? 'I think the first thing is to drive the budget we've got, and we're also investing to improve capability, capacity and standards at Holywell,' he says. 'We also want to invest much more in the R&D portfolio, and we'll remain opportunistic on acquisition. The way we've designed the model, we can easily clip on another business and run it in an integrated way.'
While Ian admits there have been problems and howlers along the way, he believes that, overall, most things have worked. 'The combination of working capital and the cost of the chemistry business plus our mistakes in engineering meant we had to get some additional finance,' he says. 'We've raised almost $10m of new money in the past six months, and we now have two investors, each with 17.5 per cent of the equity. But the management has held on to most of the equity, and my wife and I are the largest shareholders. That's very important to me.'
Sarah Houlton is a freelance journalist based in London
Further Reading
More winners from the RSC Industry and Technology Forum Innovation awards can be found on the RSC website.