In today's expanding cosmetics and skincare market, greater personalisation, connectivity and a drive for authenticity are changing how consumers relate to products, and how they try them and buy them. Sustainability, wellness and inclusivity are now firmly established trends that guide both corporate and consumer decision making.
To turn these insights into action and deliver products that truly meet consumer expectations for sustainable, high-quality products, the industry is embracing the power of chemical innovation. In this interview, Cornelius Group's Ella Ceraulo, innovation chemist, shares her thoughts on the trends shaping the future of the personal care industry.
How has your own personal care routine changed over the last two years?
Across the board, we've had an anomalous two years with an abrupt shift into lockdown due to the Covid-19 pandemic. Understandably, the lack of normal day-to-day activities and interactions initiated a time of experimentation, straying from normal cosmetic and skincare regimes and letting colour cosmetics take a back seat. Being unable to browse shops in person also gave the internet a new level of power and influence over shopping habits. As well as the impact that online influencers have had on the market, the Amazon bestseller list suddenly became a must-see, and extensive online research has led to me try new and algorithm-recommended combinations of serums and creams.
Now that things are back to normal, I have returned to using my usual routine with my favourite products, including SPF, day creams and night-time retinol. On the evenings when I can be bothered, I even perform a two-step cleanse. The hiatus from a regular hairdresser has also allowed me to embrace my natural hair colour and I have now given up colouring my roots.
What do you feel are the biggest trends in the personal care (PC) market right now?
In line with the global drive for sustainability across many sectors, environmental claims are becoming much more mainstream in the PC market. However, it is often done by unambitiously labelling any plant-based product as 'eco-friendly' rather than considering the broader implications. Going forward, having a bit more credibility and sufficient data behind the claims will be important – both for product developers and consumers.
Backing up claims with evidence is important … to prevent greenwashing in the industry
The PC industry has also seen skinimalism become a big trend. Using fewer products and choosing products with minimal but effective ingredients has gained appeal. With increasingly accessible information about skincare products, consumers are becoming more educated on what they are buying and are now trusting more scientific-based brands, such as The Ordinary or Paula's Choice, who present clear data to back up their claims and are often supported with dermatologist recommendations. Customers are increasingly becoming attached to an ingredient (for example niacinamide), instead of a brand.
This more personal approach is a result of the rise of customisable products in the industry – only getting the products and quantities specific to an individual's needs. The one-size-fits-all approach is gradually leaving the conversation, with many brands embracing the idea that everyone has different wants and needs. The narrative from customers has moved away from the desire to stop or reverse ageing; instead the hope is to age healthily, a phrase that has a different meaning to each person. The increasingly common offering of customisable products also ties into the boom of digitalisation. Many cosmetic companies now offer quizzes and online resources that help customers narrow down their needs and choose the right products for them.
How can personal care companies help to rebuild consumer trust in science and technology?
Trust can only be achieved by being transparent with the customer. Rather than just fitting with what is popular, companies must communicate the facts about cosmetic raw materials and provide clinical data that offers proof of effectiveness. Many consumers also have a passion for cosmetic products. By helping them understand more about the materials and processes used in their products, companies will engage and excite their target audience.
We must also consider the role of chemical distributors in helping build [consumer] trust
Backing up claims with evidence is particularly important for environmental declarations to prevent greenwashing in the industry. Taking a more holistic view of sustainability and looking at the entire lifecycle of a product is critical. It challenges the rhetoric that 'natural' automatically means environmentally friendly. For example, the water usage for getting a crop to make a certain product could actually be worse than manufacturing a synthetic or fermented material. There have been moves in the right direction, with some brands openly supporting the benefits of ingredients such as sulfates in hair care and silicones in personal care after they were originally condemned by companies for not fitting their 'natural' branding. However, there is still a long way to go before the industry moves to this style of thinking.
Taking a step back in the manufacturing chain, we must also consider the role of chemical distributors in helping build trust with the end consumer. Providing extensive information to the manufacturers about the ingredients they are using in their products, such as Cornelius' Cor-Sil Avance offering, increases the likelihood that important information will be communicated right the way down the chain. At every stage in the process there must be transparency.
As the personal care industry looks to meet consumer demands for more sustainable products, how important is it for the industry to move beyond the discussion around natural versus synthetic ingredients?
It is the responsibility of companies in the PC industry to communicate the facts and in some cases this may mean that utilising synthetic materials in cosmetics may be more sustainable than using natural ingredients. For example, although technically not renewable, silicon is the second most abundant element in the Earth's crust, negating the scarcity risks associated with other natural resources. Furthermore, there is greater control of the supply and quality of synthetic materials as they are not impacted by crop damage and other unprecedented events.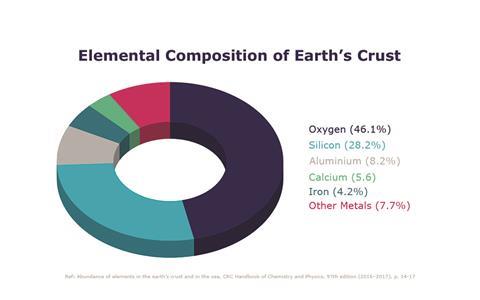 Biotechnological advances have also started to play a role in helping formulators create more sustainable 'synthetic versions' of ingredients that are becoming scarcer.
There are groups of scientists, such as those at The Eco Well, that are challenging the narrative that natural is always better. It is easy for people to villainise what they don't understand. As such, it must now be the industry's mission to provide information that helps people move beyond the assumptions made about synthetic ingredients.
How has Cornelius responded to the evolving industry?
At Cornelius, we have always made sure to stay ahead of the curve by checking in consistently with industry trends and customer demands. After researching and understanding the challenges faced by cosmetic manufacturers, Cornelius was able to identify a niche in the market that needed to be filled. We then leveraged our wealth of expertise across departments to create our innovative Cor-Sil Avance product, offering disruptive and solution-oriented capabilities for cosmetic formulators.
What does this mean for formulators and cosmetic manufacturers?
Traditional hot process emulsification requires an energy-intensive heating processes to initiate the mixing of the ingredients. Controlling the temperature and powering mixing equipment to increase miscibility and encourage emulsification accounts for most of the energy used during manufacture.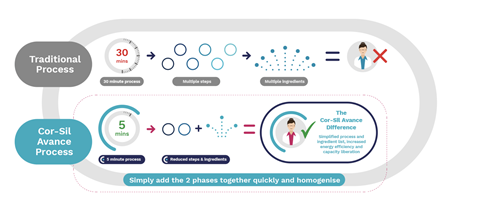 For traditional water–silicone (w/Si) emulsions, water is added to the silicone phase slowly to avoid inversion. This alternative method allows manufacturers to take advantage of cold processing technologies and halve the energy costs of their batch production. Despite the energy-saving advantages, cold processing is often a time-consuming process, limiting productivity.
Cor-Sil Avance mitigates this drawback due to its unique molecular structure that allows for rapid low-energy w/Si emulsification at room temperature. Harnessing the power of manufacturing with silicones, Cor-Sil Avance enables faster water addition than traditional cold processing methods, enabling a 72% reduction in lab emulsification time and over 60% saving in energy usage based on emulsification alone. Calculations carried out after these studies indicated a possible total 85,000kWh of energy and 17,850kg CO2 saved per year.
With resources optimised and energy consumption minimised, manufacturers leveraging Cor-Sil Avance can feel confident in their claims of sustainability, and ultimately their ability to meet customer demand quickly.
Can you give examples of the types of challenges that Cor-Sil Avance allows manufacturers to overcome?
As a flexible emulsifier, Cor-Sil Avance offers many advantages to manufacturers that ultimately benefit the end customer. It works on its own as an emulsifier, reducing the amount of ingredients required in a formulation. As well as optimising the manufacturing process, this capability fits into the trend of skinimalism. Premium products can be generated with minimal ingredients, reducing the need to add additional polymers to enhance skin-feel and deliver better sensory benefits.
Cor-Sil Avance can also work in combination with other emulsifiers, natural oils and ingredients to deliver different effects. The time saving benefits can also allow manufacturers to increase production volume and maximise productivity.
Other than the energy-saving and process-optimisation benefits, emulsions created with Cor-Sil Avance are light textured and high spreading – a feature that consumers often search for. When developing sunscreens and SPF products, one of the challenges is to ensure the consumer applies enough product and evenly distributes the sunscreen active ingredients onto the skin. One of the issues manufactures face is consumers finding the sun care products heavy, sticky and uncomfortable. Cor-Sil Avance can be used to make light feeling, non-sticky sunscreens that have a pleasant sensory application, encouraging the consumer to apply the product appropriately for better skin health.
The personal care industry will continue to evolve according to consumer needs, with sustainability only making its way further up the agenda. In order for manufacturers to stay ahead of this shift and build trust in their brand, they must consistently update and adapt their processes through applying innovative technologies such as Cor-Sil Avance, as well as generate substantial data to justify their claims. The industry audience is getting more educated and vocal in what they want. It is therefore the job of manufacturers to meet these needs with credibility and quality.
Cor-Sil Avance is a registered trademark of Cornelius
Bio: Ella Ceraulo, innovation chemist at Cornelius Group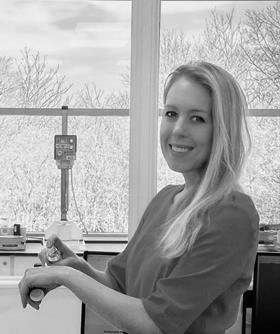 Ella is employed in the Cornelius R&D team in the Cosmetic Creative labs where she develops novel cosmetic formulations. More recently she has specialised in silicone chemistry, particularly w/Si emulsion technology for skin and colour cosmetics. She has spent 22 years formulating cosmetics, while also having experience of developing products for the coatings industry and working on multiple patents. Ella studied chemistry at the University of Hertfordshire and cosmetic science at the London College of Fashion. Ella's experience of paints and coatings and extensive rheology training have given her varied experience to draw inspiration for new cosmetic products. Ella is passionate about cosmetics, and loves nothing more than discovering new technologies to develop into interesting concept products and solutions.
Welcome to the Inspiring Science collection
1

2

3

4

5

Currently reading

Feeling inspired: the innovations enabling next-generation cosmetic and skincare products