Metal complex will help alleviate bottleneck in asymmetric catalyst screening
A chemosensor has been developed by scientists in the US to speed up the quantitative stereochemical analysis of chiral amino alcohols and diamines. Faster stereochemical analysis will help progress the identification of new asymmetric catalysts.
Different enantiomers of chiral compounds can have similar physicochemical properties but their biological properties may bear no resemblance to each other. Drugs are often chiral molecules but there can be significant differences between the toxicities of enantiomers.
The administration of just the active enantiomer eliminates the toxic effects of other enantiomers and could make administering lower drug doses possible. Asymmetric catalysts that favour the production of one enantiomer over the other provide a way to produce an excess of desired enantiomers and can lower costs by avoiding the labour-intensive and time-consuming separation of enantiomers.
Driven by industrial demand for efficiency, researchers are producing many potential asymmetric catalysts for drugs and other compounds. Automated laboratory equipment allows catalysts to be tested by running large numbers of catalytic reactions in parallel overnight. However, the discovery process is slowed down by insufficient methods to measure the enantiomeric excess and concentration of products – important values for comparing the efficiency of new catalysts. Current methods to detect enantiomeric excess, such as chiral chromatography, are time-consuming, require tedious purification steps and result in large volumes of waste solvent.
Peng Zhang and Christian Wolf at Georgetown University have made palladium complexes bearing tropos ligands that can act as sensors to stereochemically analyse batches of certain chiral compounds. A chiral recognition process, based on non-covalent interactions between the metal complex and chiral compounds, generates instantaneous and characteristic UV and circular dichroism readouts upon mixing with scalemic substrate samples to quantify their concentration and enantiomeric excess.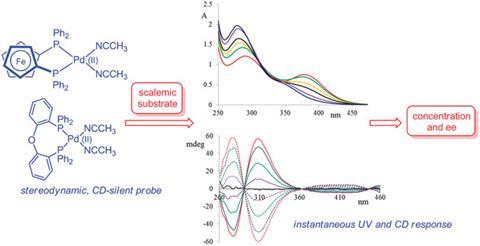 'Our work shows that sensing with stereodynamic metal complexes holds promise for the development of rapid assays that provide information on both yields and enantiomeric excess of asymmetric reactions,' says Wolf.
'The method is very simple and sensitive, and does not require covalent modification of the analyte but works directly,' says James Canary, an expert in chiral materials at New York University, US. 'This and other approaches being developed are very interesting and exciting prospects for screening catalysts and reagents for asymmetric synthesis,' Canary adds.
The team now intend to investigate the use of other metal complexes as sensors for enantiomeric excess.