The White House is apparently poised to force the immediate free distribution of scientific journal articles arising from federal funding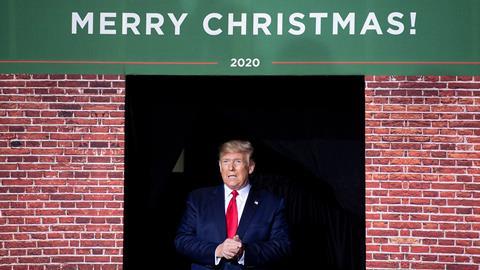 Journal publishers and scientific organisations, including the American Chemical Society (ACS), are outraged about an executive order that is being circulated in the White House, which sources say may well be issued quietly the week of Christmas. The proposed policy apparently emanated from the White House Office of Science and Technology Policy, and it completely upends things for scientific publishers.
The new policy would chuck the current regulation that former President Obama put in place in 2013, which mandated that proprietary journal articles based on federally-funded research be made available for free within 12 months of publication, and reduce that time to zero. Under the new scheme, journal articles would need to be made freely available upon publishing.
'We have been gathering intelligence from a diverse set of contacts and all indicate that there is in fact a draft executive order circulating that would eliminate the 12-month embargo period,' ACS spokesperson Glenn Ruskin tells Chemistry World. 'While we have not seen a copy of the executive order, we are assured from federal funding agencies that it is in fact real.'
Ruskin says this proposed change is very troubling for several reasons, including the fact that the one-year embargo period has been hailed as the 'sweet spot' that can provide access to scientific literature while also ensuring sustainability of the publishing enterprise. He also warns that such a one-size fits all approach can be very damaging to scientific publishers, especially non-profit ones.
'What happens if this sudden change results in the demise of scientific societies, starting at first with the smaller ones and working up to the larger ones,' Ruskin enquires. 'Who picks up the load from these defunct societies,' he asks.
The ACS is just one of more than 125 other scientific research and publishing organisations that sent a strongly-worded letter to President Trump after learning that his administration may be preparing to step into the private marketplace and force the immediate free distribution of scientific journal articles.
The letter's signatories, which included the Association of American Publishers (AAP), US Chamber of Commerce and New England Journal of Medicine, emphasise that peer-reviewed articles are not free to produce, but instead require significant investments to finance the peer-review, publication, distribution and long-term stewardship of these research articles.
'This would effectively nationalise the valuable American intellectual property that we produce and force us to give it away to the rest of the world for free,' the letter reads. The pending policy change could also force some scientific societies to close their doors or to no longer be able to support the publication of US-sponsored science, its authors warn. It also risks reducing exports and negating many of the intellectual property protections the administration has negotiated with US trading partners, they add.

Senior US correspondent, Chemistry World