Bangor University in the UK is considering closing its chemistry department because of low student numbers and a push to save cash. The move would see it stop offering all undergraduate and postgraduate chemistry degrees including MChem and BSc (Hons) – currently the only one that can be partly taken in Welsh – and cease research activities. The jobs of 18 staff members – 15 academic and three technical – are at risk.
Although current students would be able to continue to the end of their course, no new students would be admitted and there would be a 'phased reduction' of staff over a three-year period as the remaining students finished their courses and research activities ceased.
Last week the university began a consultation on the proposal, and has given staff and students until mid-January to respond. A decision will then be taken at a meeting of the university council in February.
A member of the university's chemistry teaching staff who wants to remain anonymous tells Chemistry World that the news has been 'very cunningly timed' and that it would be difficult for staff and students to craft a coordinated response over the busy Christmas period.
A business case document sent to chemistry staff and seen by Chemistry World says that the move would save the university more than £1.4 million over three years, although £900,000 of income would be lost. It said it would be better to discontinue chemistry than try and make cuts across the board in its College of Environmental Sciences and Engineering, which could 'weaken areas of strength'.
The document states that the university has been struggling to recruit chemistry students, possibly due to competition with Russell Group universities in England where caps on student recruitment have been removed. Less drastic measures, such as retaining a small number of teaching staff to keep the chemistry BSc course going with fewer students, have been considered but were rejected.
A spokesperson for the university says Bangor is facing a 'challenging financial landscape'. 'To ensure the long-term financial health of the institution, Bangor University's council has approved a number of business cases for consultation. These plans are currently under discussion with trades unions, and the university has entered a formal consultation period with the affected staff and students. A business case to discontinue the single honours chemistry degree at Bangor University is one of the plans under consultation.'
Whatever the outcome, they added, the university will honour its commitment to current students and they will be able to finish and graduate from the course on which they are registered.
Historic mistakes
The announcement has been criticised by chemists and Bangor alumni. A Facebook group called Bangor Needs Chemistry has attracted more than 800 supporters, many of whom who have posted messages objecting to the proposal.
Richard Catlow, a chemist who holds a joint appointment at Cardiff University and University College London, tells Chemistry World that Bangor risks repeating a 'historical mistake'. 'Do they never learn? Vice-chancellors made exactly the same stupid mistake in the early part of the last decade, closing several chemistry departments. I think it's fair to say they all regretted it,' he says. 'Any university that has a claim to any kind of pre-eminence cannot omit core disciplines. They're damaging, in my view, the whole standing and image of their university.'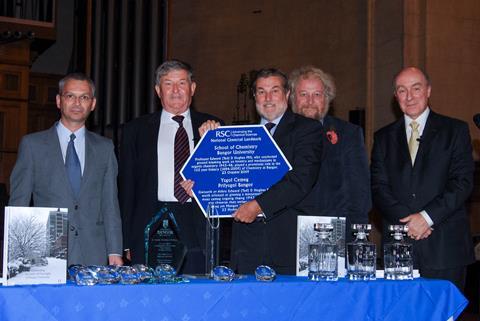 Between 1996 and 2007 26 university chemistry departments closed in the UK. At that time the closures were blamed on the need to make financial cuts, as well as a 25% drop in applications from prospective chemistry students. But since 2005 around a third of the chemistry departments that closed have reopened, including King's College London, Lancaster University and most recently Swansea University.
Catlow points out this probably ends up costing a university more in the long run because of the expense of decommissioning purpose-built labs that must subsequently be re-equipped. 'Student recruitment goes up and down. I've been in university senior management so I know you do have to make the books balance, but you do also have to recognise that there are fluctuations,' Catlow says. He adds that the decision to axe a whole department is an 'easy management choice' taken to avoid the 'tougher choice of weeding out inefficiencies and underperformance throughout the whole system'.
Helen Pain, deputy chief executive of the Royal Society of Chemistry says: 'This is extremely disappointing news for chemistry students in Wales and will no doubt be distressing for our colleagues and members, not least as the announcement comes so close to Christmas.'
'Chemistry is crucial to the UK economy and the pipeline of talent and skills from universities such as Bangor underpins our world-leading position in science and innovation. This will be a significant setback for those who were hoping to study chemistry in the medium of Welsh, and particularly those who have an ambition to teach chemistry in Wales.'
'We are already in contact with students and staff at Bangor to provide support, both in their consultation and to reassure them that our careers and Chemists' Community Fund teams are available to help.'
Clarification: The article was updated on 20 December 2018 to note that MChem and postgraduate programmes would be affected too