The Drax power station in North Yorkshire is in the final stages of commissioning Europe's first trial of negative emissions technology. The demonstrator will capture carbon dioxide generated by burning biomass using a novel solvent developed by C-Capture, a spin-out from Leeds University. It follows successful laboratory tests, and the pilot project aims to trap one tonne of carbon dioxide a day with a capture rate of 90%.
The Intergovernmental Panel on Climate Change (IPCC) has highlighted the importance of biomass with carbon capture and storage (Beccs) if global commitments under the Paris agreement in 2015 to keep warming to less than 2°C are to be met. 'Not only stopping [carbon dioxide] emissions but starting to extract carbon dioxide is absolutely critical,' says Andy Koss, chief executive of Drax Power. Modelling by the Energy Technology Institute suggests Beccs could deliver almost half of the UK's 2050 emissions target.
Drax began converting its coal-fired boilers to biomass in 2012. They are now burning pellets made from tree tops, thinnings and residues from forests in the US that are being grown for timber, as well as sawmill residue. 'We're capturing and storing the emissions from the wood but supporting the forests, to keep them as forests,' explains Koss. The biomass meets strict international sustainability standards, and the forests it's sourced from are growing faster than they're being extracted from, he asserts. Drax's analysis suggests that it emitted 86% less greenhouse gases in 2017, compared with burning coal. The carbon emissions from the biomass are counted as zero on the grounds that it would otherwise have degraded or been burnt. Capturing those carbon dioxide emissions means, in theory, that more carbon dioxide is removed from the atmosphere than is added.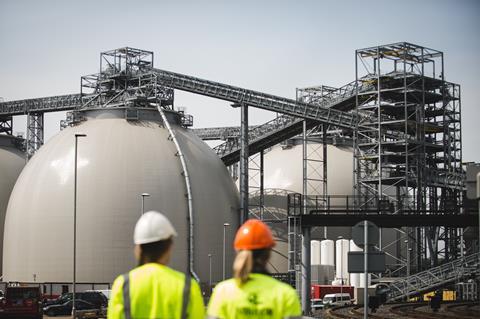 Burning biomass has been criticised by environment groups as more polluting than coal. However, Niall Mac Dowell who leads the clean fossil and bioenergy research group at Imperial College London, has analysed the whole value chain with different crops grown in different climates.1 He says that Beccs sustainability 'relies on intelligent management of every element of the supply chain from cultivation to final conversion and sequestration'. He adds that projects have to be examined on a case-by-case basis, in what is a 'constantly evolving landscape'.
Rethinking the chemistry
Carbon capture is an energy intensive process, with established amine-based technologies requiring 4–5GJ/tonne of carbon dioxide, although recent advances are bringing the energy demand for absorption, separation and regeneration of the solvent down to 2.5–3GJ/tonne, says Chris Rayner, C-Capture director and professor of organic chemistry at the University of Leeds. His team aims to get that figure below 2GJ/tonne by rethinking the chemistry. They've developed an amine-free solvent that – because it's less corrosive – allows cheaper construction materials to be used, bringing costs down. Pressure and temperature are kept as low as possible in a continuous process where the solvent is re-used. 'Every aspect has been improved on. We went back to first principles … and built the engineering around it.' Rayner is still tight-lipped about the chemistry of the solvent, promising more details later this year.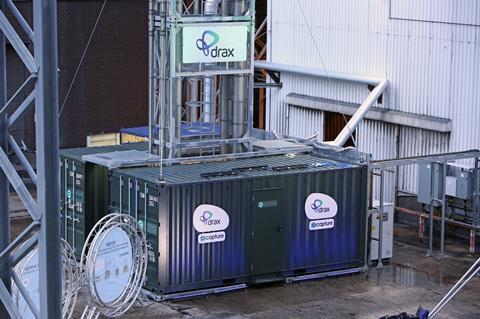 Drax can't yet store the carbon dioxide it will capture, but there has been interest in it from businesses in diverse sectors such as food, building and synthetic fuels. 'The key questions are does it work, the purity of the carbon dioxide and how do we build transport infrastructure to get the material to them,' Koss says.
There are enough carbon capture projects around the globe to know the technology works. However, existing projects account for just 4% of what's required under the Paris agreement. 'It's practically impossible without [carbon capture, utilisation and storage (CCUS)] to reach those targets,' says Fatih Birol, executive director of the International Energy Agency. The question is how to encourage investment in projects to capture the 850 million tonnes of carbon dioxide by 2030 that the IEA says is required by 2030 to keep warming well below 2°C?
Birol told a summit on accelerating CCUS in Edinburgh last November, that the IEA would 'use its long arm to push the agenda very, very strongly' with governments and businesses around the world. The summit, hosted by the IEA and UK government, attracted representatives from governments, oil and gas and finance companies from across the globe. Wen Ling, chief executive of China Energy, said the country's huge coal consumption made it eager for international collaboration on carbon capture and storage (CCS). China Energy is currently injecting captured carbon dioxide in Mongolia, and has pilot projects underway to try to bring costs down.
Clean energy minister Claire Perry said she wanted to see the UK's first CCS project in the 2020s, and the technology used at scale in the following decade. Two previous attempts to build CCS at scale with £1 billion of public money were cancelled – in 2011 and 2015 – amid concerns about cost.
This time, government wants a partnership with the private sector, but one where government accepts only 'the irreducible risks'. These risks might include failure of any one element in the capture, transport and storage chain or problems obtaining insurance to cover the risk of carbon dioxide leakage. The government has published an action plan that outlines its commitment to develop the regulatory and policy framework to get private capital flowing, predicated on costs falling. Perry says there will be economic rewards for the companies who lead, but those that rely on fossil fuels for the bulk of their revenues 'must see finding routes to deploying CCUS solutions as essential to their licence to operate'.
Rayner is optimistic: 'There's been a bit of a sea change in the last six months.' Hurricanes and wildfires in the US, he suggests, 'have concentrated minds'. 'Industry and government have been here before but it's too important not to learn from the past and have another go at it. All the right signals are there,' according to Jonathan Briggs, stakeholder manager with the Oil and Gas Climate Initiative (OGCI).
The government is committing £20 million for CCS, from a £45 million innovation fund, as well as a share of a £315 million pot for decarbonising industry. At December's climate talks in Poland, it announced another £170 million – to be matched by industry – to develop the first 'net zero carbon' cluster of heavy industry by 2040. The aim is to help steel, cement, chemicals and glass makers share expertise and cut emissions.
Encouraging clusters
The challenge of decarbonising industry and cutting costs has seen BP, Shell and Equinor and three other companies in the OGCI announce that they'll back Teeside's Clean Gas Project. This project aims to capture 2 million tonnes of carbon dioxide annually for storage in an offshore site.
The OGCI also wants to attract companies that use carbon dioxide. Usage 'will help optimise transport and storage set-up and running costs', according to Briggs. There are also opportunities to use the carbon dioxide for enhanced oil recovery in the North Sea. Many US projects already cover the costs of capture using this technology. Despite the seemingly paradoxical nature of capturing carbon dioxide to pump more oil, the development has made CCS commercially viable.
During 2019, Briggs says, the Teeside project developers will 'do some engineering work to put meat on the bones in terms of the technology choices'. That will be followed by the front-end engineering and design (Feed) phase to plan the plant, which will hopefully be completed by the end of 2021. Briggs expects the decision to proceed to the Feed stage – requiring some £100 million of investment – will depend upon the government meeting its obligations on policy and regulations for storage and transport. The project – which will require billions of pounds of investment – is expected to generate thousands of new jobs and export opportunities.
From small acorns…
The cost of transportation and storage of carbon dioxide, however, has the potential to sink projects, notes Alan James, managing director of Pale Blue Dot Energy. The cancellation of the last CCS project in 2015 prompted it to explore regions of the UK with carbon dioxide emissions located near offshore pipelines that could be re-used for transport. The UK has huge offshore storage potential, but his team eventually settled on the St Fergus gas processing plant on the north-east coast of Scotland where one third of the UK's gas supply comes ashore.
The key to getting costs down is to re-use existing infrastructure that would otherwise be decommissioned as gas fields run out – an expensive operation in its own right. James' team calculates savings of £730 million compared with building new pipelines.
Last November, they secured £800,000 to get their Acorn project to Feed stage, with the focus on getting costs down to make the business case. Funders include the EU, Scottish and UK governments, and oil company Total.
Acorn's first phase allows for the development of transport and storage to handle at least 2 million tonnes of carbon dioxide per year, at a cost of £276 million. With the right support it could be operational by 2023. Acorn could also help get other carbon capture projects off the ground, as 16 million tonnes of carbon dioxide a year could be imported at the neighbouring port of Peterhead, from other parts of the UK and Europe. Shared infrastructure also helps cut costs for follow-on projects. A conservative expansion of up to 8.6 million tonnes a year, could slash net greenhouse gas emissions by 69% by 2089 – or more, if the energy requirements of capture technology can be reduced.
Synergies
Koss suggests the government doesn't need to put in place subsidies per se, but to extend a system to carbon dioxide storage and transportation that has been used to guarantee a return for developing critical electricity and water infrastructure.
Project developers are working with their counterparts in Norway to find operational synergies: carbon dioxide has been injected and stored at Norway's Sleipner gas field for over 20 years, and the country plans a major infrastructure programme to take carbon dioxide emissions from heavy industry.
There is also the potential to both scale-up and expand the conversion of natural gas coming into St Fergus into hydrogen. Capturing the carbon dioxide emissions from steam reformation of methane would begin the process of decarbonising domestic and commercial heating. James suggests that if the government were to legislate that 5% of the gas network should include hydrogen by 2025 'that would switch the market on – and start to decarbonise a whole bunch of activity in the UK'.
Stuart Haszeldine, director of Scottish Carbon Capture and Storage, told the House of Commons business, energy and industrial strategy select committee in November that what is needed is a 'pull' for CCUS. 'For example, you could create a market for the procurement of low carbon concrete. That would then create a demand for low carbon cement, or products going into the concrete.' Government could back that up by specifying low carbon concrete in its procurement criteria.
The UK wants to be a leader in CCUS, exporting its technology and expertise. Now government and industry need to make the decisions that will not only deliver the vision but help address a planetary imperative.
References
1 M Fajardyab and N Mac Dowell, Energy Environ. Sci., 2017,10, 1389 (DOI: 10.1039/C7EE00465F)
Angeli Mehta is a freelance science writer with a research PhD, based in Edinburgh, UK
View full profile