Industry news, December 2011
PHARMACEUTICAL
Almac to hire 500 over next 12 months
UK contract research organisation (CRO) Almac says that it expects to hire about 500 people in the next 12 months, split between its headquarters in Craigavon, Northern Ireland, and its new US site in Souderton, Pennsylvania. Almac, a privately owned company, is growing rapidly. In its 2011 financial year, which ended in September, the company increased sales 11 per cent. This represents a fall in growth compared with 2010, when the company increased sales 15 per cent. But Denis Geffroy, vice president of business development, says that this level of growth stands out as highly impressive when viewed in the context of the poor economic environment. 'Everyone will tell you that the market has been incredibly challenging in the last two years,' says Geffroy. In the last few weeks, Almac has announced new investments: ?1 million for a mass spectrometry lab and ?4.5 million for a formulation development lab.
That growth has created jobs. The company employed about 500 people five years ago. Now, the roster has over 3000 names on it. Meanwhile, high profile site closures by big pharma companies are moving highly qualified researchers into the employment market. In February, for example, US pharma giant Pfizer said it would close its historic site at Sandwich, UK, in the next 18-24 months, putting 2400 jobs under threat. Geffroy says he interviewed 16 people in one day when he visited the site earlier this year.
Almac may be benefiting from its unusual financial structure. The company is wholly owned by the McClay Foundation, which puts all the profits back into the company and protects it from takeover. 'That gives long term stability to the business,' says Geffroy. Drug development takes a long time, he adds, and the last thing you want as a drug maker in the current environment is for your CRO to be bought halfway through leading to changes in strategy or site closures.
But more generally the CRO market is benefiting from pharma companies increasingly buying services rather than spending money internally. The market for CRO services grew 8.5 per cent in 2009, according to a report from market research firm Frost & Sullivan. The market is predicted to reach $20 billion (?12.8 billion) in 2017. 'There's a lot of terrible news of companies closing down, but there's some good news as well - of companies growing, being successful, making a nice profit and hiring,' says Geffroy.
Andrew Turley
Thumbs down for Merck drug
The US Food and Drug Administration (FDA) has issued two 'complete response letters' to Merck & Co concerning its contraceptive Nomac-E2 (nomegestrol, oestradiol) and glaucoma drug tafluprost. These letters mean the FDA will not approve the company application in their present form. In its quarterly submission to the US Securities and Exchange Commission, Merck notes that it intends to discuss both letters further with the FDA.
AMRI in-sources chemists to Lilly
Research service provider Albany Molecular Research (AMRI) has announced a collaboration with Eli Lilly in Indianapolis, US. AMRI will employ 'more than 40' synthetic chemists onsite at Lilly. The announcement comes in the wake of Lilly announcing several rounds of layoffs at its Indianapolis site in recent years. This could be why AMRI is confident it can recruit 'the majority of the synthetic chemists who will be affiliated with this collaboration from Indiana and surrounding states'.
Prostate drug market growth
The market for prostate cancer drugs in the major drug buying regions will increase from $3.6 billion (?2.3 billion) in 2010 to $10.1 billion in 2020, according to a new report. The analysis by market research firm Decision Resources relates to France, Germany, Italy, Japan, Spain, the UK and the US. Growth will be driven by new therapies, among them Zytiga (abiraterone) from Johnson & Johnson, which the report says will experience 'rapid and widespread uptake' owing to efficacy, a good safety profile and convenient delivery. The number of men living with prostate cancer that can be treated with drugs will increase from 2.8 million in 2010 to 4.3 million in 2025.
Lilly and Amylin part company
Lilly and Amylin have agreed to end prematurely their anti-diabetes drug relationship following a row over alleged conflicts of interest. The drug at the centre is exenatide, marketed as Byetta and Bydureon. Under the terms of the new agreement, Amylin, which developed the drug and licensed it to Lilly, will take back full rights - for $250 million upfront plus a cut of sales that will vary according to regulatory decisions but could take the total bill to $1.2 billion. Amylin became unhappy when in January Lilly entered an agreement with German drug maker Boehringer Ingelheim relating to another anti-diabetes drug, linagliptin, marketed as Tradjenta, leading to a legal battle.
GSK looks to make $3bn payout
UK pharma giant GlaxoSmithKline (GSK) has agreed 'in principle' to pay $3 billion to close federal investigations in the US into the way it sold and marketed its drugs, primarily anti-diabetes drug Avandia (rosiglitazone). 'The final settlement, which is expected to address civil and criminal liabilities, remains subject to negotiation of specific terms and is expected to be finalised in 2012,' the company said. Avandia was once a blockbuster drug for GSK, bringing in several billion pounds of sales. But its use declined after 2007 as evidence that it increases the risk of heart problems surfaced, and the drug now contributes only a small proportion of the company's sales. In September 2010, the EU decided it should be withdrawn from the market.
Sanofi making structural change
French drug maker Sanofi says it is going to restructure its R&D activities in the US and cut sales jobs, according to news reports. One of the four buildings at the R&D site in Bridgewater, New Jersey, is to close as research work is shifted to Boston. The company currently employs 3000 people in New Jersey, mostly in Bridgewater. Cuts to the sales force will focus on employees promoting cardiovascular and cancer drugs. Ironically, the news comes as many are predicting that Sanofi will become the largest pharma company by sales in 2012 as Pfizer, currently the largest, feels the effects of generic erosion of sales of Lipitor (atorvastatin).
Good news for regorafenib
After an interim analysis of clinical trial data, German chemical and pharma group Bayer has unblinded its trial of regorafenib, meaning that patients who were receiving a placebo will now be treated with the drug. The trial is judged to have met its primary endpoint of increasing survival rates for patients with metastatic colorectal cancer who had already been unsuccessfully treated with standard therapies. Regorafenib is a multi-kinase inhibitor and has been the subject of a lawsuit between Bayer and Onyx pharmaceuticals, because it is very similar to Nexavar (sorafenib), which the two companies co-developed and now market together. Onyx had objected to Bayer developing regorafenib, which it thought might marginalise Nexavar, but the companies resolved their differences earlier this month with Onyx receiving a promise of royalties on all sales of regorafenib.
A polymer plug for blood vessels
A polymer product that can temporarily block blood vessels during surgery has been approved in the US. The product, called LeGoo, is liquid at room temperature but rapidly forms a gel when warmed by the body, creating a firm plug and halting blood flow.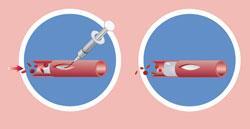 The key ingredient is a poloxamer, a polymer comprising three distinct 'blocks' of repeating monomers, a hydrophobic block of polypropyleneglycol sandwiched between two hydrophilic blocks of polyethyleneglycol. At higher temperatures, the hydrophilic arms align, and in this conformation the molecules form micelles, leading to an increase in viscosity and a phase change from liquid to gel. The vessel can be unblocked by simply applying a little ice, which causes the product dissolve in the blood and pass out of the body.
Blood vessels are normally blocked for surgical procedures using clamps that apply mechanical force across the opening. LeGoo leads to less trauma on the vessels, says John Merhige from Pluromed, the company that makes the product. In addition, it maintains the shape of the vessel, making suturing more straightforward. In addition to LeGoo, Pluromed makes Backstop, a product designed to prevent kidney stones slipping in the wrong direction during their removal. The company says the market for its products is worth over $2 billion (?1.3 billion).
Alun Davies, professor of vascular surgery at Imperial College London, UK, has used LeGoo. He says that it won't replace clamps entirely. Clamps are comparatively cheap because they can be reused so many times. But LeGoo is useful in arteries that have become calcified, when the force of the clamp breaking up the chalky residue can lead to damage.
Arrowhead to take on Roche RNA site
Uncertainty over what was to become of the Roche RNA interference business after the Swiss drug maker announced its exit from the field in November 2010, has ended with an announcement that the site at Madison in Wisconsin, US, and associated assets will transfer to Arrowhead Research. No money changed hands in the deal. Roche has taken a 10 per cent stake in Arrowhead, plus options for licensing any successful drugs.
R&D return falling
The financial return pharma companies make on the money they spend on R&D almost halved between 1990 and 2010, according to a new report. R&D expenditure increased 10 per cent each year between 1999 and 2007. But the shift towards serving emerging markets, where profit margins are much lower, is likely to hit R&D budgets hard, says the report from professional services firm KPMG. The industry needs to radically transform its investment and business strategies to reverse disappointing business performances and win back trust from investors and patients.
Merck hands safinamide back
German drug maker Merck KGaA has handed its rights to safinamide back to Italian biotech Newron Pharmaceuticals, the company it bought the rights from in 2006. The company says that the market potential for safinamide, in Phase III trials for the treatment of Parkinson's disease, is more limited than anticipated. The move will cost Merck
40 million (?34 million). In September, Finnish biotech Biotie agreed to buy Newron for
45 million.
CRO market boon
In defiance of the global business environment, the market for services from contract research organisations (CROs) grew 8.5 per cent in 2009, according to a new report. The market was worth $11 billion (?7 million) in 2010, says the report from market research firm Frost & Sullivan, and will reach $20 billion in 2017. As pharma companies and biotechs have cut their internal resources in response to the difficult economic times, and clinical trials have become more complex, they have increasingly asked CROs to get involved with all stages of drug development.
Novartis to close sites and cut 2000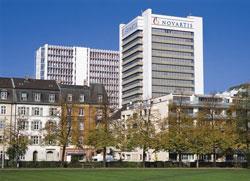 Swiss drugmaker
Novartis
has announced another batch of job cuts in an effort to shave $200 million (?130 million) in costs from its annual budget. Over the next three to five years, the company will close Swiss sites in Nyon and Basel, along with a site in Torre, Italy. Some of the activities of these sites will transfer elsewhere, but overall about 2000 positions will be lost - 1100 Swiss, the rest US. The firm also announced that 700 positions in data management and clinical trial monitoring would transfer to 'low cost countries' such as China and India. The move comes after the company announced in March that it was considering shedding over 500 staff at its site in Horsham, UK.
Roche for Anadys
Swiss pharma major Roche has signed a deal to buy US company Anadys Pharmaceuticals for $230 million. Anadys develops small molecule drugs for treating hepatitis C. Its foremost drug candidate is setrobuvir (previously called ANA598), a non-nucleoside polymerase inhibitor in Phase II studies in combination with Roche drugs Pegasys and Copegus (ribavirin).
CHEMICAL
US fracking findings conflict
Hydraulic fracturing to tap natural gas in shale deposits continues to cause controversy in the US. According to preliminary findings from a study led by Charles Groat at the University of Texas in Austin, groundwater contamination at three shale sites across the US is more likely due to surface spills and poorly constructed wells than the fracking process itself. But data from the Environmental Protection Agency (EPA) relating to water quality near fracking sites in Wyoming show traces of synthetic compounds, including 2-butoxyethanol, that form part of the mixture injected to break up shales and release the gas. This suggests a route for these compounds to access groundwater.
The EPA has announced plans to formally investigate the effects that fracking could be having on water supplies, taking in the full water cycle of hydraulic fracturing. Early research results and findings will be released in 2012, with the final report landing in 2014.
Meanwhile, an independent report has concluded that recent minor earthquakes in the UK were probably caused by fracking. Gas firm Cuadrilla began drilling for shale gas at Preese Hall 1, near Blackpool, in August 2010. But in April and May, 2.3 and 1.5 magnitude earthquakes occurred nearby. The report, commissioned by Cuadrilla following the unusual seismic activity, concludes: 'It is highly probable that the hydraulic fracturing of Cuadrilla's Preese Hall 1 well did trigger a number of minor seismic events.' But it adds: 'This combination of geological factors was extremely rare and would be unlikely to occur together again at future well sites.'
Succinic acid expansion
Succinic acid is continuing its rise to prominence as a bio-based chemical feedstock, a base chemical derived from renewable raw materials such as sugar cane.
US bio-based chemicals company Myriant and Japanese firm Sojitz have signed a deal for distribution of succinic acid in Japan, China, South Korea and Taiwan. Sojitz, a large and well established trading company, will provide the sales and marketing resources. The company says it will set up a commercial bio-based derivatives plant to start production in 2015.
Meanwhile, BioAmber and Mitsui have struck a deal to expand the scope of a previously announced partnership. Under the new terms, they will build two additional plants with combined capacity of 165,000 tonnes of succinic acid and 123,000 tonnes of 1,4-butandiol. They have also updated the plans for a plant to be built in Canada - capacity has risen from 17,000 tonnes of succinic acid to 35,000 tonnes of succinic acid and 23,000 tonnes of 1,4-butanediol.
DuPont out licenses LEDs
US chemical major DuPont has licensed technology for making active matrix organic light emitting diode (amoled) television displays to 'a leading Asian manufacturer'.
Amoled television displays offer better images and consume less power than liquid crystal displays, DuPont says. They have been adopted in mobile phones, which have relatively small displays. But the high cost of production has so far held back their use in televisions. According to the company, the solution based approach it uses significantly reduces this cost. The amoled television market will grow to over $5 billion by 2017, it adds.
ACC asks FDA for bisphenol A ban
The American Chemical Council (ACC), which represents the US chemical industry, has changed its approach to bisphenol A (BPA). After years defending the safety of BPA, the ACC has asked the US Food and Drug Administration to ban it from bottles and cups designed for babies, a move it says would help to reduce confusion. Several US states have banned BPA from these products in recent years, but the ACC says that manufacturers stopped using the controversial monomer - linked to reproductive and developmental problems - in this way some time ago in response to 'consumer preference'.
Clariant spending continues
Swiss speciality chemical group Clariant has snapped up another deal - this time with Oberhausen Technology Center (OTC) in Germany. OTC is a small company specialising in delivery systems for active ingredients in personal care products, for example encapsulation or emulsification. Financial details are not being disclosed. The move follows a string of acquisitions for Clariant, having launched a takeover of S?d-Chemie in February, bought out Canadian oil services company Prairie Petro-Chem in April and partnered with biotech firm Kitozyme in August.
BASF presents new GM potato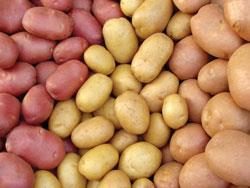 BASF
, the largest chemical company by sales, has applied for EU approval to grow Fortuna, a genetically modified (GM) potato variety, and sell it as food. The company already has approval for Amflora, a GM potato variety used to produce industrial starch. In September 2010, BASF caused consternation in the environmental community when it revealed that Amflora fields had been contaminated with another GM variety, Amadea, which did not at that time have approval. The modification in Fortuna protects against late blight, a disease that affects potatoes and tomatoes. BASF has been testing Fortuna in field trials for six years. The variety will now be assessed by the European Food Safety Authority (EFSA). BASF expects to launch Fortuna as a commercial product in 2014 or 2015.
Industry could save on water bills
UK water company Scottish Water claims that by implementing simple water saving measures, chemicals businesses in Scotland could reduce their water consumption by up to 94 per cent. The firm compared average water consumption across Scottish chemicals manufacturers and compared that with the sector's best practice. They found that on average, companies consume 28,000 litres of water per tonne of production capacity, but that large amounts of that consumption could be avoided
AkzoNobel bold earnings plan
Dutch coatings company AkzoNobel has announced plans to boost its annual ebitda (earnings before interest, taxes, depreciation and amortisation) by
500 million by 2014. R&D, combined with 'margin management' and 'business restructuring', will provide 50 per cent of the anticipated benefits. The improvement programme will cost
425 million over the period. Meanwhile, the company is planning to invest around €60 million in a new facility in Changzhou.
DuPont files patent lawsuit
US chemical giant DuPont says it has filed a lawsuit against agrichemical company Monsanto for patent infringement in relation to seed production techniques. The patent in question covers changes to improve seed germination under stress. Monsanto says that the DuPont claim relates to removing leaves from corn plants with Paraquat or Roundup. But this approach is not used in any Monsanto production fields, it adds. 'This filing appears to be another in a series of frivolous claims initiated by DuPont against our business.'
IN BRIEF
FDA chemist admits misconduct
An FDA chemist has admitted using confidential information about drug approvals to make millions of dollars trading company shares, according to news reports. Cheng Yi Liang is accused of making almost $4 million (?2.5 million) from FDA information and faces over 20 years in prison if convicted.
Karo Bio cutting back
Swedish biotech Karo Bio is planning to cut 25 jobs in preparation for spinning off its pre-clinical drug development activities. The company is based in Hundinge, Sweden, and currently employs 70 people, focusing on nuclear receptors as target proteins.
GSK partners with Signum
GlaxoSmithKline has entered an agreement with Signum Biosciences to gain access to Signum's phosphoprotein phosphatase 2A (PP2A) screening technology. The private biotech firm based in Princeton, US, will receive R&D support and milestone payments in exchange for GSK's exclusive rights to use the technology in its neuroscience drug development efforts.
Teva job cut speculation
Israeli generics giant Teva is likely to cut 1000 jobs following completion of its $6.8 billion purchase of Cephalon, according to news reports. The cut, representing 27 per cent of the Cephalon workforce prior to the acquisition, would be felt most in Europe and the US in the generics business, where there is likely to be overlap. In contrast, R&D staff will probably not be affected.
India to extend price control
India has revealed plans to increase the proportion of its drug market covered by state price control rules, according to news reports. Price control rules currently cover 34 drugs representing 20-30 per cent of the market. Under the proposals, the reach would be extended to cover at least 400 drugs representing 60 per cent of the market.
Industry must focus on value
The global chemical industry is going to have to do more than just cut costs to successfully ride out the current economic mire, according to a new report. It will need a more holistic view of end markets to find new sources of 'value creation' and growth, say the authors from professional services firm Deloitte. In particular, chemical companies will need to think about the opportunities presented by so-called megatrends, the ways in which society is changing across the board.
Eastman buys TetraVitae
US chemical company Eastman has bought TetraVitae Bioscience, which specialises in making basic chemicals, such as butanol and acetone, from renewable raw materials, such as ethanol from corn and and other biological sources of sugars. The companies have not released financial details of the deal.
Ashland tech centre
US speciality chemical company Ashland has opened a technical centre in Mumbai, India, that will develop additives and ingredients for the coatings and construction industries. The company is planning to expand the site to cover personal care ingredients in early 2012. It also has three sales offices and one administrative centre in India.
Albermarle R&D expansion
US speciality chemical company Albemarle has opened a $1.5 million environmental R&D laboratory at its process development centre (PDC) in Baton Rouge, US. The new laboratory will focus on multi-pollutant control as part of the environmental division. The PDC is the largest R&D site owned by Albermarle.