State being sued for allowing methyl iodide to be used as a fumigant pesticide, despite objections from scientists
The state of California is being sued following the decision by its Department of Pesticide Regulation (DPR) to approve the use of the controversial fumigant pesticide methyl iodide, despite objections from chemists and Nobel laureates.
On California Governor Gerald Brown's first day in office - 3 January - a lawsuit was announced by a coalition of environmental health groups to challenge the approval on the grounds that it violates the California Environmental Quality Act, the California Birth Defects Prevention Act, and other laws that protect groundwater from pesticide pollution. The plaintiffs want Brown to reverse the DPR's decision.
Methyl iodide products - made by Arysta LifeScience in North Carolina, US and sold under the brand name Midas - are primarily used in California to treat soil where strawberries, nursery plants and nut trees are to be planted.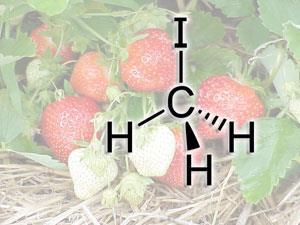 Robert Bergman, a University of California Berkeley chemist who helped get more than 50 scientists to sign a letter in 2007 warning the US Environmental Protection Agency (EPA) against permitting use of methyl iodide, tellsChemistry World that the neurotoxin is especially dangerous to younger children and foetuses.
Although the state claims the chemical can be applied to strawberry fields safely, Bergman is sceptical that the state has the resources to enforce the stringent requirements needed to ensure workers and nearby residents will be protected everywhere that methyl iodide will be used. 'In my opinion, the necessary teeth are not there,' he says, also noting that it is difficult to tell how much of the chemical might get into the groundwater.
Comments of concern
The DPR received more than 50,000 public comments after proposing registration of methyl iodide in April 2010, most of which expressed concern about potential health risks. The DPR says California's methyl iodide use restrictions are more stringent than those required by the EPA and other states where it is applied.
The state's own Scientific Review Committee (SRC) reported to the DPR in February 2010 that the chemical is 'highly toxic' and could cause cancer, and also concluded that the safeguards required to partially protect farm workers and the wider population are 'very difficult, if not impossible, to achieve in practice.'
Advice ignored
Research professor Dale Hattis, of Clark University in Worcester, US, a member of the SRC, says the DPR 'ignored the advice' of his panel and its own internal experts.
According to Hattis, the DPR has changed the safety target for community exposure to the chemical, making it 100-fold less stringent. 'They changed the technical goals without anything like a credible analysis that suggested that the revised goals were appropriate or that their management measures would achieve these goals,' he tells Chemistry World.
The Western Plant Health Association (WPHA) - a trade association representing agchem companies - says it respects the DPR decision. 'WPHA has trust in the DPR when it says it has evaluated the product and that it can be applied safely in California fields,' says WPHA spokesperson director Richard Cornett, noting that 'methyl iodide has been used for several years in other states in our nation without incident.'
Rebecca Trager, US correspondent for Research Europe