Novartis Oncology president David Epstein has announced that the company hopes to bring four new cancer drugs to market by 2011
Novartis Oncology president David Epstein has announced that the company hopes to bring four new cancer drugs to market by 2011, of which at least one could achieve annual sales of over $1 billion (?500 million). Oncology is a huge market - Novartis made $2.55 billion from anti-cancer drug Glivec in 2006 - but what are the next generation of anti-cancer molecules in development by the Swiss pharmaceutical giant?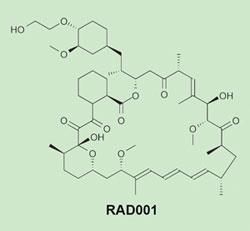 Cancer drugs have traditionally been cytotoxics, working by disrupting cell division. In principle, this has the greatest impact on fast-dividing tumour cells. But Novartis's four hopefuls are all targeted therapies, a newer type of drug with generally less severe side-effects. 'Sales of targeted therapies overtook cytotoxics for the first time in 2006,' Datamonitor analyst Fleur Pijpers told Chemistry World. 'The overall use of cytotoxics hasn't fallen, but the sales figures reflect that most cytotoxics are now available as generics, while most targeted therapies are still under patent protection, and can be very expensive.'
The new drug closest to the end of Novartis's anti-cancer pipeline is RAD001, also known as everolimus. RAD001 is currently in Phase III trials for renal-cell cancer and carcinoid neuroendocrine tumours, and in earlier stage trials for colorectal, lung and breast cancers. It is already approved for use as an immunosuppressant drug. The macrocyclic active molecule is a semi-synthetic derivative of the natural product rapamycin, first discovered in the bacterium Streptomyces hygroscopicus.
These compounds target the cellular protein mTOR ('mammalian target of rapamycin'), which regulates several signalling pathways associated with the abnormal growth, proliferation and survival of cancer cells. By blocking mTOR, RAD001 inhibits cell proliferation and prevents the growth of new blood vessels to supply the tumour (angiogenesis).
Hitting the target
SOM230 - currently in Phase III trials - can also see the light at the end of the pipeline. SOM230 is an analogue of somastatin, a peptide hormone expressed in many tissues throughout the body that regulates the release of other hormones, including growth hormone. SOM230 was discovered as part of a Novartis project to identify short peptidomimetics which aren't rapidly metabolised in the body, and which activate a broad range of somastatin receptor subtypes. The molecule targets neuroendocrine tumours in the gut, and is in Phase III trials for Cushing's disease, a tumour of the pituitary gland.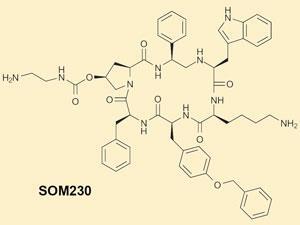 The third drug is LBH589, a histone deacetylase (HDAC) inhibitor in Phase II trials for cutaneous T-cell lymphoma (CTCL), chronic myeloid leukaemia and multiple myeloma. But in this arena, Novartis has been pipped to the marketplace by Merck, who received FDA approval for their CTCL drug Zolinza in late 2006 - which uses an active compound developed by Ronald Breslow of Columbia University, New York, US. Like Zolinza, LBH589 is a hydroxamic acid, and works by reactivating certain genes that are switched off in cancer cells, including genes that stop cell division and genes that trigger apoptosis.
Finally, ASA404, acquired from UK biotech company Antisoma in April 2007 via an exclusive licensing agreement, could become the first tumour vascular disruptive agent (VDA) class of drug to reach market. VDAs work by disrupting established blood vessels within solid tumours. ASA404 Phase III trials, for non-small cell lung cancer, are set to start in early 2008.
Novartis also has two other oncology drugs - EPO906, PKC412 - about to enter Phase III trials, Novartis Oncology spokesman Geoffrey Cook told Chemistry World. However, Novartis has not yet revealed when it expects them to reach the market.
James Mitchell Crow