As evidence grows that lithium mining damages water sources, reclassifying brine as water – rather than as mineral – could empower Indigenous communities to protect their rights and convince mining companies to act more responsibly
Researchers have proven that lithium brine is a kind of water and not a mineral, answering a fundamental question surrounding the controversy of the element's extraction, particularly in Chile.
The team hopes the finding could help minimise the environmental and human impacts of lithium mining from brines. Lithium mining is expanding , both from brines and rocks, as more lithium-ion batteries are needed for electric vehicles and grid storage in efforts to mitigate climate change with clean energy. One estimate suggests demand for lithium carbonate in 2021 will reach 429,000 tonnes, more than double what it was in 2016. By 2030, demand could quadruple.
'With the expansion of lithium supply to meet market demand, lithium mining has been rapidly expanding, and with that its environmental complications,' says Amir Razmjou at the University of Technology Sydney, Australia who led the work. 'It was obvious [that brine is water] but there was not a scientific, peer-reviewed document that proved it.'
Water or not?
The vast salt flat of Salar de Atacama in Chile is one of the world's main lithium production sites, accounting for almost one quarter of global supply. The basin is surrounded by mountains, allowing rainfall over millions of years to collect and form salty brines that became trapped in underground reservoirs.
Two companies – Chilean SQM and US-based Albemarle – pump brine from below the salt flats into pools covering over 80km2. Here, millions of litres of water evaporate for up to 14 months under the sun's heat making it cheap to obtain concentrated lithium chloride, which is processed into lithium carbonate.
However, mounting evidence suggests brine extraction affects lagoons and underground freshwater reserves that are essential for farming and wildlife as well as being sacred cultural sites, prompting Indigenous communities, environmentalists and even some car companies to demand change. In 2019, a Chilean court blocked SQM's application to expand its operations following protests by Indigenous groups that the company was overdrawing brine and affecting water reserves.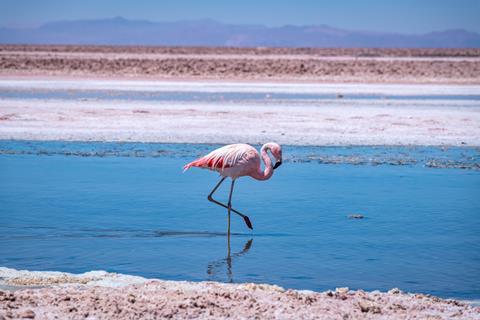 Atacama's brine contains 25% salts – mostly sodium and potassium. Lithium makes up just 0.15% of brine content. The remaining 75% is water. While it might seem obvious that brine is a kind of water, it's a thorny issue. Brine in Chile has traditionally been regulated as a mineral and owned by the state, which grants licences to mining companies. These companies are keen for it to stay that way.
If officially designated as water, mining brine would fall under tighter regulation, and require expensive and energy intensive extraction methods – which would ramp up carbon emissions. At the same time, classifying brine as water could give Indigenous groups, who usually hold water rights, a more powerful voice to limit mining expansion and brine extraction.
'Working with the proper definition of brine as water is critical for ensuring that the impacts of lithium extraction feeding the electric vehicle battery industry are minimised, and not seen as more severe than the impacts of climate change: the problem we are trying to solve in the first place,' says Razmjou.
Computational clarity
To answer the question whether brine could be classed as water, Razmjou and his colleagues ran computer simulations of Salar de Atacama brine and pure water using molecular dynamics software. The results showed that bonding angles and lengths, as well as the structure of molecules attached to ions, are similar in both liquids.

Other resemblances include the water molecules' atomic irregularity, their surface charge density and hydrogen bond numbers. Simple thermodynamics calculations revealed that 99.1% of the energy required to form brine comes from water molecules and ion–water bonds.
'The evidence is overwhelming to support that the brine is water with salts of various types and concentration,' says Ingrid Garcés Millas a chemical engineer who investigates lithium sustainability at the University of Antofagasta, Chile. 'I think that companies must assume that they are working with living systems and understand that it is not traditional mining. They must change the process.'
Recent studies have shown trending water decline in the area over the last 20 years. Vegetation has shrunk, nearly a third of drought-tolerant algarrobo trees have died on SQM-mined land since 2013 and soils around lagoons have less moisture. Some researchers think that when brine is extracted, less salty water replaces it from other reserves due to downward pressure gradients – taking water away from freshwater lagoons that people, plants and animals, including endangered flamingos, depend upon. However, water extracted for copper mining and climate change could also play a part.
'[Brine] is not renewable since it's a kind of fossil water so it's absolutely urgent to limit its extraction especially in a context of severe drought in one of the most climate vulnerable areas in the world,' says community activist Ramón Balcázar from San Pedro de Atacama, Chile. He works within a network of scientists and local groups, the Plurinational Observatory of Andean Salt Flats, which tracks environmental change in the 'lithium triangle', comprising Chile, Argentina and Bolivia.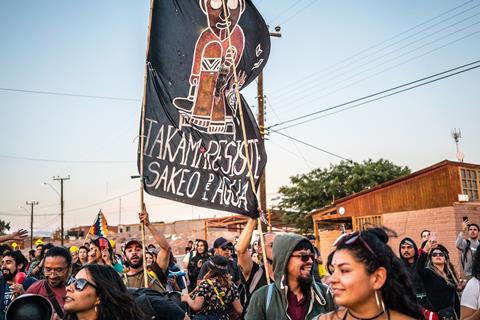 Razmjou and his colleagues suggest that direct lithium extraction (DLE) technologies could offer a solution. DLE has a low carbon footprint and extracts only lithium using advanced materials and membranes, which could allow lithium-free brine to be injected back underground.
But Balcázar urges caution, suggesting that a deep understanding of the hydrological system, the impacts of reinjecting treated brines into ground water and the use of fresh water in mining activities is required before recommending alternative methods. 'There's a problem of complexity and scale that's being constantly ignored, and I'm afraid technologies alone cannot solve the problem here.'
Additional information
The area taken up by brine evaporation pools was corrected on 6 September.