International community produces the Ypres Declaration to reaffirm disarmament objectives
The Organisation for the Prohibition of Chemical Weapons (OPCW) has issued a declaration stating their commitment to worldwide chemical disarmament on the centenary of the first use of a chemical weapon. Chemists representing a number of international societies have also called for their 'complete elimination'.
On the first day of the Second Battle of Ypres, in Belgium on 22 April 1915, German forces bombarded two French colonial divisions with over 150 tonnes of chlorine gas. A further attack on the Canadian army on 24 April led to a dangerous chemical arms race between the Allies and Germany, with the deployment of chlorine, mustard gas and phosgene resulting in the death of nearly 30,000 soldiers during WWI. Over 90,000 tonnes of these lethal chemicals were used during the conflict.
The devastation brought about by their use 100 years ago led the OPCW to announce a reaffirmation of the world's commitment to destroying chemical weapons at the Ypres commemoration event held on 21 April in the Belgian city. 190 states, who have all ratified the Chemical Weapons Convention of 1993, have signed the Ypres Declaration. The agreement states their collective desire, 'for the sake of mankind, to exclude completely the possibility of the use of chemical weapons'. It also highlights the threat of chemical warfare from 'non-state actors'.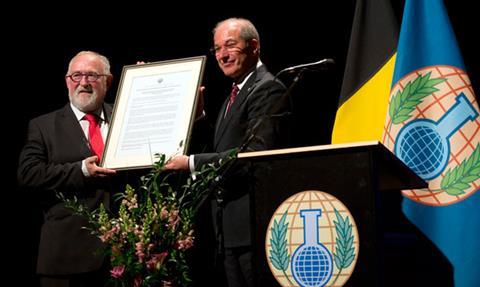 'Ypres has become emblematic of the suffering caused by these terrible weapons,' says Peter Sawczak, head of government relations and political affairs for the OPCW. 'It is for this reason that the Ypres Declaration was issued at the place where not only chemical warfare was born, but also [where] the long process of eliminating these weapons [was started].'
'What we are calling for is the complete ban and removal of this scourge from the world,' comments David Cole-Hamilton, president of the European Association of Chemical and Molecular Sciences.
Purifying chemistry
He believes the declaration goes further than disarmament commitments, however, by recognising the importance of allowing states to freely trade commercial chemicals for civilian purposes. One such chemical, chlorine, which is used globally to purify water, is alleged to have been dropped on four Syrian villages in recent weeks. '[The OPCW declaration] emphasises the idea of promoting the free-trade of chemicals. They're saying we are not against chemistry, chemistry is really important to us all,' Cole-Hamilton explains. 'But it must not be used for making chemical weapons.'
Cole-Hamilton, along with David Phillips, a past president of the Royal Society of Chemistry, and Thomas Geelhaar, president of the German Chemical Society, represented the European chemical community at the centenary event in Ypres and believes chemists should unite to rid the world of chemical warfare.
'The most important message to deliver is that no chemist should ever work on the development of chemical weapons – they are completely unnecessary in the world,' comments Cole-Hamilton. 'So we call on all chemists to abandon any work on these kinds of chemicals.'