A new uranium compound sheds lights on how to make the element more manageable in future
UK chemists have devised a 'trap' in which to catch and modify the predominant form of uranium - the uranyl cation. They hope that this may make the handling of uranium contamination easier in future and that their findings could also extend to the more dangerous nuclear fuel plutonium.
Researchers led by Polly Arnold and Jason Love at the University of Edinburgh studied the chemistry of the uranyl dication [UO2]2+, which is difficult to contain because it is highly water soluble and yet chemically inert. Chemically, this behaviour is due to the fact that the uranium atom forms two extremely stable double bonds with the oxygen partners, with all three atoms arranged in a straight line.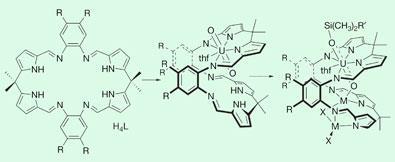 The Edinburgh chemists managed to wrap a large ring-shaped organic molecule around the centre of the uranyl cation, leaving sufficient space in the loop to be occupied by a second metal atom, which in turn competes for the attention of one of the uranyl's oxygen atoms. With this trick, both double bonds in the uranyl cation are weakened to an extent that the oxygen at the other end can be chemically modified - with a silyl group, for example - a reaction that was previously considered impossible.
But lead investigator Arnold admits that the findings are unlikely to have an immediate impact on the disposal of nuclear waste.
'Sadly our compounds are not sufficiently robust to be added to contaminated water or nuclear waste streams or suchlike,' she told Chemistry World. 'But this work improves our basic understanding of the nature of the bonding in uranyl ions, as well as neptunium and plutonium analogues, uranium's radioactive and more reactive relatives.'
'Improving our fundamental knowledge base in actinide chemistry must help the ultimate development of our handling of nuclear materials and wastes,' she added.
"The ligand design is very clever and will most certainly reveal more interesting chemistry; not only with uranium but most likely with the highly radioactive and toxic trans-uranics as well, like plutonium and neptunium" - Karsten Meyer
Karsten Meyer, who holds a chair of inorganic chemistry at the University of Erlangen-Nuremberg, Germany, described the work as 'impressive'.
'The ligand design is very clever and will most certainly reveal more interesting chemistry; not only with uranium but most likely with the highly radioactive and toxic trans-uranics as well, like plutonium and neptunium,' he told Chemistry World. 'This work proves, yet again, that the coordination chemistry of uranium is still a treasure box waiting to be discovered.'
Michael Gross
References
et al.Nature451, 315 (DOI: 10.1038/nature06467)