A report claims that the government's penny-pinching attitude to publicly funded services will damage the country's innovative edge
The UK government's cost-cutting policies are in danger of stifling innovation, according to a report from The Work Foundation. In the report, Making the most of public services: a systems approach to public innovation, author Charles Levy argues that there is a real danger that rapid, swingeing cuts across the board will cut innovation along with spending.
Levy estimates the government spends about ?50bn a year on knowledge-based assets. Although these are the key drivers of innovation, he says there is little understanding of how this innovation can be supported to give the best value for money. The government should learn from the private sector how spending can support innovation and boost value for money through investment.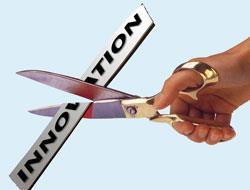 Case studies on international education and the NHS exemplify the problem. Both organisations have an impact on the future of science in the UK. 'International student income represents a highly knowledge-intensive service export, and it's something we do very well,' Levy tells Chemistry World. 'But in the next decade the competition environment in which the universities now operate will make this much more difficult. There is a big question around how future funding of universities will work, and whether it will offer the stability the institutions need for future investment.'
Limits on visas for international students are a worry, he adds. 'This is a big barrier, where we are seeing one priority superseding what we think is an important agenda. It looks like two conflicting priorities.'
In the NHS, Levy claims the government needs to procure goods and services in a way that is much more accepting of innovation. 'Perhaps the biggest shock of the research was that the dramatic increase in spending over the past 10 years hasn't translated to any increase in productivity.'
While he says the NHS had started establishing bodies to make it more receptive to innovative goods and services, many have had their funding cut. 'The debate isn't focusing on building a healthcare system that works with suppliers to create and develop innovative products that they could then export, but a narrow accountability debate, neglecting this issue,' he says.
Imran Khan, director of the Campaign for Science & Engineering, says many issues raised in the report highlight the need for a long-term government strategy for science and innovation. 'Until we can set agendas showing the UK will support science and engineering wholeheartedly over decades, rather than just the four or five years between elections, we will struggle to make people around the world see the UK as a great place for science.' The report was right to stress immigration as an issue, he adds.
He describes the NHS as one of the UK's most underused assets for research. 'We've got phenomenal potential to use the data we collect via our health service to support biomedical research,' Khan says. 'We're not doing that to anywhere near the full potential, partly because of a lack of dialogue between government and the NHS on making the best use of what we've got.'
Sarah Houlton