Impact of the new fine-grained RAE on research money distribution
The Higher Education Funding Council for England (Hefce) has announced how it will distribute its ?8 billion of funding for UK public sector Universities and Further Education Colleges. This includes ?1.6 billion for research, based on the outcome of the revamped Research Assessment Exercise (RAE).
David Eastwood, chief executive of Hefce revealed the details: 'In headline terms, the total grant comes to ?7.99 billion, which is an increase of 4 per cent on last year. However, most of that increase has come in the form of research funding, which has increased 7.7 per cent to ?1.57 billion, whereas the funding for teaching has increased 2.5 per cent to ?4.78 billion.' The remaining ?1.6 billion will be spent on improving infrastructure, with a small amount to smooth out the impact of any large funding changes.
This year, the RAE has taken a more fine-grained approach to assessing the quality of research at different institutions (see Chemistry World, February 2009, p7). The idea is to 'reward excellence wherever it is found', meaning that institutions with particular research strengths in specific areas could be recognised and given an appropriate share. The money is intended to pay the salaries of academic researchers and contribute to the costs of running research departments.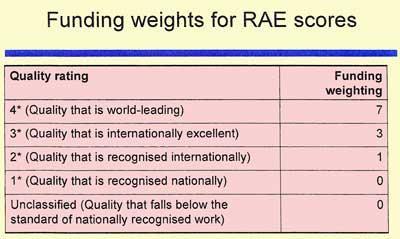 The amount of research funding an institution can expect to receive is calculated based on both the quality of research being done by its members, and also the number of researchers at that institution. Research of 4* quality, deemed to be 'world-leading' is weighted seven times more heavily than 2* (internationally recognised) research, while 3* (internationally excellent) research is weighted three times more heavily than 2*. Research judged to be 1* (nationally recognised) or below does not contribute to the overall amount. This is broadly the same weighting as has been applied previously, although the finer graining of this year's RAE allows for more subtlety in the overall distribution of funds.
Looking at the figures announced by Hefce, Jonathan Adams, director of Evidence, said: 'There have been some surprising shifts in funding. These must be seen as a readjustment in funding logic, rather than a reflection of any changes in performance. Some major science-based institutions, as well as some high-profile discipline-specific institutions seem to have suffered disproportionately.'
In particular, the figures highlight some significant reductions in overall research funding at the Institute of Cancer Research (down 11 per cent), Imperial College, London (down 5 per cent) and the University of Southampton (down 6 per cent). However, there are some notable successes under the new system: Loughborough University (up 39 per cent) and the University of Nottingham (up 24 per cent) have seen significant increases in funding as a result of their strong research quality profiles.
Hefce announced that funding for science-based research and teaching is being protected. The proportion of funding for research in Science, Technology, Engineering and Mathematics (STEM) subjects will remain the same next year. This is despite a marked increase in the volume of students and researchers in areas such as the Humanities and Social Sciences - distributing funding equally to these areas would have resulted in a net withdrawal of funding from STEM subjects, which is contrary to the government's policy of supporting the science base. A total of ?25 million is also being provided to support teaching of high-cost laboratory subjects.
Hefce's aim of discovering and rewarding 'islands of excellence' seems to have been successful, with many smaller institutions seeing significant increases in funding. However, Eastwood is quick to point out that such islands need to use this extra money to forge collaborative links with larger institutions or band together to breed greater success.
Jeremy Sanders from the University of Cambridge, who chaired the RAE Chemistry board, agrees: 'The institutions with smaller RAE submissions have generally done a good job of focusing on their strengths. Nevertheless, small departments which depend on one or two people are very vulnerable to those people moving or changing fields. It is better for small groups to be somehow aligned with larger institutions to mitigate that risk. It makes much more sense to put expensive equipment in an environment where there are lots of users to ensure good value for money. But that means the researchers in small departments need to be able to get access to those larger facilities.'
Phillip Broadwith