Documents show internal predictions were as good as contemporary science but executives publicly downplayed their significance
The first systematic analysis of data from over a hundred ExxonMobil documents has shown that the company's scientists have accurately modelled global warming caused by fossil fuels since the late 1970s. However, company executives chose to publicly denigrate climate models, insist there was no scientific consensus on anthropogenic climate change, and claim the science was highly uncertain when their own scientists were telling them the opposite, the study's authors say. Their findings are likely to figure in court proceedings around the world as fossil fuel companies face increasing legal and political attacks for their role in climate change.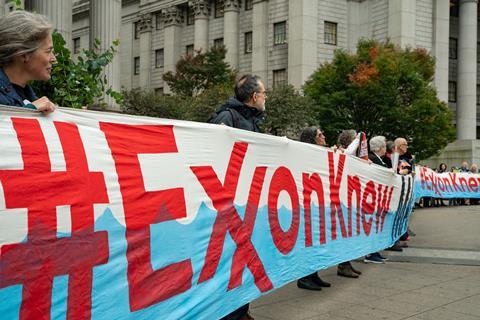 Geoffrey Supran and Naomi Oreskes from Harvard University, US, have been investigating ExxonMobil's knowledge of climate change for more than decade. Their previous work showed that there was a major discrepancy between what company spokespeople said publicly – and in advertising and marketing campaigns – and what they were saying internally. Internal documents disclosed in 2015 suggested that ExxonMobil scientists informed company executives about dangerous human-driven climate warming from at least 1977.
The researchers now show for the first time the high degree of precision and accuracy of ExxonMobil's scientific work. With Stefan Rahmstorf of the Potsdam Institute for Climate Impact Research in Germany, the team examined numerical and graphical data related to explicit projections of future warming. This involved analysing 32 internal documents produced by ExxonMobil scientists between 1977 and 2002 and 72 peer-reviewed scientific publications authored or co-authored by ExxonMobil scientists between 1982 and 2014. This dataset constitutes all publicly available internal documents and research publications disclosed by the company.
Executive hypocrisy
'Exxon leadership had specific, accurate, state-of the art scientific information, presented to them by their own scientists,' says Oreskes. 'And that science was consistent with what academic and government scientists were saying at the same time. Our findings highlight the stark hypocrisy of ExxonMobil [chief executives] Lee Raymond and Rex Tillerson, who for decades insisted on the high degree of 'uncertainty' in climate models, when, in fact, their own scientists had produced models that were not highly uncertain, and which, in hindsight, we can say were highly accurate.'
Among the findings, the researchers show that the level of uncertainty indicated by ExxonMobil's global warming projections (±21%) was commensurate with that reported by independent academics (±16%). 'It excluded the possibility of no anthropogenic global warming; at no point did company scientists suggest that human-caused global warming would not occur,' Oreskes points out. 'Nor did any of the models suggest the prospect of global cooling. Nor did they conclude that the uncertainties were too great to permit differentiation of human and natural causes. Yet in public statements, ExxonMobil – and groups [it] funded – frequently claimed or implied that we did not really know if climate change would occur, that scientists in the 1970s had predicted cooling, and that the uncertainties were too great to differentiate between human and natural causes. Our new study shows that all these public statements were misleading, and inconsistent with the evidence that their own scientists had presented to them.'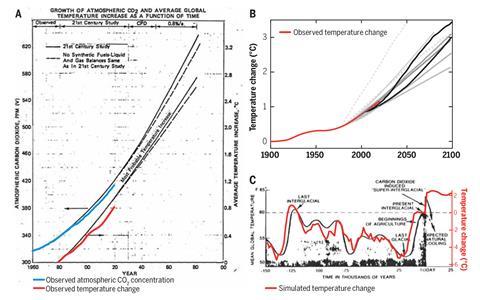 Another new finding involves ExxonMobil's claim that the science was too uncertain to know when – or if – human-caused global warming might be measurable. In fact, ExxonMobil scientists in the early 1980s offered the date of 2000±5 years, which turned out to be correct, says Oreskes. 'The [Intergovernmental Panel on Climate Change (IPCC)] first declared man-made climate change to be 'discernible' in 1995 so they got that right, too.'
Oreskes also points out that ExxonMobil has had a long history of funding third parties to promote misleading claims about climate science. The Royal Society asked the company to stop doing this more than a decade ago.
'This issue has come up several times in recent years and, in each case, our answer is the same: those who talk about how "Exxon Knew" are wrong in their conclusions,' says Todd Spitler, senior corporate media relations adviser at ExxonMobil. He cites a related case in 2019 brought before the New York State supreme court where the judge concluded: 'What the evidence at trial revealed is that ExxonMobil executives and employees were uniformly committed to rigorously discharging their duties in the most comprehensive and meticulous manner possible…The testimony of these witnesses demonstrated that ExxonMobil has a culture of disciplined analysis, planning, accounting, and reporting.'
The company says it is committed to being part of the solution to climate change and the risks it poses and is actively engaged in efforts to reduce emissions while providing affordable energy to the communities that need it. It adds that its climate science research in has resulted in nearly 150 papers, including more than 50 peer-reviewed publications made available to the public. And it notes that its understanding of climate science has developed along with that of the broader scientific community.
Astonishing accuracy
The study's findings are hugely significant, says international lawyer Stephen Humphreys from London School of Economics, UK. 'What is extraordinary about this analysis is that it demonstrates a near-perfect grasp of climate science on the part of Exxon scientists almost a decade before the UN's scientists reached the same conclusions. The analysis shows that models made at Exxon from 1982 – six years before the IPCC was even founded – correctly predicted the level of greenhouse gases in the atmosphere over the next 40 years, and the rise in global temperatures this would produce, with astonishing accuracy. As the study points out, Exxon scientists were arguably the leading climate scientists in the world at this time. Indeed, in the 1980s, Exxon knew more about fossil-fuel induced climate change than anyone else. [But] instead of acting on this knowledge, they suppressed it.'
Ben Franta, head of the climate litigation lab at the University of Oxford, UK, also believes the study is highly important for several reasons. 'There has never been such a systematic and quantitative evaluation of [company] documents. This is important because the documents have been boiled down to a robust conclusion. It's also important because it's not just cherry-picking. The researchers have looked at all documents they could find and produced a general overview. It is a major step forward for climate accountability.'
Franta says that ExxonMobil will find the study hard to repudiate as the analysis is so comprehensive and robustly peer-reviewed. 'They might argue that their knowledge was the same as government and academia, but the difference is that they had special legal duties and responsibilities to warn the public of possible harm from their products. Where the government was informing the public of what it knew, ExxonMobil was affirmatively denying and downplaying the issue. That's going to be a huge problem for them coupled with these findings of their internal knowledge.'
Legal implications
The new study will bolster efforts to hold the company accountable for climate harms, says Katrina Kuh, an environmental lawyer at Pace University in New York, US. 'The study's findings provide additional evidence that ExxonMobil's public assertions emphasising the uncertainty in different aspects of climate change science were disingenuous. That will help to support claims brought in many cases pending in US courts that the company's conduct was unreasonable and that [its] representations to consumers, including about the harms from [its] products, were misleading. This could influence whether the company is held liable and whether enhanced damages are warranted.'
But how much did other oil companies know? It is an ongoing question, says Franta. He points out that there are increasing numbers of lawsuits, political investigations, and civil society campaigns seeking to hold ExxonMobil and other companies accountable for allegedly misleading shareholders, customers, and the public about climate science. 'If companies are held financially responsible for climate change, this could change the whole viability of the industry,' he says. 'The stakes are incredibly high.'
ExxonMobil is not the only culprit, although its efforts greatly facilitated global climate inaction, agrees Deborah Gordon of Brown University, US and nonprofit energy policy organisation RMI. 'Climate change is an existential threat to these companies' profit-making model and strikes at the heart of the petroleum industry's very being. With damages that escalate dramatically over time, the intergenerational costs of global warming are at odds with the long-term returns needed to pay for major capital investments up front. In other words, energy security over the past century has been pitted against climate security, and we are just starting to seriously rethink this false dichotomy.'
Meanwhile, the study's authors are preparing for a fight. 'ExxonMobil [has] well-paid lawyers and [public relations] people on their side,' says Oreskes. 'But we have something more powerful. We have the truth. As a historian, I wouldn't claim that the truth always wins, but I would say that in the long run, it almost always does.'