US manufacturers will have to prove their products are safe and more effective than ordinary soap, under a proposed rule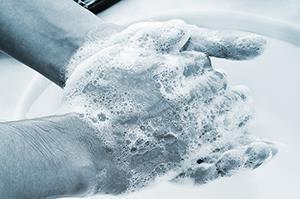 US companies that make antibacterial soaps and body washes will now have to prove to the Food and Drug Administration (FDA) that their products are safe and more effective than ordinary soap and water.
Unveiled on 16 December, the proposed rule stipulates that manufacturers would have to provide additional safety and efficacy data, such as clinical trial results, demonstrating that their products are safe for long-term daily use and superior to non-antibacterial soaps in preventing illness or reducing infection.
If the rule is finalised after the six month consultation, companies that fail to provide the FDA with these data for their antibacterial cleansers would have to reformulate or relabel those products in order for them to remain on the market. There would be a one year period for companies to submit new data and information.
The proposed rule is part of the FDA's larger, ongoing review of antibacterial active ingredients. The agency stated that there is currently no evidence that antibacterial soaps and body washes are any more effective than washing with regular soap and water. The agency added that accumulated scientific information, combined with concerns raised by healthcare and consumer groups, has prompted it to reevaluate what data are needed to receive the agency's 'generally recognised as safe and effective' stamp of approval.
The agency noted that some research shows that long-term exposure to certain active ingredients used in antibacterial products – such as triclosan in liquid soaps and triclocarban in soaps bars – could result in bacterial resistance or disrupt hormonal regulation.
In particular, triclosan has been associated with lower levels of thyroid hormone and testosterone, which could lead to learning disabilities and infertility. Other studies have suggested that triclocarban can artificially amplify the effects of sex hormones such as estrogen and testosterone and so may promote breast or prostate cancer.
'Due to consumers' extensive exposure to the ingredients in antibacterial soaps, we believe there should be a clearly demonstrated benefit from using antibacterial soap to balance any potential risk,' said Janet Woodcock, who directs the FDA's Center for Drug Evaluation and Research.
However, the American Cleaning Institute (ACI) and the Personal Care Products Council (PCPC) reacted to the proposed rule with scepticism and surprise. In a statement, the two groups emphasised that these products are over-the-counter drugs, which go through 'rigorous review' by the FDA. Over the past two decades, they said, manufacturers of these antibacterial soaps have provided 'significant data and information' to the agency about the safety and efficacy of these products.
'We are perplexed that the agency would suggest there is no evidence that antibacterial soaps are beneficial as industry has long provided data and information about the safety and efficacy of these products,' the ACI and PCPC added.
In fact, the organisations said that the Topical Antimicrobial Coalition, an industry group that the ACI and the PCPC are members of, has submitted 'in-depth data' to the FDA showing that antibacterial soaps are 'more effective in killing germs when compared with non-antibacterial soap'. In addition, the ACU and PCPC noted that a 2011 review of two dozen relevant published studies analysing the effectiveness of antibacterial soaps showed that hand washing with these products produces statistically greater reductions in bacteria on the skin than using non-antibacterial soap.