US crime lab analyst sentenced to three to five years for tampering with narcotics evidence, obstructing justice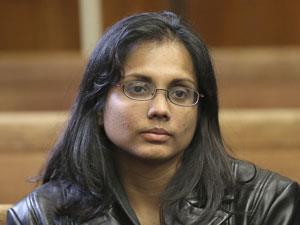 A US lab chemist who falsified drug analysis tests used in criminal cases has been sentenced to three to five years in state prison for tampering with evidence and obstructing justice. Annie Dookhan, who worked at a Massachusetts state lab, was arrested in September 2012 and later pled guilty to all 27 charges against her.
Court documents show that Dookhan, 36, who worked in the lab's drug analysis unit testing possible narcotic samples submitted by the police, had altered the substances in the vials that were being examined at the lab and faked drug analysis results. Specifically, investigators identified six instances where Dookhan tampered with the testing vials, but she did not alter the original samples, according to the office of Martha Coakley, Massachusetts attorney general.
She was also found not to have followed proper protocol for signing out drug samples from the evidence room, and to have forged the initials of an evidence officer to cover up her misconduct. Dookhan, who has no prior criminal record, also pleaded guilty to obstructing justice by repeatedly falsely claiming that she held a master's in chemistry from the University of Massachusetts.
Dookhan's primary motivation, by all accounts, was to appear as productive as possible. However, Coakley's office recommended a five to seven year sentence due to aggravating factors and the dramatic repercussions of her actions.
'Annie Dookhan's egregious misconduct sent ripple effects throughout our entire criminal justice system,' Coakley said in a statement. 'Her deliberate decision to tamper with drug evidence and fabricate test results harmed the integrity of the system and put the public's safety at risk.'
The judge, appeared to agree with Coakley. Sentencing her, the judge called the consequences of Dookhan's actions 'catastrophic'. She said that 'innocent persons were incarcerated, guilty persons have been released to further endanger the public, millions and millions of public dollars are being expended to deal with the chaos Ms Dookhan created and the integrity of the criminal justice system has been shaken to the core.'
As of 17 October, 349 people have been released from Massachusetts state prisons as a result of the Dookhan lab scandal, according to Terrel Harris, spokesperson for the Massachusetts Executive Office of Public Safety and Security. He also tells Chemistry World that another 649 prisoners may have their cases revisited in the wake of the Dookhan scandal.
Meanwhile, a second lab scandal may be brewing. In April, another Massachusetts state lab chemist, Sonja Farak, was prosecuted on charges of tampering with drug samples by mixing them with counterfeit drugs to hide her theft. Farak, who was also charged with cocaine possession, once worked at the same lab as Dookhan.
In the last month, Farak's alleged misconduct led a Hampden judge to order new trials for two individuals convicted of drug crimes, according to an assistant clerk for that court.