Life sciences industry receives a cash boost to bridge the gap between an idea and a product
Prime minister David Cameron has announced a package of measures designed to boost the UK's life sciences industry. These include a ?180 million fund to support innovation and plans to allow healthcare companies access to NHS patient records to support research.
The UK life sciences industry is one of the world leaders; it is the third largest contributor to economic growth in the UK with more than 4000 companies, employing around 160,000 people and with an annual turnover of ?50 billion. But it faces several challenges. The number of drugs in early and late-stage development has declined, while clinical trials costs are increasing.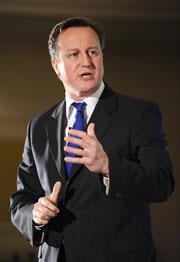 'The industry is changing,' Cameron acknowledged. 'We must ensure that the UK stays ahead. Yes, we've got a leading science base, four of the world's top 10 universities, and a National Health Service unlike any other. But these strengths alone are not enough to keep pace with what's happening - we've got to change radically - the way we innovate, the way we collaborate, the way we open up the NHS.'
David Cameron launched the Life Sciences Strategy, which includes plans for a new ?180 million 'catalyst' fund to target the funding gap between developing an idea and commercialising it, on 5 December. Many potential products disappear into this so-called 'valley of death'. There's little detail about where the money will go, but the strategy notes that 'SMEs, in particular, are finding it a challenge to secure financing in the early years'.
While welcoming the announcements, Robert Parker, the RSC's chief executive, was concerned at the lack of specific plans to capitalise on the UK's strength in medicinal chemistry. Medicinal chemists bridge the gap between fundamental research and inventing medicines, he said. 'Unless this is recognised and addressed, we believe the economic benefits of these investments will not be fully realised.'
Following a review of innovation in the NHS, the government will also consult on amending the NHS constitution to allow data collected as part of NHS care to be used for approved research, with appropriate protection for patient confidentiality. Patients will also be given the chance to opt out of this data sharing. The NHS also plans to launch a new app and web portal providing a database of clinical trial locations. The public will be able to contact trial organisers if they want to participate.
The announcements were broadly welcomed. Stephen Whitehead, chief executive of the Association of the British Pharmaceutical Industry, was pleased with plans to open up access to data: 'This will allow life science firms to better understand how patients respond to particular treatments, which in turn will further aid companies' R&D efforts.'
However, patient and doctor groups are concerned over whether the government really can protect patient confidentiality. 'Whilst the British Medical Association (BMA) does believe the use of anonymised health data could benefit patients, we are concerned that elements of the government's proposals could, if implemented, undermine patient confidentiality,' said the BMA's Vivienne Nathanson. 'We are especially worried by recommendations that would grant researchers, possibly from large commercial companies, access to patient records.'

Maria Burke