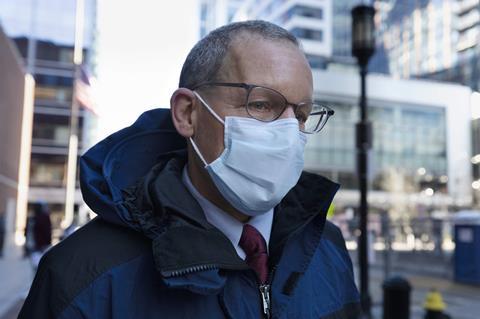 The former chair of Harvard University's chemistry department has been convicted of all six felony charges he faced related to his receipt of millions of dollars in research funding from China, and now faces up to 26 years in prison and up to $1.2 million (£900,000) in fines. Charles Lieber, who is living with late-stage lymphoma, was found guilty on 21 December of two counts of making false statements to federal authorities, two counts of filing a false income tax return, and two counts of failing to file reports of foreign bank and financial accounts with the Internal Revenue Service (IRS). The 62-year-old will be sentenced at a later hearing.
Lieber was arrested in January 2020 for concealing his affiliation with the Wuhan University of Technology (WUT) in China from his university and the US government agencies that funded his work. Harvard has placed him on paid administrative leave since his arrest, but those payments are expected to stop with the conviction.
He served as the principal investigator of his own research group at Harvard, which received more than $15 million in federal research grants between 2008 and 2019. But Lieber was not forthcoming with the university about becoming a 'strategic scientist' at WUT and, later, a contractual participant in China's Thousand Talents recruitment programme from at least 2012 through 2015 according to the US Department of Justice (DOJ).
Under the terms of his three-year Thousand Talents contract, WUT paid Lieber a salary of up to $50,000 per month, living expenses of up to $150,000 and awarded him more than $1.5 million to establish a research lab at WUT, the DOJ said. But he failed to disclose that income to the IRS. Lieber's guilty verdicts came after less than three hours of jury deliberation, following a six-day trial.
'There is now no question that Charles Lieber lied to federal investigators and to Harvard in an attempt to hide his participation in the Chinese Thousand Talents Program,' said Acting US Attorney Nathaniel Mendell. 'He lied to the IRS about the money he was paid, and he concealed his Chinese bank account from the United States.'
Philip Coyne, a special agent in charge of the US Department of Health and Human Services' Office of Inspector General (OIG), said professors like Lieber who are 'privileged to be part of taxpayer-funded research' are expected to be honest in their actions. 'Today's conviction demonstrates OIG's commitment to ensuring that taxpayer dollars are not wasted, and that those handling these funds are truthful in their dealings with federal agencies,' he stated.
Research community concerns
Earlier this year, however, dozens of prominent researchers – including many Nobel Prize winners and Harvard colleagues – came to Lieber's defence, calling the DOJ's case against him 'unjust' and urging the agency to drop it.
'Federal prosecutors convinced a jury that Charlie Lieber by his own admission should have over the past 10 years paid 5% more in taxes than he actually did,' says Yoel Fink, a materials scientist at the Massachusetts Institute of Technology (MIT). Fink organised his university's letter in support of MIT nanotechnologist Gang Chen, who was arrested in January 2021 for failing to report his ties to the Chinese government.
'When questioned by the FBI after his arrest Charlie should have been more thoughtful in his answers, insisted on getting a lawyer instead of fumbling his way on his own,' Fink tells Chemistry World. 'No one is above the law, especially not a distinguished professor, however petty crimes of stupidity deserve to be punished as such.'
Fink says Lieber's conviction is a significant victory for China and that the US is 'effectively cannibalising its own scientific research environment by turning the machinery of crime busting and bureaucracy onto our halls of education and science.'
Xiaoxing Xi, the former chair of Temple University's physics department who was arrested in 2015 and charged with spying for China but was eventually vindicated when the US government dropped its case against him, is very disturbed by Lieber's conviction.
'From the media reports of this trial, the reasons to criminally investigate Lieber in the first place was that he had many Chinese students in his lab – every professor who has Chinese students in his or her lab should take notice,' Xi says. 'Obviously this case will drive home the idea that collaborating with China is dangerous – of course, now it is China. Tomorrow it can be some other country,' he adds.
'With their China Initiative, the DOJ has succeeded in taking Lieber and many scientists offline from America's research enterprise,' Xi states. 'The crackdown on Chinese scientists and on academics who collaborate with colleagues in China will cost the US to lose its scientific leadership faster than anything the Chinese government can do.'