UK profit-sharing plan and transatlantic ethane shipping contracts show company's commitment to a fracking future
Chemical group Ineos has promised 6% of its revenues from UK fracking to homeowners, landowners and communities living above its operations. It has also been buying up exploratory drilling rights for shale fields in Scotland.
The company reckons its giveaway will be worth around £2.5 billion over a ten to fifteen year period. Ineos Chairman Jim Ratcliffe said that if communities get to share the benefits, then shale will be a success, 'but if they don't, it will be a long time before we get past the negative.' He predicts that villages or small towns could receive significant amounts of money, perhaps £350–400 million each.
Critics have derided the proposal as more 'bribes and bulldozers'. Greenpeace UK energy campaigner Simon Clydesdale stated that, on the one hand, the fracking industry goads the government into steamrolling people's right to oppose fracking under their homes, while with the other it offers cash sweeteners.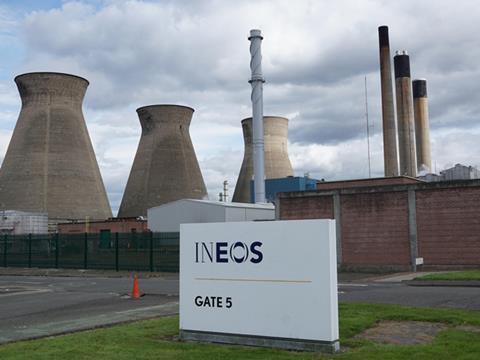 However, UK communities should not count their shale chickens just yet. 'It does look like the government is in favour of fracking, but it is possible that the production rates and the quality of the gas might be as good as hoped for,' says Chris Rhodes, an independent consultant in Reading, UK. The price of oil and gas and the cost of production must also be factored in, before any windfall can be distributed.
'And you don't really know what you are going to get until you start drilling,' says Rhodes, who has pointed out that Poland recently revised it estimates down from 187 trillion cubic feet (tcf) to 12–27tcf. Some of the gas was also contaminated with nitrogen, making it far less attractive a prospect financially.
'Shale gas in American can cost $8 million [per well] to drill, but in the UK or Poland or the rest of Europe, it might cost considerably more because the industry is far less mature. It takes a while to get used to the technology, and our geology in Europe is different from in the United States,' Rhodes adds. 'It is likely we won't get the same bonanza as they had in America.' He adds that the current price of oil, around $80 a barrel, makes shale oil uncompetitive as production costs can stand at $100 a barrel.
Commenting on the £2.5 billion offer in the UK, Ratcliffe said: 'It is a much better offer than anyone else has put on the table. The benefit that the community will get will have a measurable impact on the quality of their lives.'
However fracking opponents were quick to respond. 'The industry forgets people have legitimate concerns about fracking that won't be easily assuaged by money,' said Clydesdale in a statement. 'The simple fact that the shale lobby can't win the argument on safety, but has to buy up consensus instead, will help convince people that nothing good will come from letting the frackers through the door.'
Ship to shore
Ethane from the shale bonanza is to begin arriving to European shores, with Ineos planning seaborne ethane transportation. Ineos Olefins & Polymer Europe has expanded its contract with Evergas for six state-of-the-art ethane vessels, which are being built in China.
This secures additional capacity for its European crackers at Rafnes in Norway and Grangemouth in Scotland. Ethane crackers create ethylene, the root chemical for all kinds of plastics, resins and adhesives. A spokesperson for the company declined to confirm the agreement was in anticipation of a significant flow of homegrown ethane. Borealis, an Austrian petrochemical company, is also planning to supply ethane from the US to a steam cracker in Stenungsund, Sweden. It signed a supply contract with Antero Resources in August and with Navigator Holdings to take charge of shipping. First delivery is penciled in for late 2016.
A recent report from petroleum consultancy Platts examines how abundant shale natural gas reserves in the US are expected to keep petrochemical producers there well stocked with cheap ethane for the next decade. The shale revolution is rapidly changing global ethane, polyethylene and natural gas liquids (NGLs) markets, and ethane will likely be oversupplied in the US until 2018.
'As we drill for more gas we are producing more NGLs,' says Platts petrochemical analyst Michael McCafferty. 'And even with all the petrochemical expansion here in the US, there is just not enough to consume all the ethane we are producing.' So there is a glut, and ethane is cheap. Meanwhile, ethylene's price is set by the naphtha price, so there is a huge price differential between ethane and ethylene. 'European companies' plans to take US ethane involve revamping existing facilities, which doesn't take as long as building a completely new cracker facility,' he adds.