Head of innovation institute pushes for entrepreneurship in research
As researchers worry about Europe's ability to compete on the world stage amid cuts to university funding and tightened economic belts, the fledgling European Institute of Innovation and Technology (EIT) continues to push for growth and an emphasis on the links between research and business.
The problem is that Europe is a world leader in research, but not in innovation, apart from some fields of sustainable energy and climate change, says Martin Schuurmans, who was appointed chairman of the Budapest-based EIT at its launch in September 2008. 'We have world-leading universities and research centres, but their output does not sufficiently lead to the creation of new companies,' says Schuurmans.
He believes there are several reasons for this: a lack of education in entrepreneurship; too great a focus on research alone, rather than on 'the knowledge triangle' of education, research and business; a lack of focus on entrepreneurship as the key driver for innovation; and weak leadership, typically embodied by committees.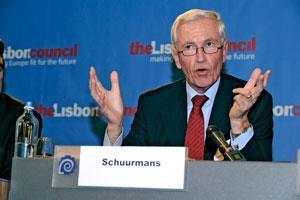 Schuurmans argues that Europe needs a new mindset. 'We shouldn't look at innovation as something stemming from science only,' he says. 'If people think that putting research and business together is all it will take to solve Europe's innovation gap, then they are mistaken.' What is needed, Shuurmans argues, is a free flow of knowledge 'between all actors in the innovation web' for a true knowledge economy to be able to develop.
Stimulating innovation
The EIT was set up to help create new businesses and encourage education in entrepreneurship. Run by an independent governing board, the EIT has unprecedented freedom in decision-making for a European institution. With a modest budget of
309 million (?258 million) from 2008-2013, its main priority so far has been to set up Knowledge and Innovation Communities (KICs). In December 2009, the EIT established three such projects - in sustainable energy, climate change, and information and communication technologies (ICT) - to exploit excellence and cooperation across Europe.
KICs are built around existing centres of research, education and business, and, significantly, are led by a chief executive, not a committee. The long-term commitment of private business is crucial to their success, says Schuurmans. In a new financing model for European initiatives, the EIT will only contribute a maximum of 25 per cent of the KIC budgets, the rest must be generated from external sources such as businesses, venture capital, national funding or the participants' own resources.
Schuurmans has high hopes for the KICs, saying they will contribute to future innovation through targeted research and development, new business creation and educating people to become successful entrepreneurs. 'The KICs will help transform innovative ideas into products and services,' he says.
The EIT also places a strong emphasis on entrepreneurship in its activities, a crucial element that Schuurmans believes is 'the glue that will successfully connect the three sides of the knowledge triangle, and the driver to get to new business creation.'
Time for change
The KICs are already making progress, and particularly educating a new generation in how to develop sound solutions that effectively bring together scientific, economic and societal considerations. For example, over the summer the climate KIC ran a summer school which took 44 students from Paris via London to Zurich where they heard from speakers from the corporate, academic and public spheres with the aim of learning how to develop innovative solutions to tackle climate change.
Schuurmans believes that the EIT has also contributed to cultural change in Europe more widely: 'People have started thinking differently about the way we innovate and work together, and have become much more aware of the key role of entrepreneurship.'
Before becoming EIT chairman, Schuurmans had already established a number of research institutes and projects in China, and is relishing the opportunity to be involved in such a major European project. 'I have seen innovation thrive in various parts of the world and know we in Europe must do better,' he says. 'I very much hope that EIT will become the catalyst for change and act as the "ice-breaker" within the EU innovation landscape.'
Maria Burke