Seven of the top 10 drugs going off patent between 2011 and 2014 are produced in Ireland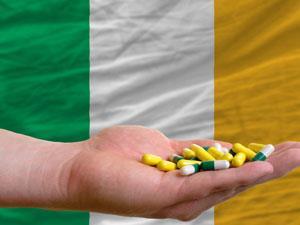 Irish pharma exports to the US declined 30% in the first six months of this year as a clatter of blockbuster drugs made in Ireland, such as Lipitor (atorvastatin), came off patent.
Seven of the top 10 drugs going off patent between 2011 and 2014 are produced in Ireland. Without patent protection, these blockbusters will tussle with cheaper generics, leading to drastic price drops.
This year Enbrel (etanercept) from Pfizer, worth $7 billion in annual sales, and Actos (pioglitazone) from Japanese drug maker Takeda, worth $4 billion, will be affected. Also due to come off patent and manufactured in Ireland are Singulair (montelukast) from Merck & Co and Zyprexa (olanzapine) from Eli Lilly, each with estimated annual sales of $5 billion. Chris van Egeraat, lecturer in economic geography at National University of Ireland Maynooth, says such products – partly produced in Ireland – total around $40 billion in global sales.
Lipitor came off patent in November 2011, and accounts for part of the export drop this year. But competition from generics was limited for the first six months, so further falls can be expected here. Lipitor, for treating high cholesterol, generated over $10 billion in sales and made up 9% of 2010 sales at Pfizer.
And further bad news for Irish exports is expected. 'The effect for the Irish plants which are producing mainly for European markets is still to come,' says van Egeraat. The patent issue has hit exports to the US first because the US is typically the first region in which drugmakers register their new drugs.
Pharma heavy
John Whelan, chief executive of the Irish Exporters Association (IEA), which produced the figures in its half yearly review, says Ireland's over dependence on pharma exports to the US is coming home to roost. The sector grew from EUR24 billion in 2000 to EUR52 billion in 2010, and last year accounted for over 50% of goods shipped abroad.
'I don't think we are into a situation where the loss of patents turns us into a basket case as far as exports are concerned,' Whelan says. But drug manufacturers will have to reduce their prices to compete with generics, so margins will be affected, he adds, predicting that value rather than volume of sales from Ireland will be hit.
'There is already quite a big generic presence in Ireland and I would see that growing,' says Nessa Moyles of industry group PharmaChemical Ireland. Earlier this year, generics manufacturer Mylan announced expansion plans in Ireland that will lead to 700 new jobs. But van Egeraat says this is unlikely to be a major trend or offer an opportunity to offset the fall in exports.
For Ireland, the pharma sector is one of the few components of its manufacturing sector that it has kept on an even keel. Van Egeraat points to an estimated annual corporation tax receipt of EUR1 billion from pharma. This compares with a total corporation tax receipt of EUR3.5 billion for 2011, and is crucial for the country's shaky finances: employment in the sector stands at 30,000, comprising 15% of total manufacturing jobs in 2011.
He highlights 2011 investments in biopharma plants from Genzyme, Eli Lilly and Amgen. Ireland remains well placed to take advantage of opportunities in this area. The Pfizer Grange Castle site in Dublin, for example, is one of the world's largest biopharma plants. But he does not see such growth replacing the loss of Irish exports in chemical pharma in the short term – losses he predicts will continue for the next 3 years.Ireland competes with Puerto Rico and Singapore for chemical pharma plants.
Ireland sells on its low corporate tax rate of 12.5%, skilled workforce, access to European markets and well developed regulatory processes. For biopharmaceutical plants, it will be going toe to toe with Singapore, Switzerland, the UK and the US, van Egeraat says.