Complaint alleges study that helped link talc to cancer contained false information
Johnson & Johnson's (J&J) US subsidiary, LTL Management, has filed a legal complaint claiming that research describing a link between mesothelioma and cosmetic talc is fraudulent and should be retracted and/or corrected.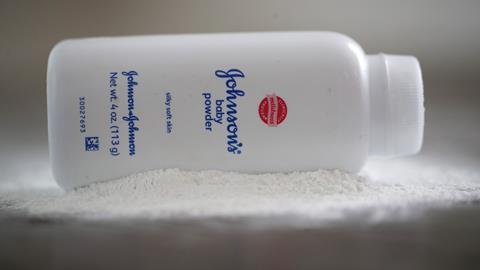 LTL was formed in 2021 to assume J&J's liabilities in talc litigation, covering thousands of lawsuits asserting Johnsons Baby Powder and other talc products caused plaintiffs' cancers. LTL promptly filed for bankruptcy protection in an effort to limit that liability as the litigation continues.
In mid-December, LTL filed a complaint against Jacqueline Moline, lead researcher of a 2019 study describing '33 cases of malignant mesothelioma among individuals with no known asbestos exposure other than cosmetic talcum powder'.
But LTL alleges that this claim is false, because at least one of the study subjects had admitted being exposed to other sources of asbestos – at a textile factory – and had sought compensation relating to that exposure. LTL further suggests Moline either knew the claim was false, or disregarded evidence contradicting it. The firm accuses Moline of 'repeatedly and widely' publishing disparaging statements about talc powder products, including Johnson's Baby Powder.
Meanwhile, J&J is withdrawing all talc-based products worldwide, replacing them with formulations based on cornstarch that are already sold in many countries. In part, J&J has attributed this decision to the ongoing talc litigation.
The managing editor of the Journal of Occupational and Environmental Medicine, Stacieann Yuhasz, told Retraction Watch that the journal 'has received a letter to the editor regarding the Moline publication, and Dr. Moline has notified JOEM that a response will be submitted late January.'

Rebecca became the US Correspondent for Chemistry World in September 2014, based out of Washington, DC, after writing for the magazine on a freelance basis since 2007.
View full profile