Online video resources aim to bring industry culture to academic labs
A series of free, online chemical safety videos aims to bring the safety culture of a multinational chemical company into academic laboratories. The Dow Lab Safety Academy videos aim to provide a broad overview of the safety concerns in a modern lab, along with tips on how to integrate thinking about safety into everyday lab activities.
The series was partly motivated by serious incidents in US institutions, including Sheri Sangji's death at the University of California, Los Angeles in 2008, explains Lori Seiler, associate director for environmental health and safety for Dow research and development.
But it also came out of Dow employees visiting labs with which the company was collaborating. 'As part of those site visits, we got some feedback around the laboratory conditions,' Seiler says, 'and there was a question of whether there was something Dow could do to share best practice with the universities.'
The company initially worked directly with university partners, hosting two-day workshops for student and faculty delegations from the University of Minnesota, Pennsylvania State University and the University of California, Santa Barbara. 'We knew we wouldn't be able to host every school that might be interested,' Seiler explains, 'so we wanted a more available way to get the information out there.'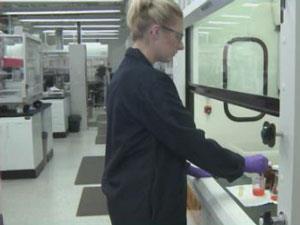 The videos cover a mixture of technical instruction, such as fumehood basics and handling glassware, as well as cultural advice encompassing mentorship and creating an environment in which safety can be discussed openly. The videos are intended form part of institutions' own broader education programmes. 'There's never a substitute for hands-on learning,' Seiler adds.
The RSC is developing its own online laboratory health and safety resources, aimed primarily at postgraduate students and researchers in UK universities. The initial phase is scheduled to be completed in October 2013. Like Dow's, the RSC resources are intended to complement rather than replace the health and safety guidance issued by users' own institutions. 'The RSC believes that it is vital to raise awareness of health and safety, to promote a culture of safe operating practices and professional standards in all chemistry laboratories, wherever they are,' says the RSC's environment, health and safety advisor, Steven Lipworth. 'We welcome all developments in this area.'
David Kinnison, chemistry safety advisor at the University of Southampton, UK, and former chair of the University Chemical Safety Forum, sees these projects as useful tools. 'Students today like to be able to access information readily on their computers,' he says. They can be shown in a formal setting, but researchers can also go and check back at their leisure to refresh their memory. Making students more aware of how the basic chemistry they're learning applies to safety and developing a more integrated approach is key to creating an environment where scientific curiosity can be encouraged at the same time as maintaining a safe working environment, he says.