The White House has taken a major step in implementing the US's first-ever strategy to tackle the family of highly fluorinated and toxic chemicals known as per- and polyfluoroalkyl substances (PFASs). President Biden came to power promising to tackle PFASs during his election campaign as, to date, there has never been decisive federal action on the problem.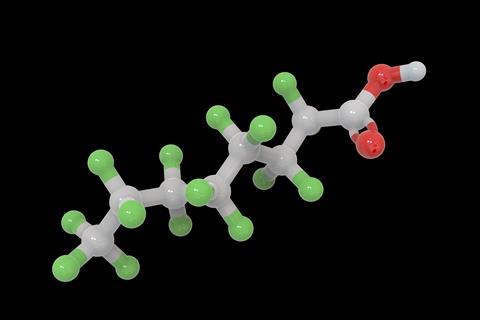 These chemicals, which all have a fluorinated carbon backbone, have been used and manufactured since the 1940s in various industries around the world, and their unique physiochemical properties impart characteristics including repelling oil, grease and water, as well temperature resistance and lubrication. However, they do not degrade in the environment, are highly mobile and also bioaccumulate. The scientific literature has linked them with multiple health problems such as reproductive issues, developmental delays and increased risk of cancers.
On 18 October, the US Environmental Protection Agency (EPA) released a new strategic roadmap to address PFAS contamination across the US. It includes a new testing strategy requiring PFAS manufacturers to provide toxicity data, and also commits the EPA to quickly setting enforceable drinking water limits.
'First, we are announcing a national testing strategy that forces PFAS manufacturers – from Chemours to 3M – to disclose in great detail just how toxic their chemicals really are,' explained EPA administrator Michael Regan, presenting the new PFAS roadmap. 'This would take [the] EPA decades to do on our own at the expense of American families, but instead, the polluters who are poisoning our nation's waterways will be responsible for conducting and paying for this work,' he added. Regan expects the first mandatory test orders to go to industry within a couple of months.
Drinking water limits
Under the new strategy, the EPA will establish national, enforceable drinking water limits for perfluorooctanoic acid (PFOA) and perfluorooctanesulfonic acid (PFOS) – the two most well-known and best-studied PFASs. That regulation will be proposed in autumn 2022 and finalised in autumn 2023. The agency will also evaluate additional PFASs and is considering regulatory action to address groups of these chemicals with a proposed rule also expected in the same timeframe.
The EPA plans to address PFAS chemicals in groups or categories instead of on an individual basis, which Regan said will save 'precious time and resources'. The agency is currently conducting new research to better understand PFASs. The goal is to improve the EPA's ability to address multiple PFASs at once, in order to accelerate the effectiveness of regulations, enforcement actions and technologies needed to remove these synthetic compounds from air, land and water.
Estimates suggest about 5000 different PFASs have been synthesised, and the EPA says about 600 of these are actually in commerce. The US's current regulations do not extend to all of them. Until now, the EPA's only guidance in this arena is a non-regulatory and unenforceable lifetime health advisory for drinking water of 70 parts per trillion for individual and combined concentrations of PFOA and PFOS. Amid a lack of federal action in this area, individual US states have started adopting their own regulatory standards.
Additional EPA actions under the PFAS roadmap include ensuring that companies responsible for PFAS pollution cover the clean-up costs or conduct the remediation themselves. The agency will also produce a final toxicity assessment for the PFOA replacement GenX, as well as five other PFASs to better understand their human health and environmental effects. The GenX assessment is anticipated in autumn 2021, and the others are ongoing.
Industry welcomes roadmap
While environmental groups applauded the coming crackdown on these chemicals, they also criticised the agency's new strategy as weak. Public Employees for Environmental Responsibility (Peer) called the plan 'woefully inadequate'. The organisation said it only promises future regulatory limits on two PFASs in drinking water, and appears to still rely on voluntary stewardship programmes with industry that have failed in the past. Peer also expressed concern that the roadmap is a 'whack-a-mole approach' that develops toxicity standards for only seven PFASs.
The PFAS strategy was announced the same day that Peer released an EPA dataset indicating that approximately 120,000 sites in US may be, or may have been, handling PFAS chemicals. That figure is several times higher than outside experts have previously estimated.
The chemical industry is supportive of the EPA's new strategy. The American Chemistry Council stated that the 600 or so PFAS substances that are being manufactured or are in use today each have their own unique properties and uses, from mobile phones to solar panels, and alternatives are not always available. The trade group said it supports the 'strong, science-based regulation of chemicals, including PFAS substances', and applauded the EPA's roadmap for reinforcing the differences between these chemistries and that they should not all be regulated as a single class.
Meanwhile, in the EU there has been significant progress towards banning PFASs. This past summer, the governments of Denmark, Germany, the Netherlands, Sweden and Norway announced that by July 2022 they will formally propose to the European Chemicals Agency that these chemicals be restricted under Reach (registration, evaluation, authorisation and restriction of chemicals) legislation. The proposal aims to prohibit the production, marketing and use of these substances throughout the EU.

Rebecca became the US Correspondent for Chemistry World in September 2014, based out of Washington, DC, after writing for the magazine on a freelance basis since 2007.
View full profile