Peter Cook has woven together a love of rock music and science to create a novel team building experience for big business, as Emma Davies finds out
Peter Cook has woven together a love of rock music and science to create a novel team building experience for big business, as Emma Davies finds out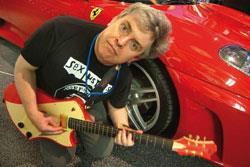 Think of a lyric from your favourite rock song and the chances are that Peter Cook will be able to extract a lesson for the business world from it. Cook trained and worked as a chemist but since his days in a young punk band he had always yearned to be part of the music scene. He has woven together his love of science and music to create his 'Academy of Rock' which offers to help companies to inspire their employees and build stronger teams.
After leaving school, Cook got himself a job as a technician at UK pharmaceutical company Wellcome, fearing that his retired parents wouldn't be able to support him financially through university. 'The Wellcome job proved to be fantastically good,' he recalls. 'By the age of 23 I was travelling the world with work, visiting India, Indonesia and Eastern Europe.'
Wellcome paid for Cook to do a part-time chemistry degree at Thames Polytechnic (now the University of Greenwich). He worked on this for one day a week for six years before going on to do an MBA with the Open University.
But by the age of 30 Cook was getting restless, his career path blocked by managers who showed no sign of moving. He took up tutoring at the Open University before deciding to move into human resources at Wellcome, accepting a ?5000 pay cut so as not to upset other employees within the department.
His move into HR proved disappointing for Cook and he missed the enthusiasm of his former research colleagues. But Cook worked hard , 'learning to do every single thing that they had to throw at me'.
After 4 years, Cook was feeling pretty miserable at work and his wife gently encouraged him to leave his job. So he took a step into the unknown and decided to set up his own management consultancy business.
The timing wasn't great - Cook's wife was pregnant with the couple's first child. Plus it took longer than expected to get the business off the ground. 'That year I took ?3000. From a wage I went down to almost nothing,' says Cook.
He put all of his energy into promoting his business consultancy Human Dynamics (www.humdyn.co.uk). 'I'm not a natural extrovert but I made myself meet people and do things to get myself noticed,' he says.
Encouraging innovation
Cook's problem was that he was competing with goliath organisations with large budgets for wining and dining potential clients. He decided to set himself apart from the masses by writing a book on how scientific companies encourage innovation. He interviewed key people in research organisations and pulled it all together in Best practice creativity, published in 1998 by Gower.
The book gave Cook a marketing edge and his business began to thrive. At this point he decided to bring his love of music into his career. 'When I worked at Wellcome I used to invite my team around to my house and cook them a meal. We'd have a few drinks and play music. One of them said: 'you could do this for team building'. Cook thought no more about it at the time but years later made music a core part of his business, particularly for team building.
'I started getting people to muck about using music rather than building rafts or bridges. Over a period of 3 to 5 years things came together and I started to realise that most of what happens in business is all about relationships.' Cook drew on the fact that most rock lyrics deal with relationships, pulling them into the business world and writing a book called Sex, leadership and rock 'n' roll .
Cook's key phrase is 'intelligent fun'. He says he is serious about what he does, 'but I don't think people learn well if they are wholly serious.'
Let me be your naked flame...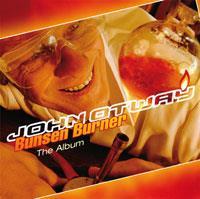 In 2006, he teamed up with the 'English eccentric cult punk rocker' John Otway, helping him to plan a world tour (Otway shot to a sort of fame in 2002 when his second hit, Bunsen burner , climbed to number nine in the UK singles charts). The tour was not a great success but Otway and Cook now base business seminars on its failures .
Pfizer recently invited Cook to give an after-dinner speech at its global chemistry conference. Under the title Spontaneous combustion, Cook spoke about 'learning innovation lessons from science and music'. He described three 'principles of innovation' used by scientists and related them to music: preparation, observation and 'mental playfulness'. He delivers such presentations with John Howitt, a session musician who performs with Shirley Bassey, among others. Howitt and Cook were joined by some of the Pfizer staff for an impromptu jamming session at the conference.
'The music makes the pills go down a bit better,' says Cook.
Emma Davies is a freelance science writer based in Bishop's Stortford, UK