'Pharma Bro' must pay back $65m in profits for anticompetitive behaviour while leading Turing Pharmaceuticals
Martin Shkreli has been banned from working in the pharmaceutical industry for life. The former chief executive of Turing Pharmaceuticals (now known as Vyera Pharmaceuticals) has also been ordered to pay back almost $65 million (£48 million) in profits, in a competition lawsuit brought by the US Federal Trade Commission (FTC) and seven states.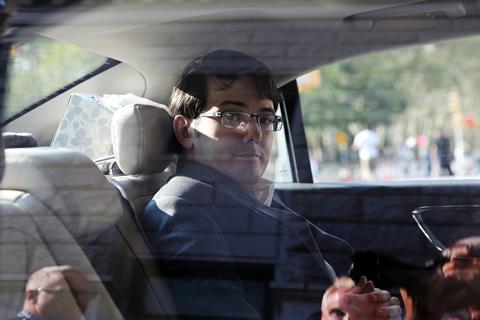 In her ruling, US District Court Judge Denise Cote described his behaviour as 'egregious, deliberate, repetitive, long-running, and ultimately dangerous'. She found he had violated both state and federal laws by engaging in anticompetitive conduct to protect monopoly profits on the drug Daraprim (pyrimethamine), which is used to treat toxoplasmosis. This disease is particularly dangerous for pregnant women and those with impaired immune systems, such as HIV patients.
Shkreli's trial took place in a federal court in Manhattan in December 2021. It described the restrictive distribution and supply agreements, along with data secrecy, that the company had instituted to make it difficult for lower cost competitors to enter the market. Shkreli was found liable on each claim, and banned for life from participating in the pharmaceutical industry in any capacity.
'Judge Cote's decision to ban Shkreli for life is a significant victory for American consumers,' said FTC chair Lina Khan. 'This precedent-setting relief should be a warning to corporate executives everywhere that they may be held individually responsible for the anticompetitive conduct they direct or control.'
The ruling against Shkreli follows an agreement made in December with Vyera, and its former chief executive Kevin Mulleady. He was banned from the industry for seven years, and the company required to pay up to $40 million.
'Vyera and Mulleady, along with Martin Shkreli, shamelessly engaged in illegal conduct that allowed them to maintain their exorbitant and monopolistic price of a life-saving drug – letting pharma bros get rich, while others paid the price,' said New York attorney general Letitia James, one of those leading the legal action. '[We] will take every action possible to hold accountable companies — and individuals — for their illegal and anticompetitive behaviour.'
Shkreli has a long history of questionable business activities in the pharmaceutical sector. He formed Turing in early 2015 with the acquisition of three generic products from another company, Retrophin: nasal formulations of ketamine and oxytocin, and the antihypertensive Vecamyl (mecylamine). Shkreli was also the founder of Retrophin, and its chief executive until 2014. Retrophin was renamed Travere Therapeutics in 2020.
This should be a warning to executives everywhere that they may be held individually responsible for the anticompetitive conduct they direct or control
Turing acquired Daraprim from Impax Pharmaceuticals shortly afterwards, in September 2015. Its price was jacked up massively overnight, from $13.50 a dose to an eyewatering $750. At the time, Turing was its only US-approved supplier, despite the fact that it had been on the market since the early 1950s, and had no patent protection. The company then proceeded to alter its distribution and supply process to prevent other companies from sourcing comparator product to run the registration studies required for the approval of rival versions. As a result, Daraprim remained unchallenged in the US market until March 2020.
Shkreli is currently in prison for crimes committed before his time with Turing. He was convicted of securities fraud in August 2017, with prosecutors claiming his activities resembled a Ponzi scheme. These crimes were committed while he was running hedge fund MSMB Capital Management and as chief executive of Retrophin. In that case, prosecutors said that between 2009 and 2014, he had lied to investors at MSMB about how well Retrophin was doing. He was also accused of using the company as his personal 'piggy bank' to pay off investors at MSMB, as well as using its cash for his own personal benefit. He was initially released on bail after his conviction and before sentencing, but this was revoked a month later after he offered a $5000 bounty on social media to anyone who could obtain some of Hillary Clinton's hair.
He was ultimately given a seven-year prison sentence, and ordered to forfeit $7.4m in assets. He is serving his sentence in a federal prison in Allenwood, Pennsylvania, having been transferred to there from a lower security prison in New Jersey after he was found using a contraband mobile phone to carry on running his business. He is currently set to be released in November 2022.
It remains unclear whether Shkreli actually has the money to pay the huge settlement in the most recent case. His assets before the securities fraud conviction and forfeiture included a Picasso painting, and the one-of-a-kind Wu-Tang Clan album 'Once upon a time in Shaolin' that he bought in an online auction for a reported $2 million in 2015. This was among assets seized and sold in 2021 by the US Department of Justice.