The Winter Olympics will be showcasing new technologies to help athletes put in a personal best in Sochi
As the Winter Olympics opening ceremony gets underway the games in Sochi won't just be showcasing the best athletes in the winter sports. They will also be a test bed for new technologies and materials that will both enhance the Olympic arenas and the equipment that the athletes are using. And their developers will be hoping that these advances will help Olympians put in the performance of a lifetime by shaving fractions of a second off of their times.
Unlike most Olympic cities, the entire infrastructure for Sochi 2014 was built from scratch – over £31 billion has been spent. This is the most ever spent on any Olympic games – summer or winter – and it has transformed a sub-tropical summertime resort on the Black Sea into a world class destination for winter sports.
A Light Touch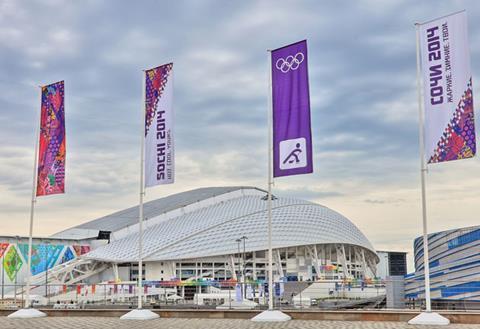 The 40,000 capacity Fisht Stadium is the Sochi games' centrepiece. It was designed using materials that will allow vivid light shows during ceremonies and games. The roof, comprising two half-shell structures, is made from around 36,000m² of a translucent cushioned membrane material called Texlon.
This forms what Vector Foiltec – the company behind the technology – call a climatic envelope. The Texlon cushions consist of multiple layers of ethylene-tetra-fluoro-ethylene or ETFE – a modified co-polymer – inflated with low-pressure air to provide insulation and protect it from wind damage.
The surface can capture projected light for displaying images, video or colour. Each layer has been engineered to transmit, reflect or scatter the image, enabling the roof to double as a visual display.
The stadium uses a combination of two-layered cushions and three-layered cushions, which are respectively more or less translucent. The more translucent cushion helps to bring natural light into the stadium, while the more opaque cushion scatters direct sunlight to avoid glare. At night, LED lighting will create a spectacular display.
Many other key venues have also been designed to wow spectators and athletes – including the Bolshoy Ice Dome where the world's ice hockey teams will battle it out. Based on a frozen water droplet, the Dome features an aluminium roof studded with 38,000 LEDs, which will light up the roof in vibrant colours at night.
Chemical connections
Behind some of the infrastructure technologies, including those at the Bolshoy Ice Dome, is Dow – a worldwide partner of the Olympic games. 'Dow is a global leader in the chemical industry and a renowned innovator, providing us with sustainable solutions to improve venues and city infrastructure,' said Thomas Bach, president of the International Olympic Committee (IOC). 'As the official chemistry company of the Olympic games, Dow will continue to play a significant role in supporting the IOC's long term vision for sustainability.'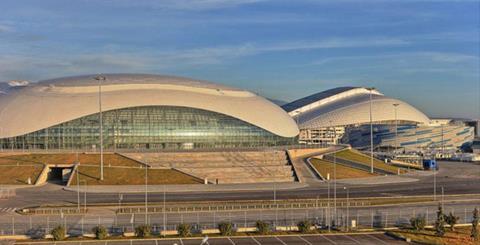 Dow's heat transfer fluids will help to maintain consistent temperatures at the Bolshoy's ice rink, as well as in the air conditioning system, to offer reliable, steady temperature control. Other materials made by Dow are found throughout the Bolshoy, including an enhanced concrete mixture for the flooring, industrial coatings that provide durability and protection from corrosion for metal structural components, and insulation and semiconducting materials protecting power cables.
Another contribution Dow has made is in offsetting the entire carbon footprint of the games – a first for any Olympic event. This will be done by rolling out energy efficient and low-carbon technologies across Russia, and in Brazil and South Korea – countries that will host the next two Olympic Games, as well as offsets from a landfill gas project which partially powers Dow's operations in Georgia, USA.
Dow claims that over 520,000 tonnes of CO2 equivalent have already been offset through this programme. These claims have been independently verified by sustainability consultants Environmental Resources Management, who confirmed that results far exceeded the footprint of 360,000 tonnes of CO2 equivalent – the estimated carbon footprint of the Sochi games.

'We are very excited with the opportunity to work with Sochi 2014, Dow customers, and Olympic partners to contribute to the sustainability vision of the first Olympic winter games in Russia,' said George Hamilton, vice president of Dow Olympic operations. 'As the official chemistry company of the Olympic games, our commitment is to enable higher-performing and more sustainable games.'
Snow problem
While the carbon footprint of the games has been offset, holding the event in this unlikely sub-tropical location where winter temperatures typically hover between 0 and 6°C has posed a technical challenge. This is particularly true when a warming climate is taken in account, which was blamed for unseasonably mild temperatures and a lack of snow at the Vancouver 2010 games.
There's usually plenty of snow in the Western Caucasus Mountains 25 miles from Sochi, where the Alpine events are to be held at Rosa Khutor Alpine Resort. But more erratic winters in recent years have meant that the 1 million m3 of snow required to cover the resort couldn't be guaranteed.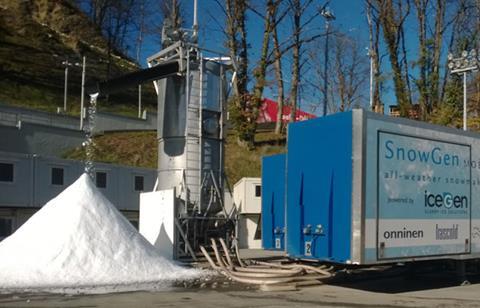 Enter Mikko Martikainen, an expert in snow making and chief executive of Finnish company Snow Secure, who was hired to devise a contingency plan to ensure Sochi had enough snow. This plan involved storing snow using a technique Martikainen developed 12 years ago, along with the largest snow-making operation ever seen in Europe with around 500 snow guns and hundreds of personnel.
The storage system involved stashing 710,000m3 of artificial and natural snow from the previous winter. Dispersed into 14 massive piles, the snow was prevented from melting by high tech insulating blankets made of thermal foam, reflective aluminium surfaces and a breathable geotextile layer to reduce humidity. A year later and 450,000m3 of snow remains – what Martikainen calls an 'insurance policy' – ready to be shifted onto the slopes if it's needed.
Working alongside Snow Secure is another Finnish company called All-Weather SnowTek, which has three mobile snow producing systems operating at the ski jumping and Nordic combined venue, the lowest altitude venue where natural snow is least likely to fall.
'The SnowGen system produces snow in plus temperatures and we have produced snow even in +20°C,' says SnowTek chief executive Hannu Pesonen. 'In Sochi, the systems have been running and producing snow in ambient temperatures of 0 to +20°C. Yesterday it was +3°C and we produced fresh, new snow – approximately 750m3 in 24 hours.'
Cooperating with Canadian company IceGen, the snow is made in a closed process involving refrigeration, ice slurry generators provided by IceGen, and snow separation units. 'The ingredients are really only water and salt-forming brine, which is cooled to a certain temperature,' Pesonen says. 'This process creates a slurry comprising binary crystals of ice or snow in the brine – the crystals are then separated by the system and pumped out as snow.'
Secret weapons
Out on the snow and ice every millisecond counts. Here, it could be performance enhancing equipment and clothing – the fine details of which are often closely guarded secrets kept between teams and sponsors – that give athletes the edge for a podium finish at Sochi.
This could include team GB's bobsleigh team, which has been supplied with a range of coarse down to super-fine microabrasives by UK diversified technology firm 3M to reduce bobsled friction and make them faster.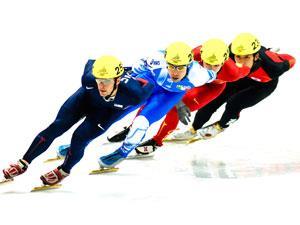 The abrasives are a sandpaper-like material made from aluminium oxide and resins, which is typical for many abrasives. 'The difference is the advanced coating technology we have developed to make the abrasives,' says Nigel Willcock, technical service engineer for 3M's abrasives division. Not wanting to give too much away, he says the abrasives allow the team a quicker and more effective way than other abrasives to manually polish the carbon steel bobsled runners down to an extremely smooth finish, as well as remove any defects and scores caused by track runs.
'With the grading that we offer and the way of applying it to the runners we are hopefully knocking a few tenths of a second off the team's times,' adds Willcock. 'But the key thing for the team is the ability of the athletes.'
Meanwhile, the US luge team hopes to win gold with the help of Dow scientists, who collaborated with the team to engineer new sleds especially for Sochi. According to Dow officials, the new sleds 'are faster, replicable, more consistent and reliable, delivering innovations that help maximise athlete performance'.
The sleds were designed by testing 20 different materials and underwent extensive in-laboratory and on-the-track testing with athletes. The company reports that two US luge athletes competing with sleds using Dow technologies saw improved times toward the end of the 2012–2013 season.
The US's speed skating team has also been given a boost by specially designed racing suits developed by clothing manufacturer Under Armour and defence contractor Lockheed Martin. Wind tunnel research revealed that adding raised polyurethane dimples to specific locations on the suit reduced friction and cut wind resistance, allowing for what could be the fastest streamlined suits ever made for speedskating.
Gold, silver, bronze and… meteorite
But even with conditions and equipment sorted, hauling in the medals will ultimately come down the skill and determination of individual athletes. A total of 1300 gold, silver and bronze medals will be awarded at Sochi 2014 – a record number due to the addition of new events such as the ski half-pipe and women's ski jumping.
Approximately two tonnes of silver, 700kg of bronze and 6kg of gold have been used to make the medals. Each gold medal contains 525g of silver and is plated with 6g of gold. Being 10mm thick and 100mm in diameter, it is one of the largest gold medals in the history of the games.
But midway thorough the games on 15 February, it won't just be these medals that the top Olympians could win. To mark the anniversary of last year's meteor, which blazed over the city of Chelyabinsk at 60 times the speed the sound, the 10 gold medal winners that day will receive the usual gold medal together with an extra medal studded with a small chunk of the meteorite.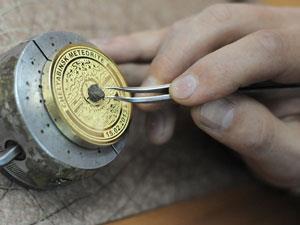 Many meteorite fragments were recovered from the surrounding vicinity, the largest being hauled up from the bottom of Chebarkal Lake, weighing 600kg and measuring 1.5m across.
A team led by Viktor Grokhovsky at the Ural Federal University determined that the overall chemistry of the meteorite was that of an ordinary chondrite – the most common type of meteorite. Further analyses revealed the fragments to be composed of around 10% meteoric iron, including troilite and kamacite – both nickel-iron minerals – as well as olivine and pyroxene.
The special meteorite medals were crafted using gold and silver by specialists at a workshop in the town of Zlatoust. They have a protective nickel coating with a fragment of meteorite embedded in the centre.
50 of these meteorite medals have been made and 40 will go to private collections. The 10 medals that the Olympians can win will be for events that include the women's cross-country skiing relay, the men's K-125 ski jump, the women's super giant slalom and men's skeleton events.