Diversity-oriented synthesis based on alkaloid natural products aims to create new pharmaceutical leads
Finding biologically active small molecules with pharmaceutical potential is a bittersweet process. Now, a new approach to building libraries of diverse alkaloid-type structures has been developed by US chemists.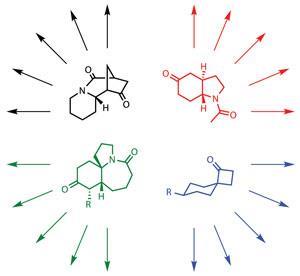 Jeffrey Aubé
of the University of Kansas, Lawrence, and colleagues point out that many researchers have focused on natural products – and many pharmaceuticals have resulted from such approaches. Their success is attributed to the diversity of molecular skeletons gleaned from nature, as well as the higher number of sp
3
carbon centres present. This endows derivatives with three-dimensional complexity and the chance to fit neatly into specific enzymes, receptors and other proteins involved in disease.
The Kansas team began with selected families of alkaloid natural products, extracted from plants that have a history in folk medicine, as well as molecules with identified medical, insecticidal and other bioactive properties. They began constructing the library based around cut down scaffolds of these alkaloids, using a wide-ranging approach to rapidly synthesise nearly 700 diverse compounds.
By starting with alkaloids, the team hoped that the 'privileged structures' of these often toxic but often medicinally active substances would help them home in on useful leads more quickly. The structural characteristics of those compounds nudged them in the right direction. 'We did try to emphasise sp3 character by choice of the natural products,' Aubé says. The team carried out a 'Lipinski's rule-of-five' analysis to test how druglike the compounds are, taking in molecular weight, lipophilicity and hydrogen bonding potential. 'We were a little surprised that the compounds were as highly Lipinski compliant as they turned out to be,' he adds.
Natural products and their analogues are often too complex for commercially tenable synthesis. This streamlined approach allows Aubé's team to generate diversity, while maintaining potential drug-like character but keeping the synthetic reaction schemes short. The team obtained up to 90% overall yields on 20mg product scales.
Paul Hergenrother of the University of Illinois recognises the work's potential: 'Alkaloids have such a diverse array of bioactivities, and can be active in the central nervous system,' he says. 'So, the creation of such a large number (and large diversity) of these compounds is clearly very important. These types of value-added products are likely to be markedly superior – in terms of hit potency and selectivity – to compounds in standard screening collections.'