How to scrub up a century-old chemical works
Cleaning up when a 100 year old chemical works closes down is a tricky job. But the UK's largest thermal desorption unit, a vast machine currently churning away at a former factory site, will leave an expanse of pristine soil.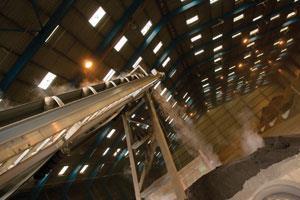 Syngenta's Yalding Works nestles incongruously among the rolling green fields of north Kent. A narrow, twisting country lane leads up to the site - a great column of steam rising into the crisp blue sky the only assurance that there really is a former chemicals works around the corner. After 100 years of manufacturing agrochemicals, production at Yalding ended in 2003. A former ICI site, the works closed after falling victim to plant rationalisation following the formation in 2001 of Syngenta from the merged agrochemicals businesses of AstraZeneca and Novartis. The site is now undergoing major remediation works, before being handed over to developers for housing and commercial use.
'This is an extremely complex site to clean up,' Tom Brankley, managing director of EDSR, the remediation company employed by Syngenta, told Chemistry World. 'There are many different compounds potentially present, from the early mercury-sulfur pesticides once used to dust crops, to DDT, to the agrochemicals used today. And with such an old site, you know you're going to find surprises.'
Before any of the soil was disturbed, the company installed a groundwater filter barrier around the perimeter of the site to prevent any contaminants from escaping. The barrier, which incorporates chambers of activated carbon to absorb any compounds in the water, will remain in place for three years after cleanup finishes in 2008.
Yalding's rural setting - and the sheer costs - ruled out 'dig and dump', which would have seen 36,000 lorry-loads of earth transported to landfill. And bioremediation with microorganisms isn't effective for pesticides, said Brankley. So the company brought in a ?3 million thermal desorption unit from the US. 'In the US, these units are powered by natural gas, but we had ours adapted to run on reclaimed fuel oil,' said Brankley.
'Thermal desorption removes contaminants from the soil by vapourising them,' he explained. The soil is cleaned by heating it to 450?C inside a 3m diameter drum. 'Most of the process involves treating the hot vapours. These pass to a cyclone, where any soil particles drop out, and then the vapours pass into the thermal oxidiser where they're heated to 1000?C, which breaks down all the contaminants. After cooling, the gas passes through scrubbers.'
'This is the biggest thermal desorption project in the UK, but the technique has been used on big sites in the US for the past 20 years,' continued Brankley. The machine processes 32 tonnes an hour, 24 hours a day, and will run for a year.
James Mitchell Crow