ColorDry process uses supercritical CO2 to reduce waste and cut costs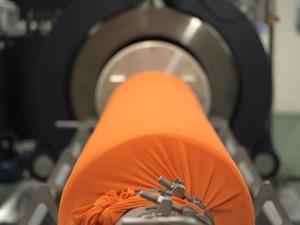 Sports equipment giant Nike has opened a new fabric dyeing plant in Taiwan that uses a water-free dyeing method. The ColorDry process uses supercritical carbon dioxide to apply dyes to polyester fabrics, rather than the 100-150 litres of water per kilogram of textiles that current dyeing technologies require. 95% of this CO2 can then be recycled.
Nike acquired rights to the process from Dutch start-up DyeCoo Textile Systems, and the works is operated by contract manufacturer Far Eastern New Century (FENC). 'Compared to traditional dyeing methods, the ColorDry process reduces dyeing time by 40%, energy use by around 60% and the required factory footprint by a quarter. It's also the most saturated, intense and consistent colour we've seen,' said FENC's Kuenlin Ho in a statement.