Nobel Prize winners urge US president to provide increased, stable funding for clean energy alternatives
Thirty-four Nobel Prize winners, including six prominent researchers who won the award for chemistry, are urging US President Obama to make good on his pledge to provide increased, stable funding for energy research and development. The renowned scientists are concerned that the climate change and energy legislation that is currently making its way through Congress would provide only a tiny fraction of the $150 billion (?91.3 billion) that Obama proposed to go to a so-called Clean Energy Technology Fund over ten years.
In their 16 July letter to Obama, the Nobel laureates emphasise the importance of the President's proposed plan, to be funded by a greenhouse gas cap and trade programme: 'the stable support this Fund would provide is essential to pay for the research and development needed if the US, as well as the developing world, are to achieve their goals in reducing greenhouse gases at an affordable cost.' They want him to argue his case to Congress.
The American Clean Energy and Security Act passed through the House of Representatives on 26 June and soon will be considered by the Senate. It would provide less than one-fifteenth of the amount Obama proposed for federal energy research, development, and demonstration programmes.
Under the legislation, a national cap and trade programme would be established to reduce greenhouse gas emissions from major sources by 17 per cent by 2020 and 83 percent by 2050, compared to 2005 levels. The proposed system would be based on the use of emissions permits that each cover one tonne of carbon dioxide emissions.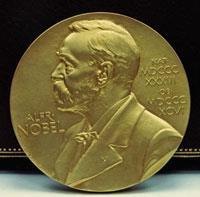 The laureates express concern that the bill in question fails to provide steady, specific funding for sustained research in the US Department of Energy's Office of Science, or for its energy research and associated technology development programmes - like those focused on energy efficiency and renewable energy, electricity deliverability, as well as fossil and nuclear resources.
'The most important molecule involved in global warming is carbon dioxide,' says University of California-Irvine's F. Sherwood Rowland, who won the Nobel Prize in Chemistry in 1995 for his work on the effect of chlorofluorocarbons (CFCs) on the ozone layer, and signed the letter to Obama.'The question for chemists is how to get substitutes for energy from fossil fuels, for example, or finding a way to put fossil fuels somewhere other than the atmosphere - those are technologically achievable goals, but they have a longer-range aspect,' he tells Chemistry World.
'What we are looking for is energy solutions that are advanced and that can last for centuries or more, and chemists will need to be working on these things for an extended period of time,' Rowland adds. For example, he suggests that chemists need to find the appropriate chemical techniques to trap energy from the sun, and they need to develop a material that can be placed into water to get energy out.
The American Chemistry Council (ACC), a major US chemical trade group, appears to agree with the Nobel laureates.
'An effective national climate policy must be able to foster the development of new technologies, in a timeframe that makes sense,' says Mike Walls, ACC's vice president for regulatory and technical affairs. 'Support for research and development activities is a critical component of that effort.'
But some, including University of Southern California's George Olah - another chemistry Nobel laureate who signed the letter to Obama - say researchers should not wait for money to come from Congress. 'I am 82 years old,' Olah tells Chemistry World. 'If I would wait for legislation and the bureaucratic process to be completed, I wouldn't be here anymore.'

Rebecca Trager, US correspondent for Research Europe