Chemistry funding through the National Science Foundation would grow 3% under new White House budget proposal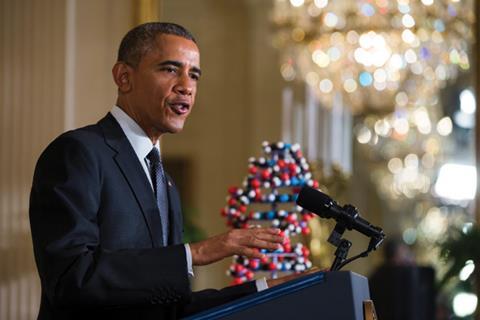 President Obama has outlined his ambition of growing R&D funding by 6%, to $146 billion (£96 billion) in his 2016 budget proposal. Basic and applied research would receive $67 billion of this money – a 3% increase. The budget proposal, whose fate is still highly uncertain, would also end the automatic across-the-board sequestration cuts enacted in 2011.
Glenn Ruskin, a spokesman for the American Chemical Society, says the president's budget is 'certainly very favourable' to the nation's research enterprise. 'Any increase in the funding for research agencies … would translate into increased funds for basic research and chemistry would certainly benefit.'
Under Obama's budget request, the National Science Foundation (NSF) would receive $7.7 billion to support basic research and science education – a 5.2% boost. The NSF's chemistry division would see its budget grow by 3% to more than $251 million.
Marc Hillmyer, a chemistry professor at the University of Minnesota, US, who has served on numerous NSF chemistry grant panels, says the proposal to lift funding for chemistry is a good starting point, but isn't enough. 'The budget for chemistry at the NSF has always been lower than the demand for research activities,' he tells Chemistry World. 'The pressure and the competitiveness of grants at the NSF, especially within the division of chemistry, is heavy – there are a lot of good ideas and interesting projects that simply aren't funded – so I wish the increase was 10%.'
Getting serious about chemical safety
Obama's budget proposal includes more money for chemical safety. The US Chemical Safety Board (CSB), an independent federal agency charged with investigating serious chemical accidents, would receive a 10% increase in funding to $12.27 million. The board's chairman, Rafael Moure-Eraso, said the extra money would allow the CSB to investigate more accidents, push for critical safety recommendations and publicise the agency's findings.
When it comes to biomedical research, Obama is proposing to increase funding for the National Institutes of Health (NIH) by 3% to $31.3 billion, with over 90% of those funds slated for grants. However, observers note that some of these funds would still fall under the administration's Precision Medicine Initiative, as well as its BRAIN initiative that aims to map the human brain and its recently launched billion dollar investment to combat antibiotic resistant bacteria.
The administration's proposal also gives other science funding agencies a boost. The Department of Energy's Office of Science, a major chemistry and materials sciences funder, would see its budget augmented by 5.4% to $5.34 billion. The US Department of Agriculture (USDA) would receive $450 million for competitive grants – an increase of almost 40%. The president also specifically requested $79 million for the USDA to further investigate colony collapse disorder, which has devastated honeybee populations worldwide.
Obama also proposes giving the Environmental Protection Agency (EPA) $8.6 billion, an increase of over 5%. The administration is requesting $668 million for the EPA to develop new computational tools, as well as to expand and enhance the quality, accessibility and usefulness of information about commercial chemicals and pesticides. Part of the funding will go towards improving security and safety at chemical sites across the country. The EPA noted that accidents at these types of facilities have resulted in around 60 deaths and more than 1300 injuries since 2005.
An 'aspirational budget'
While science and research advocates were largely supportive of the president's budget, they warn that it probably won't come to fruition. 'These are pretty solid numbers,' says Matt Hourihan, who directs the American Association for the Advancement of Science's R&D budget and policy programme. However, he calls the president's funding request an 'aspirational budget', and notes that most of its proposals won't get very far unless Congress finds other programmes to cut.
Republican leaders on Capitol Hill made their opposition to Obama's budget clear. 'Like the president's previous budgets, this plan never balances – ever,' said House Speaker John Boehner. Republican Representative Tom Price and Senator Mike Enzi, the chairs of the budget committees in their respective chambers, vowed to produce a budget that balances within a decade.
The president's proposal is just the first step toward a budget for fiscal year 2016, which starts on 1 October. The House and Senate must each develop their own drafts and then will have to agree on a final version, which Obama must then approve. The process will continue until the end of September, and may take longer.