Replacing iridium and platinum in smart phone screens could make them cheaper and more environmentally friendly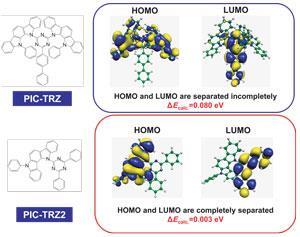 All-organic LEDs
that side-step the heavy metal emitter components and have almost comparable efficiencies with commercial devices could soon be used in display and other devices thanks to research in Japan.
Organic light-emitting diodes (OLEDs) have become the display technology of choice for many mobile phones and flat panel televisions. However, despite their name, OLEDs are not wholly organic and commercial devices rely on an inorganic emitter complex containing iridium or platinum. Now, researchers at Nippon Steel Chemical in Japan, working with colleagues at Kyushu University, have demonstrated an organic molecule that could displace the heavy metals.
Chihaya Adachi's team demonstrated an organic molecule – PIC-TRZ2 – containing both an electron-donating group, an indolocarbazole, and an electron-accepting moiety, a diphenyltriazine, that has a zero energy gap between its singlet and triplet excited states.
Conventional OLEDs exploit the ability of an organometallic complex to blend singlet and triplet excited states through increased intersystem crossing in the activated OLED. This boosts phosphorescence from the OLED. Heavy metal complexes are expensive, however, as well as increasing the processing costs from manufacture to recycling and disposal of OLED devices. Now, Adachi and colleagues have shown that a purely organic compound with no heavy metal component can do the job almost as well. Conventional OLEDs have an efficiency of around 20%, the new all-organic OLEDs shine with an efficiency of the same order of magnitude at 14%.
Organic luminescent materials have previously been used widely in highlighters, anti-counterfeit banknotes, detergents and biomedical applications, so chemists are familiar with ways to handle and process them. However, they have not been widely considered as replacements for the organometallic emitter in OLEDs. The team suggests that PIC-TRZ2 'breaks the current view of luminescent materials' and could lead to the development of all-organic LEDs.
Alastair Buckley of Sheffield University says: 'The work is clearly excellent science. Metal free routes to triplet emitters could well make OLEDs a more sustainable technology in the future.' He points out that the researcher are, however, yet to report operating voltages and they compare only quantum yields and not candela per amp nor lumens per Watt measurements. 'This makes comparison with more applied work a little more difficult to make,' he adds.