Typical spraying of fields with commonly used pesticides is enough to cause the death of frogs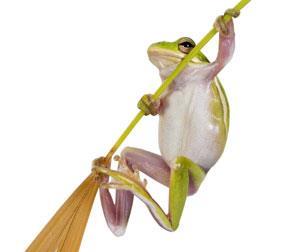 Frogs exposed to pesticides at the kind of levels routinely sprayed on farm fields can die in hours, a new study from German and Swiss scientists report. The scientists say that agricultural pesticide use is an overlooked contributory factor in the global decline in amphibian populations.
Carsten Brühl, lead author and ecotoxicologist at Koblenz-Landau University in Germany, says that the team used concentrations recommended on the labels of seven pesticide products, yet the effect was dramatic. 'We would not allow any product on the market whose application kills a mammal in one hour.'
The effect of these pesticides on European common frogs was studied by simulating overspray in farm fields. Test application simulated a worst case scenario where there was no interception by plants. The herbicides tested in the study were Curol B and Dicomil, the insecticide Roxion, and the fungicides Prosper, Captan Omya, Headline and a pyraclostrobin formulation in development.
Mortality ranged from 100% after one hour for BASF's Headline to 40% after seven days at the recommended application rate. Three registered products caused 40% mortality at just 10% of the recommended application rates – Stahler's insecticide Roxion, Omaya's herbicide Dicomil and the fungicide Captan Omya.
'The extreme mortality after one hour is shocking,' says amphibian biologist Malcolm McCallum, University of Missouri, US. 'It makes me concerned not just for amphibians, but also for birds, mammals and even humans who come into contact with these compounds in this manner.'
Brühl questions why no specific risk assessment on amphibians is needed for the registration of a new pesticide product, unlike for birds and mammals. 'The ecotoxicology of terrestrial vertebrates risk is covered by birds and mammals, but they are protected by fur and feathers,' he says. Amphibians may be more susceptible due to their highly permeable skin.
Widely different mortality rates were also noted for two products with the same active chemical (pyraclostrobin) at the same levels. The commercially available and top-selling Headline formulation was most toxic, whereas a formulation BASF is developing was more benign meaning formulation additives could play a critical role in toxicity.
'It's a useful paper and helps fill a knowledge gap,' says ecotoxicologist Daniel Pickford of Brunel University, UK, 'but it is too simplistic to spray them [directly] and say they've died and this must be happening in the wild.' Pickford adds that the low numbers used in the study are worrying; this was done for ethical reasons. 'With just three frogs tested [for each product], there are only a few statistical outcomes possible,' he says. 'They are low numbers to be making such robust assumptions.'
'There needs to be serious attention paid to amphibians from regulators because they as a group are going extinct thousands of times faster than they did at the K–T boundary,' McCallum notes. 'There needs to be discussion to work with pesticide companies and agricultural producers to develop workable solutions to the obvious problem that is certainly not restricted to amphibians. If you have ever walked through a corn field you will see that it is not exactly a rich diverse ecosystem,' he says.